2021 BJJ STARS V: Heavyweight Grand Prix
Look At The Best First Round Matches At BJJ Stars V: Heavyweight Grand Prix
Look At The Best First Round Matches At BJJ Stars V: Heavyweight Grand Prix
The grand prix bracket is filled with potential upsets and instant classics. We've taken a close look at some of the most exciting early matchups.
Feb 5, 2021
by Corey Stockton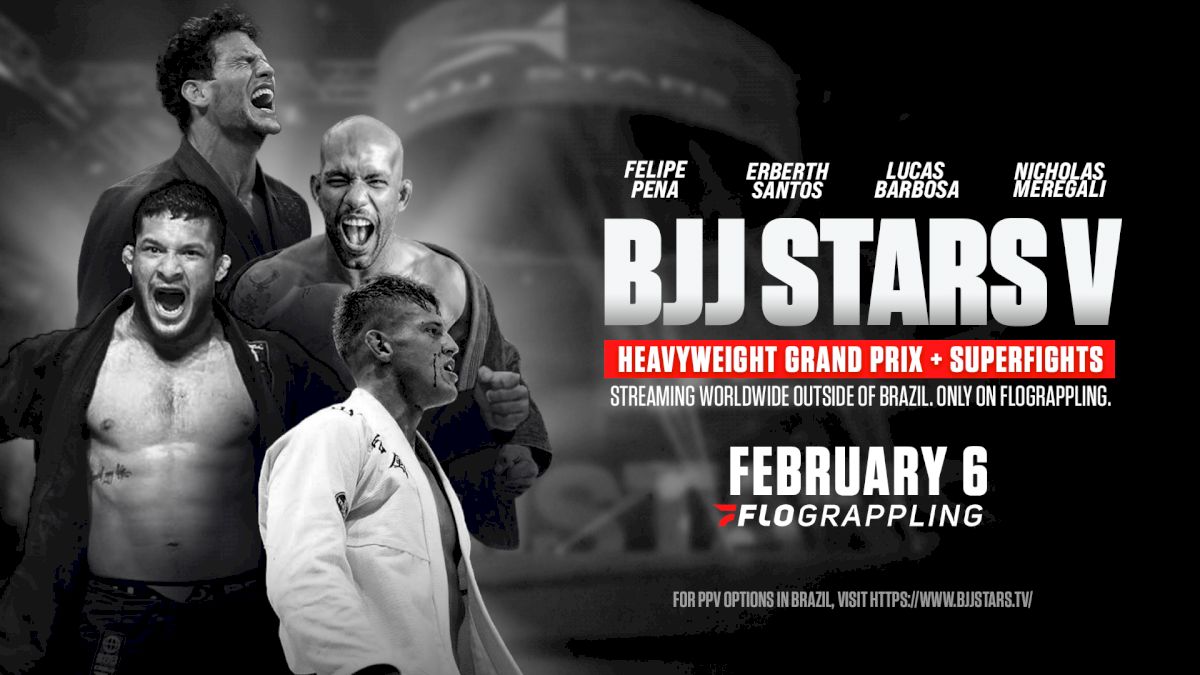 The BJJ Stars Heavyweight Grand Prix is official now that the drawing for first round matches is complete. The two favorites, Nicholas Meregali and Felipe Pena have been placed on opposite sides of the bracket. If this highly-anticipated rematch comes to pass, it will be for the title of Grand Prix Champion.
But the grand prix bracket is filled with potential upsets and instant classics. We've taken a close look at the bracket, and some of the most exciting early matchups.
---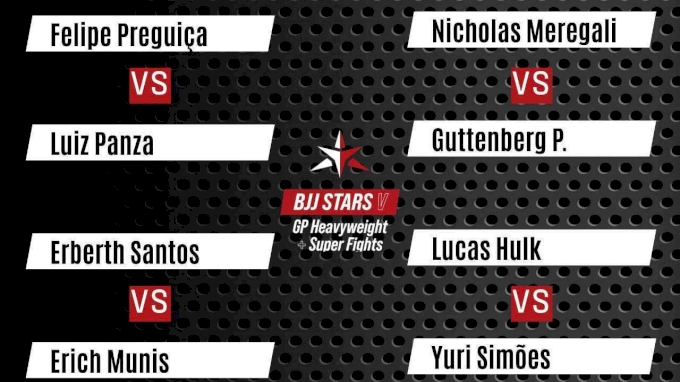 Felipe Pena vs Luiz Panza
Pena is 4-0 against Luiz Panza since 2014. He seems to be getting more efficient at beating Panza in every encounter. We can't count Panza out, but it's likely that Pena will move into the semifinal where he'll face the winner of one of the most intriguing early matchups of the bracket.
Erberth Santos vs Erich Munis
Erberth Santos and Erich Munis will share the left side of the bracket with Pena and Panza. Munis, the young, exciting rookie, will take on Santos, who has been somewhat unpredictable over the last few years. At his best, he could prove too grizzled and too explosive for the younger Munis. But Munis has an intricate guard, and if his style of play frustrates Santos, that could be enough for him to win.
If Munis moves forward, he'll be walking into an even tougher test, a two-time world champion and perennial threat in Pena.
If Santos defeats Munis and moves to the semis, he'll need to keep the momentum going if he meets the favorite. He's 1-5 against Pena.
Nicholas Meregali vs Gutemberg Pereira
Like Pena, Meregali is a favorite to make it to the final. But he'll have to be careful not to look past Gutemberg Pereira. Pereira has a few wins over IBJJF World Champion Mahamed Aly. He belongs in this bracket; he's a contender who has the potential to throw a wrench in Meregali's shot at the $18,000 grand prize.
Still, the odds are in Meregali's favor. He's the only competitor in the bracket with a winning record against Pena. The factor which may play largest against him is his activity level. Meregali had only two matches in 2020, and he didn't win either of them.
Lucas "Hulk" Barbosa vs Yuri Simões
Hulk called for this matchup last week, and he got his wish. Simões is a multiple-time ADCC champion, but hasn't worn a gi in competition in 28 months. That would work in favor of most of his opponents, but it could add an interesting dynamic against Hulk. This could be a scrappy takedown battle, or we could see more of Hulk's developing guard game. They haven't matched up previously.
If Hulk moves forward, he'll likely run into Meregali, against whom he'll want redemption. Meregali put up nine points on Hulk at BJJ Stars in 2019. Hulk was far more active in 2020 than Meregali was, and that may have prepared him to take his revenge.
Things get a bit stranger if the wild card, Simões moves forward. He's never matched up against Meregali, Perreira or Santos, and is due for a rubber match against Pena. Simões has to be considered a longshot.
---
Don't forget about the superfights
BJJ Stars V will also feature six stellar superfights, including two no-gi matches which will use the new IBJJF rules. A last minute replacement, Alex Munis is filling in for Gustavo Batista against Leandro Lo.
The superfights are: