WNO: Craig Jones vs Ronaldo Junior
Revisiting Junny's Unlikely Black Belt Debut vs Geo Martinez
Revisiting Junny's Unlikely Black Belt Debut vs Geo Martinez
Geo Martinez and Junny Ocasio are set for a rematch at WNO: Craig Jones vs Ronaldo Junior. Their first bout, Junny's black belt debut, was a matter of luck.
Feb 19, 2021
by Corey Stockton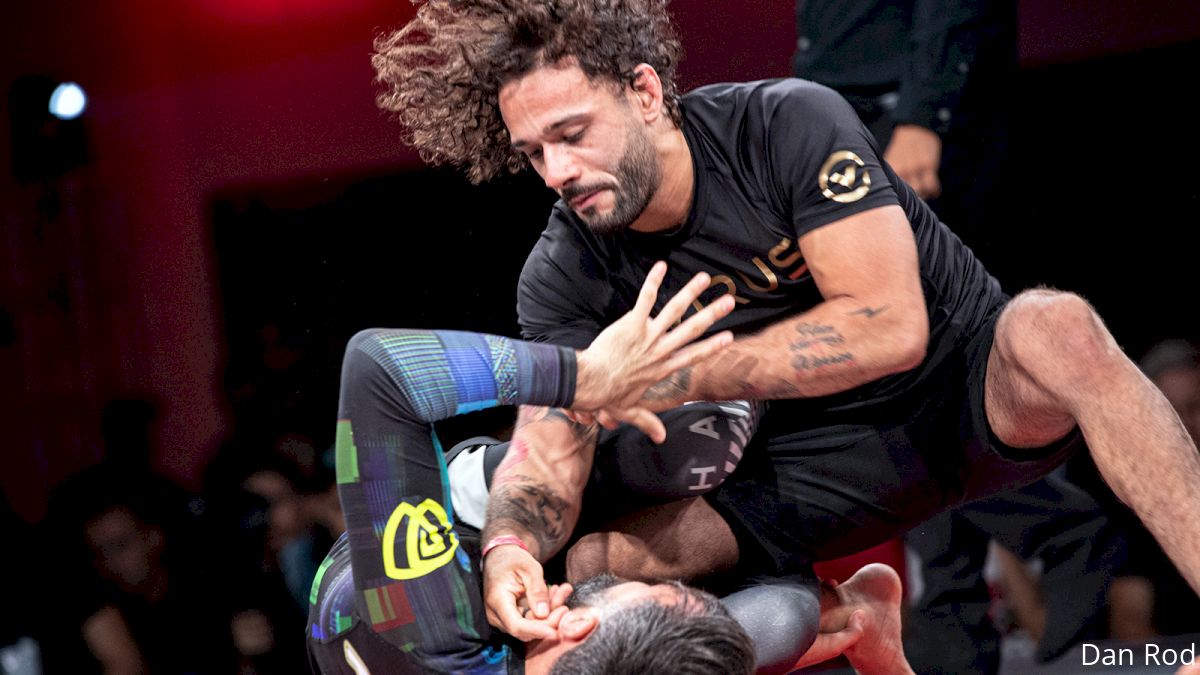 Unlock this article, live events, and more with a subscription!
Get Started
Already a subscriber? Log In
Edwin "Junny" Ocasio and Geo Martinez had completely different paths to their first encounter at the KASAI Pro 6 Bantamweight tournament in August 2019.
Geo, then a five-year black belt, was an early invitee, among other veterans such as João Miyao, Jon Calestine, Ashley Williams and Ethan Crelinsten.
Despite having qualified for, and performed well in the lightweight tournament two years prior, Junny would have to qualify for the tournament in his more regular 135 lb weight class. He ran through the regional qualifier in Texas in June 2019, earning his spot in the final four in Orlando in July.
There, he opened with a heel hook finish over David Weintraub before meeting Richard Alarcon in the final.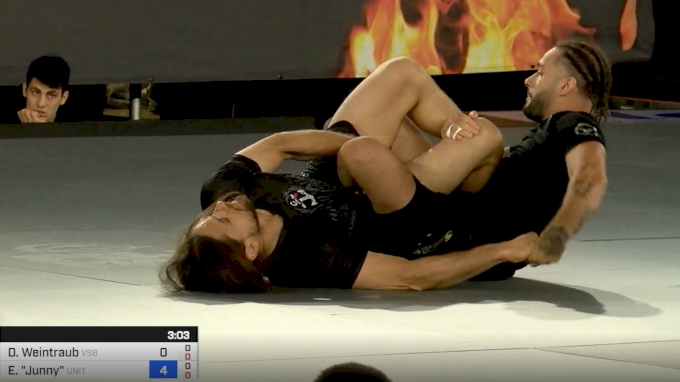 The match between Junny and Alarcon was fast paced from the onset. Alarcon rushed from side to side with passing attempts, while Junny tried to threaten with leg entries from the seated guard. Finding none, he spent the second half of the match attempting to attack from closed guard.
After a scoreless regulation period, the match went to golden score overtime, a two-minute wrestle-off.
Alarcon shot first with a low double. He switched to a single, and Junny reached over the top, holding his position and tying Alarcon up. Junny attempted a switch, bet fell momentarily to his back. He got up, and the scramble continued, but the referee called the match over, awarding Alarcon the victory via takedown.
Watch: Scrappy Overtime Exchange Between Junny Ocasio And Richard Alarcon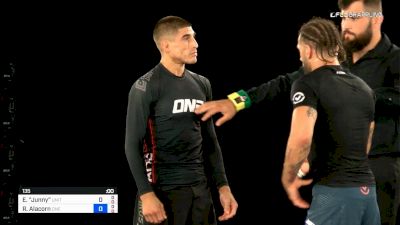 Unlock this video, live events, and more with a subscription!
Get Started
Already a subscriber? Log In
With the win over Junny, Alarcon became the sole qualifier in the eight man tournament in August, with five of the seven invitees already identified. But KASAI had two openings remaining in the bantamweight bracket, and Junny, hopeful that he could still secure a ticket, had rallied an army of fans to his support.
"There were still two open spots for two more bantamweights. I wanted the spot, and a bunch of people wanted me in there," Junny said. "KASAI made an IG post and everyone wrote my name, like a thousand folks, which was awesome."
The penultimate spot went to Rafael Freitas, and KASAI again polled its followers on social media to nominate the last competitor in the bantamweight bracket. Again, Junny's fans bombarded the comments, calling for KASAI to give Junny the final invitation.
"I felt hope, because I really wanted in the KASAI tournament in my actual weight class, because I was always fighting up in all these tournaments," Junny said. "It was one of those things where you just look up and everyone agrees I should be there. I was really just hopeful."
But again, KASAI gave the invitation to a veteran black belt. Masakazu Imanari took the last remaining spot in the 135 lb bracket, leaving Junny on the outside looking in.
"Nothing has ever been given to me. So I had a hint of hope, but I also didn't want to get my hopes up too much, until I got the call."
The call came just two weeks before the event. Ethan Crelinsten injured his knee, and KASAI needed a last minute replacement. The choice was obvious. Junny was the runner-up in the qualifier, and a clear fan favorite. Moreover, he was a KASAI veteran who always lived up to his reputation for energetic matches, both in superfights and in the 155 lb tournament.
KASAI announced Junny as the last-minute fill in on August 1; on August 3, Murilo Santana awarded Junny his black belt.
That meant Junny's black belt debut would be against one of the three men in his side of the round robin bracket.
In Group A: João Miyao, Rafael Freitas, Ashley Williams and Richard Alarcon; in Group B: Geo Martinez, Jon Calestine, Masakazu Imanari and Junny Ocasio.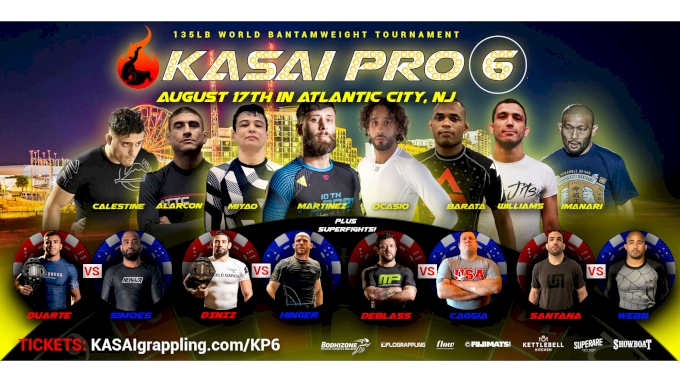 "I was very grateful to be in the tournament because the opportunity had already left me," Junny said. "So I was just really grateful that I got the chance to fight in my weight class at KASAI and fight against some of the best."
A random draw put Junny up against Geo Martinez in Junny's black belt debut. Junny had been in the same bracket as Geo in prior tournaments, but the two had never squared off.
"Geo is one of those guys who has been around for a while; you want to have a match with Geo if you're a competitive featherweight or bantamweight," Junny said. "I hold him in high regard and I thought he was amazing."
There was no feeling out period to start this match. Geo opened up the throttle on a passing attempt, nearly finding the truck position on Junny before falling to his back. Geo continued to pursue Junny's back, but eventually lost the position, giving up two points.
Geo chased after his modified leg drag again and again. He nearly scored the pass once, but found himself under siege in Junny's inside sankaku. Once he got free, Geo continued to threaten with passing attempts, and found a kimura in the closing seconds of the match, but he could not surmount the two point deficit from the opening exchange.
Watch: Geo Martinez Vs Junny Ocasio At Kasai Pro 6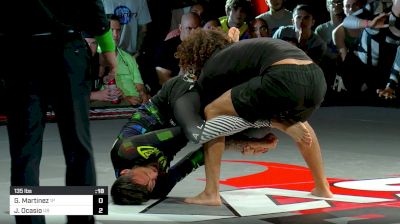 Unlock this video, live events, and more with a subscription!
Get Started
Already a subscriber? Log In
Junny opened his black belt career with a victory over the then-two time ADCC veteran. He proved that he belonged in that bracket, and hammered that point home with two more victories, beating Calestine and Imanari. He shut out his side of the bracket, moving into the final where he lost on points to his then-teammate, João Miyao.
But while Junny may have impressed at KASAI, he didn't appear as polished then as he has in his more recent outings.
"Definitely that was Junny making his black belt debut," he said. "That was a gritty match and I made a lot of mistakes in that match. I think I am lightyears away from the person Geo faced that day."
After going 3-1 at KASAI, Junny split the rest of his no-gi matches in 2019, going 4-4 for the rest of the year. But he turned a corner in 2020.
Junny went 6-1 in competition last year, with four submission wins. His success has earned him a high spot in the 135 lb rankings; he's currently ranked no. 4. His only loss in 2020 was to Kennedy Maciel, the top-ranked athlete at 155 lbs.
"I think I'm overall wiser, more seasoned, a little bit more of a veteran," Junny said. "My skill level is just different now, My mind is different. That was the very tip, the beginning, the raw black belt debut. Now I'm in my groove. No matter what happens, nothing's going to phase me."
Junny will have an opportunity to measure his development at Who's Number One: Craig Jones vs Ronaldo Junior on February 26. Eighteen months since their first encounter, Junny and Geo are set for a rematch.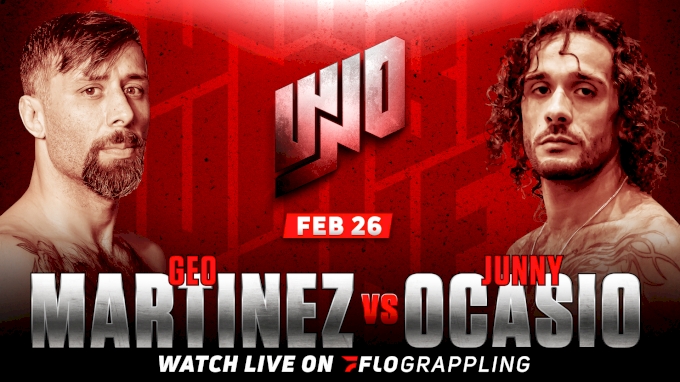 Like Junny, Geo has been on the rise since KASAI Pro 6. While he's been less active than Junny since KASAI, Geo has faced three world champions in his last three matches. He's 1-2, but each of those matches have been razor thin referee decisions. He lost to Matheus Gabriel in the opening round at ADCC in a non-starter. He beat Paulo Miyao at Who's Number One: Gordon Ryan vs Matheus Diniz in October, securing the no. 1 rank at 145 lbs. He lost a close decision in a catchweight bout against Kennedy Maciel.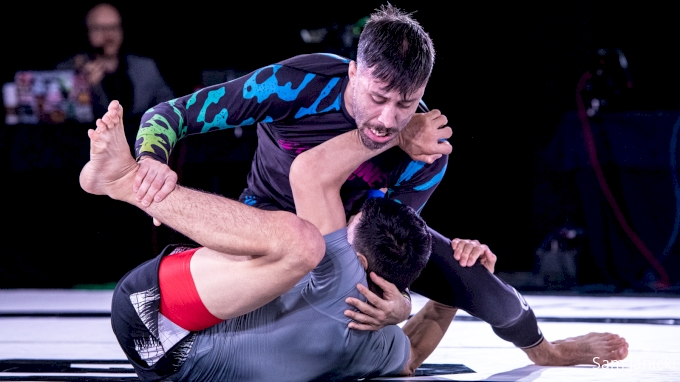 Geo has stepped up to every challenge put before him, demonstrating intricate leg attacks, a fortified guard and aggressive passing. In that way, he makes a perfect opponent for Junny, who possesses similar attributes.
Both men have become more well-rounded, versatile, tactical competitors in the last 18 months. That could make this an equally intriguing match, but an entirely different experience.
"There's no way I can compare him to his younger self," Junny said of Geo.
"This is a rematch, but, for me, it's kind of like the first time again. I feel like we're both better versions of ourselves. So, it's going to lead to some interesting challenges."