Fight to Win 166
Grappling Bulletin: William Tackett Taps Ribamar, Now Wants The Big Names
Grappling Bulletin: William Tackett Taps Ribamar, Now Wants The Big Names
William Tackett submits a black belt world champion in 75 seconds and sets his sights on some of the biggest names in the sport.
Mar 15, 2021
by Hywel Teague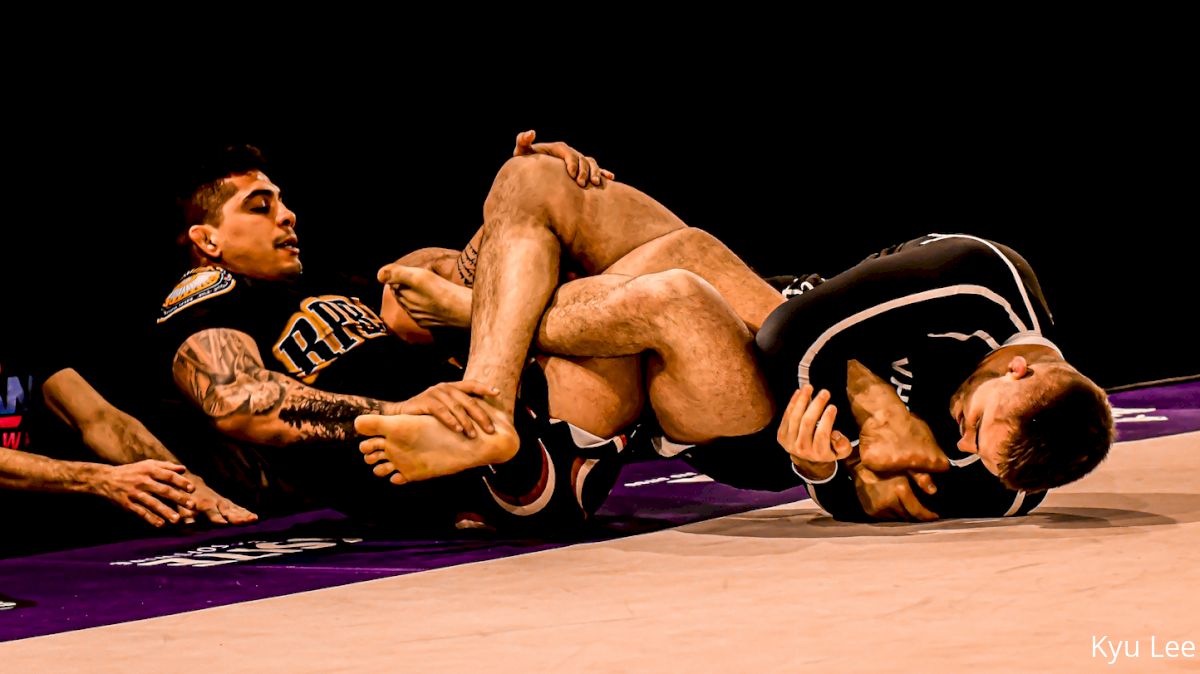 If you tuned into Fight to Win 166 on Saturday evening you would have seen four badass black belt matches back to back. Nothing new for Fight to Win, who consistently make competitive and entertaining matches, but this particular event stood out for one big reason.
Don't forget to watch the Grappling Bulletin podcast, every Monday at 5:30pm ET. Watch it on FloGrappling.com or the app, or catch it on YouTube or Facebook.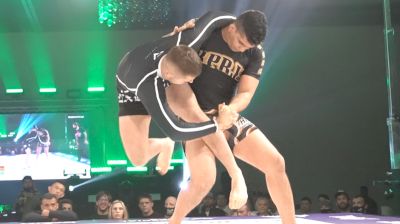 William Tackett tapped black belt world no-gi champion Manuel Ribamar in only 75 seconds with a razor-sharp heel hook that demands closer technical examination for the adjustments that earned him the victory. We'll look at that later, but what really caught my attention chatting to William after the show was that he is setting his sights on some of the biggest names in the sport.
Not only does Tackett want to clear out those ahead of him in the 185lb rankings but he plans on going up in weight and challenging some of the biggest names out there.
"My goal is to get to the number one spot. I want to fight either outside of my category at a higher weight class, just whatever weight, probably the higher category and try to secure some wins in those categories. Or fight the two guys in front of me in the rankings who are Roberto Jimenez and Vagner Rocha. I really want to claim that spot, or fight some of the better guys in the next category, the likes of [Matheus] Diniz or Craig Jones or someone like that."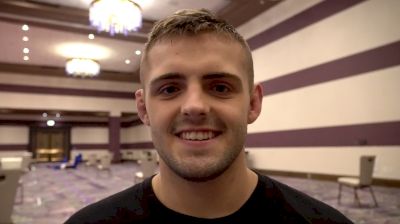 Unlock this video, live events, and more with a subscription!
Get Started
Already a subscriber? Log In
It takes a lot of confidence for someone to call their shots, but I think Tackett understands the issue he faces. He knows that booking matches with Roberto and Vagner isn't going to be easy. Roberto has already said he wants to step away from grappling for a time to focus on MMA, and Tackett and Vagner had matches booked more than once but they fell through for various reasons and now Rocha is fully locked into a match with Gordon in a few weeks at the next WNO.
Moving up in weight is a bold move. Tackett has steadily been packing on the pounds this last 18 months and now walks around at 190lb. He has mentioned that he has a goal of 200lb in mind, although this is may be pushing his genetic potential as he's under six feet in height.
Right now Tackett is sat at #3 in the 185lb ranking and as he explains, there are only two names ahead of him.
A run at the next weight class up makes sense if he's looking for greater challenges, as the list of names at 205 include the likes of black belt world champ Tim Spriggs (#10), ADCC silver medalists Craig Jones (#4) and Vinicius Ferreira (#5). Let's not forget that Tackett already has a submission win over #6-ranked Fellipe Andrew.
At the top of the 205lb ranking sits Kaynan Duarte, and close behind are the likes of Matheus Diniz and Mason Fowler. These are all established names, two of them are ADCC champions and they are sizably bigger than Tackett.
But it doesn't end there. One person who's had a lot of trouble in finding opponents is Gordon Ryan. Tackett has volunteered himself as a future opponent with the caveat, "Let me get to 200lb first". Gordon, who's dying to compete and is facing a very real shortage of prospective matches, has reacted positively to Tackett and says he's looking forward to it.
Is it too soon for Tackett to be thinking about a move up to 205lb, let alone a match with Gordon? Tackett turns 20 in May, and will likely be a fixture on the no-gi scene for years to come. In this reporter's opinion, he could use this period to clear out the remainder of the top-10 in the 185lb division. Matches with Jon Blank, Andrew Wiltse or Pedro Marinho are all extremely intriguing, worthy opponents. He did indeed submit #6-ranked 205lb'er Fellipe Andrew, but he was soundly handled by #8-ranked Lucas "Hulk" Barbosa. The big matches will come– what's the hurry?
Catch up on the matches from Fight to Win 166 here
---
Pedro Marinho Promoted to Black Belt
Here at FloGrappling we usually do a big promotions update twice a year, traditionally once in June right after the World Championships and again at the end of the year. With the regular season thrown into disarray by the global pandemic, promotions have taken place at often unexpected times but this hasn't stopped us from registering the most notable.
Gracie Barra now has another elite-level black belt competitor among their ranks with the addition of ADCC, KASAI and F2W veteran Pedro Marinho. The no-gi powerhouse entered the black belt ranks after being promoted by his coach Ulpiano Malachias in Houston, Texas. Marinho had the black belt tied around his waist on March 13, 2021 and will make his official black belt competition debut on Fight to Win 167 against Jake Watson.
Also promoted were Pan No-Gi champ Bruno Matias and Pedro's wife, Victoria Montrezor.
Highlight: Two Vicious Guillotines From Pedro Marinho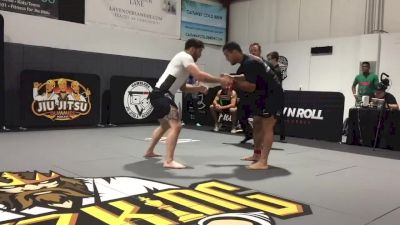 Unlock this video, live events, and more with a subscription!
Get Started
Already a subscriber? Log In
---
AJP Tour Host Streamlined Event in Moscow and the Jiu-Jitsu Was Impressive
The Abu Dhabi Grand Slam series of events has been on hold since their tournament in Miami back in September 2020. The competition in Russia was a scaled-down affair with fewer competitors and only a handful of international participants due to the strict travel restrictions currently in place across most of Europe. nearly all black belt divisions had only three or four participants, with some even less.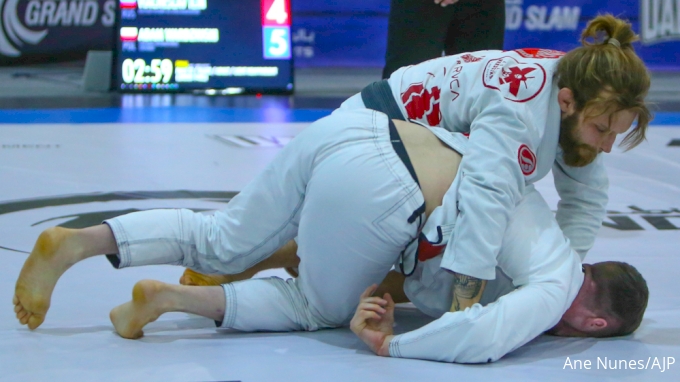 Wardzinski vs Viacheslav Ilin
The majority of gold medals went to local Russian competitors, including in the black belt divisions, with some notable exceptions. Checkmat black belt Adam Wardzinski of Poland took gold medal at 94kbg with two submissions in two matches: he first finished Artem Ushakov with a choke from the mount to reach the final. The gold medal was secured with a choke from the omoplata position on Viacheslav Ilin. Jonas Andrade took the gold at 55kg with a series of matches against Finnish opponent Marko Oikarainen, who he submitted twice in two matches.
The standard of jiu-jitsu on display didn't suffer from the lack of international names. We've long kept an eye on the rise of jiu-jitsu in Russia, and I'm pleased to report that their technical development is on a par with that of any major country. They have the required techniques to be successful, and the combination of their rich grappling history and notorious toughness makes them fearsome competitors. They lack strategic nuance to beat top-ranked competitors, and the difficult for many to easily travel outside of Russia means we may not see many on the world stage just yet. The Abu Dhabi World Pro scheduled for May in the UAE could offer some of them a chance to shine, as we expect few Brazilians or Americans to travel. The World Pro podium could look very different this year.
---
Buchecha's Fight Off
We were very excited for Marcus 'Buchecha' Almeida's confirmed MMA debut in April. Well MMA Fighting are reporting the match is no more and ONE Championship are looking for another opponent for the Brazilian. Now we're not excited any more, just kind of sad. As ever, we'll keep you updated.
---
Upcoming Events
Fight to Win 167
Saturday, March 20
Featuring Victor Hugo vs Tim Spriggs, Kennedy Maciel vs Gabriel Sousa, Thiago Macedo vs Cole Franson, Pedro Marinho vs Jake Watson and more.
JitzKing Youth: Clearwater
Sunday, March 21
30+ grappling matches featuring the best youth grapplers from Florida and beyond.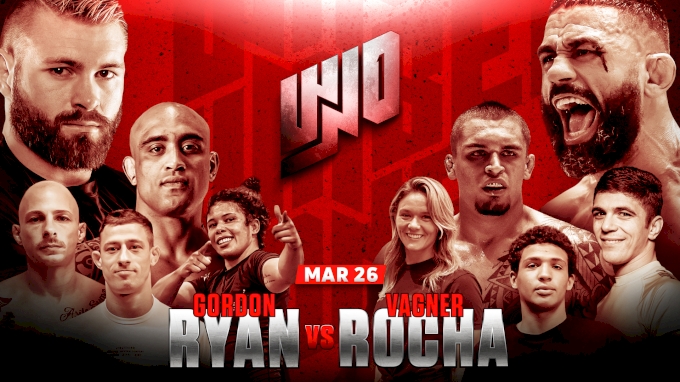 FloGrappling WNO: Gordon Ryan vs Vagner Rocha
Friday, March 26
Watch WNO: Gordon Ryan vs Vagner Rocha live on FloGrappling! Friday, March 26th, with the main event of P4P #1 Gordon Ryan vs #1 middleweight Vagner Rocha!
Fight to Win 168
Saturday, March 27:
Featuring Nathiely De Jesus vs Kendall Reusing, Luiza Monteiro vs Vedha Toscano, Maria Malyjasiak vs Hannette Staack and more.
EUG Promotions: 160lb 8-Man Tournament
Saturday, April 3
8 Black Belts (160lbs) compete for $10k in cash in a winner take all tournament
Johnatha Alves
Andy Murasaki
Shane Jamil Hill-Taylor
Isaac Doederlein Suzuki
Marcio Andre
Gianni Grippo
Thiago Macedo
Matheus Gabriel
Fight to Win 169
Saturday, April 10
Details TBA
Emerald City Invitational Event #1
Saturday, April 10
The main attraction of the night will be a 170 lb pro no-gi tourney featuring some of the nations top talent, including several of Flo's top ranked competitors.
Kim Terra
PJ Barch
John Combs
Nick Ronan
Aaron Wilson
Andrew Tackett
Alan Sanchez
Gesias JZ Cavalcante
Jonnatas Gracie
Ethan Crelinsten
and more TBA
---
Bonus clip: Mikey Musumeci training no-gi
Michael Musumeci hasn't competed no-gi since 2016, check out some of his training ahead of his match on WNO!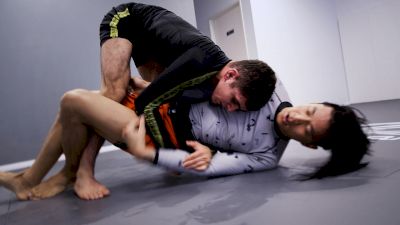 Unlock this video, live events, and more with a subscription!
Get Started
Already a subscriber? Log In