FloGrappling WNO: Gordon Ryan vs Vagner Rocha
10 Facts From Who's Number One: Gordon Ryan vs Vagner Rocha
10 Facts From Who's Number One: Gordon Ryan vs Vagner Rocha
We've identified some unusual trends in the winners, their victories, and the Who's Number One brand at large.
Mar 30, 2021
by Corey Stockton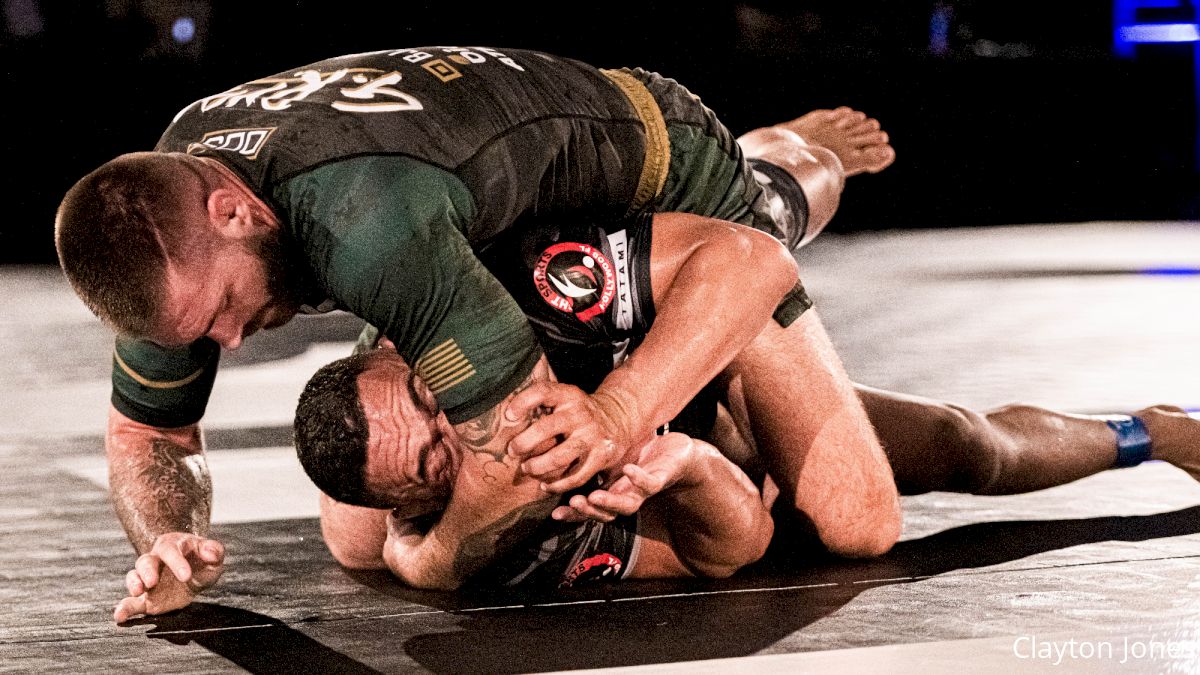 Unlock this article, live events, and more with a subscription!
Get Started
Already a subscriber? Log In
The seventh installment of Who's Number One is in the books. Many of the competitors involved hit landmark victories which will certainly shake up the rankings. Several of the athletes also made, or altered, history.
Some athletes, and teams have been remarkable successful on the WNO mats. And we've identified a few other unusual trends in the winners, their victories, and the WNO brand at large.
---
Young And Hungry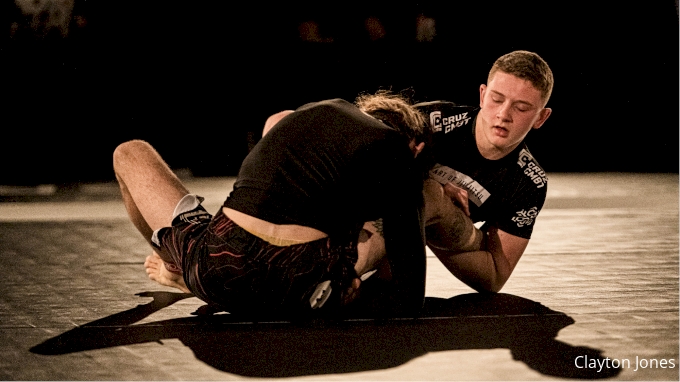 Many of the matches on WNO featured significant age gaps between the competitors. Gordon Ryan was 13 years younger than his opponent, Vagner Rocha. Mikey Musumeci was 13 year younger than Marcelo Cohen. Cole Abate, 16, faced the 26-year old Ned Johnson.
In six of the seven matches on the card, the younger athlete won. That was the case whether the difference in age was one year or 13. Both teenagers beat their 20-something opponents.
The only instance in which the older competitor beat the younger was in the match between Rafaela Guedes and Maggie Gindatti. Guedes, who beat Grindatti via rear naked choke, was 19 days the senior in that matchup.
Strong Outing For The Jersey Boys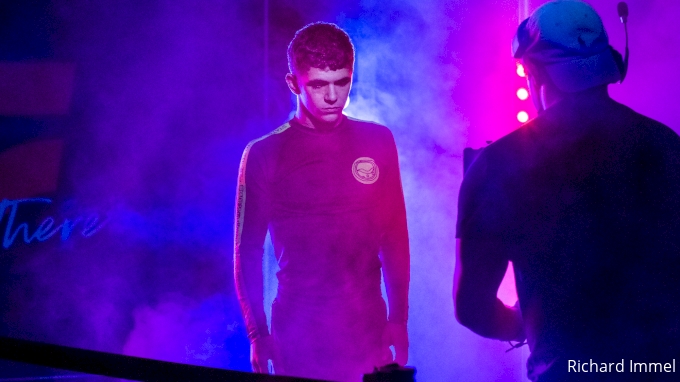 Four of the seven matches on the most recent WNO card included one New Jersey-born athlete. The Garden State products went 3-1. Nick Rodriguez, Gordon Ryan and Mikey Musumeci each earned victories. Sean Yadimarco was the only one of that group to lose; he was a heavy underdog going into the match, with a betting line of +700 in his match against Andrew Tackett.
Highest Submission Rate In WNO History
Four of the seven matchups ended in submission, tying this card with just one other for the most submissions in a single event in WNO history. 57% of the matches on WNO: Gordon Ryan vs Vagner Rocha ended in submission. That stat is also true of WNO: Gordon Ryan vs Matheus Diniz, which took place in October 2020.
DDS Thrives In The WNO Ruleset
After going undefeated in three matches last weekend, the Danaher Death Squad is now 5-0 on the Who's Number One mats in 2020. That brings the squad to 12-2 on WNO since its inception. Only Ethan Crelinsten and Nicky Ryan have suffered losses; those came to Kade Ruotolo and Tye Ruotolo, respectively.
Gordon Remains Perfect On WNO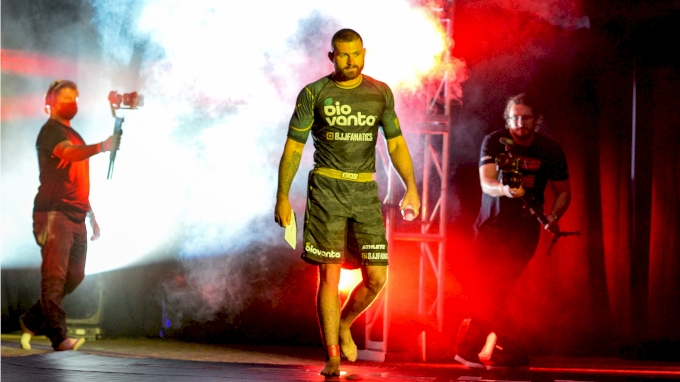 Gordon Ryan moved to 4-0 on WNO with his submission win over Vagner Rocha. His triangle is his fourth submission on the WNO mats, leaving his submission rate perfect. Among athletes with more than one match on WNO, only Gordon and his teammate, Craig Jones, can claim perfect submission rates. Craig is 2-0 with two heel hook victories.
Gordon is now tied with Roberto Jimenez for most appearances on WNO. Jimenez holds a 2-2 record.
Gordon Snapped Vagner's Undefeated Streak
Until this weekend, Vagner Rocha was one of very few WNO competitors to remain undefeated on WNO after more than one match. Aside from Goordon Ryan and Craig Jones, only Vagner, Tye Ruotolo and Jessa Khan were undefeated. Unlike Gordon's 4-0 record, each of the others were 2-0. After suffering a loss to Gordon, Vagner is now off of that list, moving to 2-1 on the WNO stage.
Tye and Jessa have a caveat on that list. Both of them competed on the first WNO card, a gi event in a different rule format.
A New Wave Of Undefeated Athletes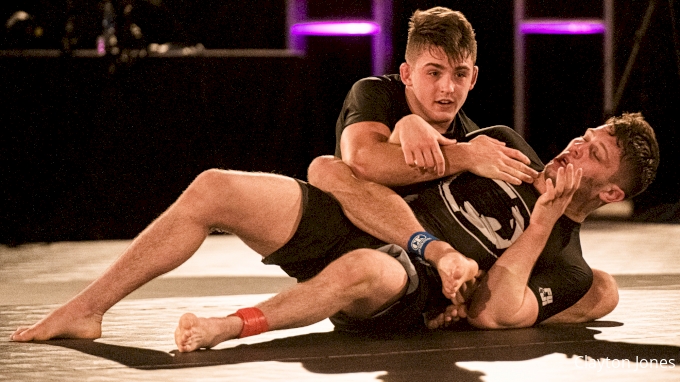 With their wins on the undercard of WNO this weekend, Cole Abate and Andrew Tackett have joined the aforementioned list of undefeated WNO competitors with more than one match. Like Jessa and Tye, they competed in the first WNO event in the gi.
That puts them on an exclusive list of competitors who have won both gi and no-gi matches on WNO. Abate, Tackett, Tye Ruotolo, Khan and Roberto Jimenez complete the list
The two Art Of Jiu-Jitsu competitors makeup a unique subsection of that list. They are the only athletes who have earned submission victories in both gi and no-gi on WNO.
Rank Is Inconsequential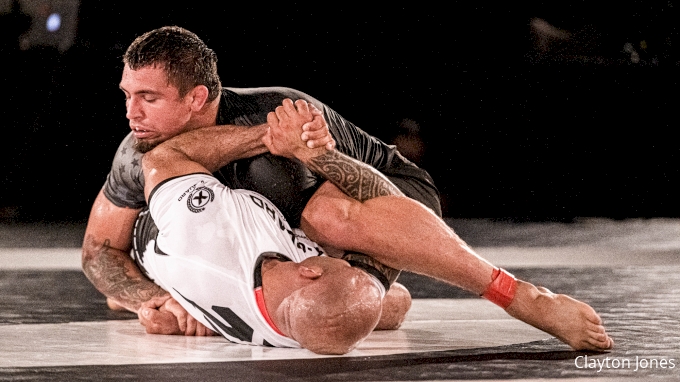 In all three matches in which there was a disparity in belt rank, the lower rank won. Purple belt Andrew Tackett defeated a brown belt, Sean Yadimarco in their undercard match. Cole Abate, a blue belt, beat a purple belt, Ned Johnson. In the co-main event Nick Rodriguez defeated a long-time black belt, Yuri Simoes.
Submission Rate In Female Matches Is Back to 50%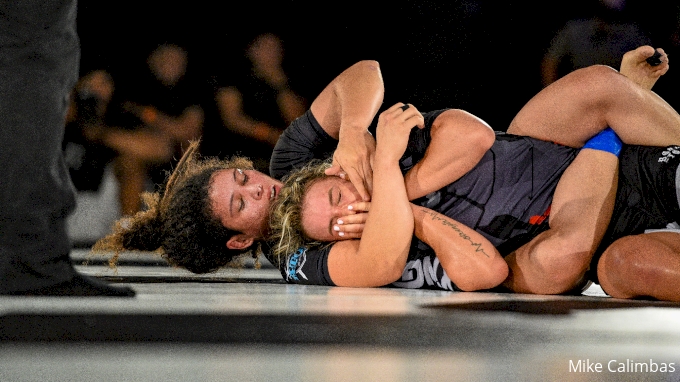 Rafaela Guedes broke a three-event streak with her submission over Maggie Grindatti. There were five female matches on the previous three WNO cards, but none of them ended in submission. Her rear naked choke victory was the first submission in a female match since July 31, 2020, and the fourth overall in eight female matches.
The First Two-Triangle Day In WNO History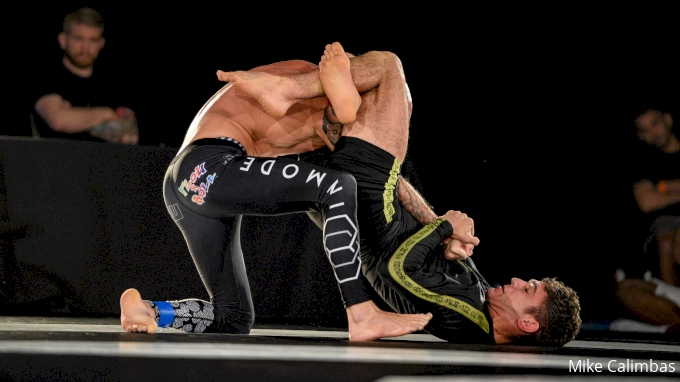 Mikey Musumeci and Gordon Ryan each earned triangle victories this weekend. They used similar setups; Mikey attacked Marcelo Cohen from mount before falling to his back to finish the attack, while Gordon attacked a kimura from the top position, transitioning to a triangle before rolling to his back to secure the tap. This was the first occasion in which more than one competitor earned a victory via triangle on WNO.
Gordon had previously scored a triangle-armbar against Kyle Boehm in June 2020, while William Tackett secured a triangle-kimura against Jason Rau in October 2020. In each of those instances, the armlock — not the choke — achieved the submission.