2021 EUG Promotions
Grappling Bulletin: Andy Murasaki's Black Belt Debut Was Just About Perfect
Grappling Bulletin: Andy Murasaki's Black Belt Debut Was Just About Perfect
21-year-old Atos black belt Andy Murasaki took the grand prize in a loaded 160lb 8-man bracket and announced his arrival in emphatic fashion.
Apr 5, 2021
by Hywel Teague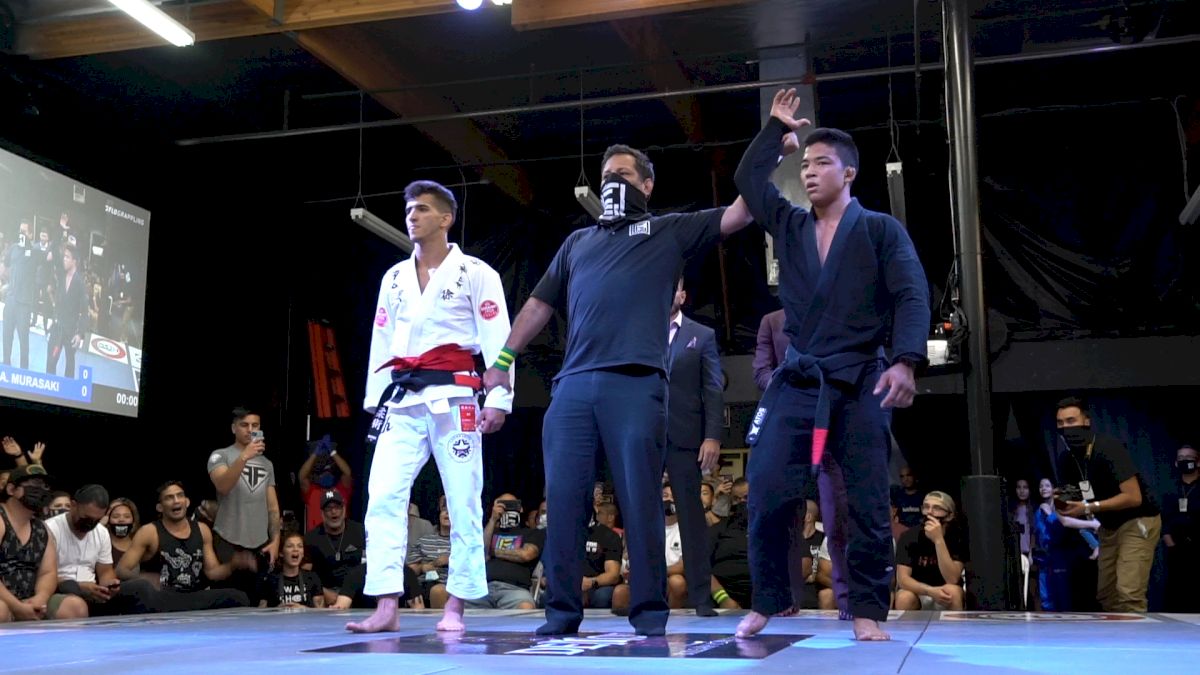 Don't forget to watch the Grappling Bulletin podcast, every Monday at 3:30pm ET. Watch it on FloGrappling.com or the app, or catch it on YouTube or Facebook.
For those of you who tuned into EUG Promotion's winner-takes-all $10,000 tournament on Saturday, you were lucky enough to witness history. Andy Murasaki's black belt debut could not have gone better. The 21-year-old Atos black belt fought his way through to the grand prize in the loaded 160lb 8-man bracket and announced his arrival in emphatic fashion.
With wins over Kennedy Maciel, Gianni Grippo and Matheus Gabriel he immediately puts himself in the mix as a world-class black belt. As the rookie among a pack of seasoned veterans and smooth technicians, Murasaki was a +175 outsider but rarely looked in danger en route to winning the grand prize. Let's break it down.
The three matches were a case study in picture-perfect pressure passing. Murasaki's precise use of grips, constant forward pressure, his deft footwork and bursts of activity are all noteworthy. Replenished following a tough weight cut from 182lb to 161lb for this event, Murasaki's weight advantage looked to be a factor as his opponents had a hard time in budging him from bottom.
If he gets chest to chest from half guard, it's over– take a look at the Grippo match for evidence. Murasaki is the first person in Grippo's weight class to submit him in nearly seven years, the previous being Rafael Mendes way back at the World Championships in 2014.
Murasaki looked like a miniature version of teammate Gustavo Batista (who was there coaching him from the sidelines), bulldozing his opponents with near-relentless pressure. Nobody was able to score a sweep or reversal on him, with only Matheus Gabriel coming close in the last 30 seconds of their match. Some spectators questioned the decision in the final, but the judges awarded it to Murasaki for his top control and dangerous pass attempts versus Gabriel's near-backtake that ended mid-sequence when they went out of bounds.
Winning $10,000 in his first black belt tournament will make this even more memorable for the young Brazilian-Japanese athlete, who hasn't seen his family in Japan for over a year. The first thing he said he would do with the money? Take his friends out for sushi.
Watch:
Highlight: Andy Murasaki Makes Stunning Black Belt Debut at EUG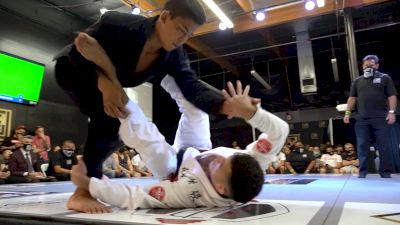 Also worth mentioning from EUG was Mayssa Bastos's dominant display of jiu-jitsu versus Jessa Khan in a match that ended 21-2 on the scoreboard. Phenomenal work from the GF Team black belt.
Mayssa Bastos Scores 21 Points in 7 Minutes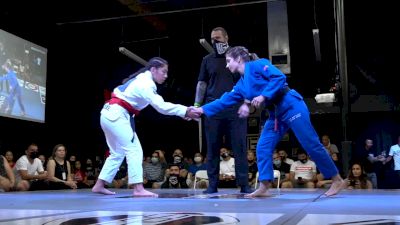 Unlock this video, live events, and more with a subscription!
Get Started
Already a subscriber? Log In
Full results from EUG Promotion's winner-takes-all $10,000 tournament featuring 8 black belts competing at 160lbs
Quarterfinals
Matheus Gabriel def Johnatha Alves 4-2
Andy Murasaki def Kennedy Maciel via decision
Marcio Andre def Isaac Doederlein via decision
Gianni Grippo def Johnny Tama 4-2
Semifinals
Matheus Gabriel def Marcio Andre via decision
Andy Murasaki def Gianni Grippo via submission (triangle choke)
Final
Andy Murasaki def Matheus Gabriel via decision
Women's title match
Mayssa Bastos def Jessa Khan 21-2
---
Abu Dhabi Grand Slam: Upsets & Shocks in the UAE
By Corey Stockton
The Abu Dhabi Grand Slam 2020-21 season came to a conclusion this weekend in Abu Dhabi. The final event of the season was rife with upsets, and the return to competition for several of Europe's finest.
In the 77kg division, Luiz Paulo Medeiros of Alliance-Dream Artearned a huge win over Espen Mathiesen via choke in the semifinals, moving to the finals to beat Adriano Araujo. The Viking came back for bronze medal.
And in one of the most exciting matches of the entire tournament, Isaque Bahiense earned his third consecutive victory over Tommy Langaker in the 85kg semis via decision after a heated 2-2 encounter in which Langaker almost got the choke. Bahiense later went on to submit teammate Mauricio Neto for gold in an underwhelming, low-energy match.
Roosevelt Sousa went on a tear in the -120kg division, smashing through Wallace Costa before submitting Anderson Munis with a footlock in the final in only 31 seconds. Anderson, and his brother Erich Munis took second and third in the division, respectively.
In the 94kg final, Patrick Gaudio scored one of the best submissions of the event, a toe hold over the no.2-ranked pound for pound Gutemberg Pereira.
In the female divisions, Brenda Larissa and Ana Rodrigues won gold at 49kg and 55kg. Beatriz Mesquita continued her display of dominance with three submissions in as many matches in the 62kg category.
In the most exciting showing in the brown belt categories, teenage sensation Micael Galvao needed a total of just two minutes and 15 seconds in two matches to earn 77kg gold.
Highlight: The Best Moments From The 2020-21 Abu Dhabi Grand Slam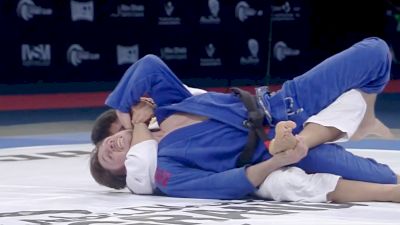 The postponed 2020 Abu Dhabi World Pro is set to take place later this week. The four day event begins on Wednesday, April 6 and carries on through Friday, April 9. The 2021-22 Grand Slam season is scheduled to kick off on June 4-5 in Dubai.
Also:
---
Alliance's Absolute Division Problem
The Abu Dhabi Grand Slam results got me thinking more about something that's been in the back of my mind for a while. When / if the borders open back up and travel restrictions are lifted enough for there to be an IBJJF World Championships, how will they tackle the issue of who represents them in the black belt absolute division?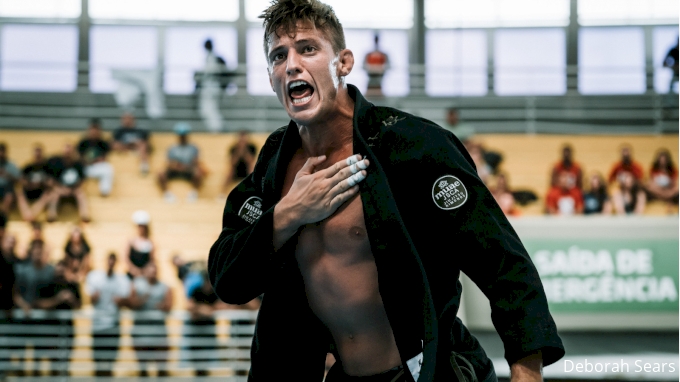 Meregali at the 2019 Brasileiros
IBJJF rules state that only two representatives per team may enter the absolute, although there is a workaround for this by entering competitors under an "A" and "B" team, usually Alliance and Alliance International. It's important to note that points are not aggregated for the team race, so only the two absolutely most worthy will rep the "A" team.
But who do those two places go to? Because the list of potential candidates is growing by the day. There is the obvious choice of Nicholas Meregali, absolute bronze medalist in 2018. There are the recent acquisitions of black belts such as Fellipe Andrew (2020 Pan and European absolute champ) and Patrick Gaudio (two time World Championship silver medalist), who both joined Alliance in the period since the last World Championship in 2019. Don't forget the recently promoted Munis brothers, Erich and Anderson, who compete in the super-heavyweight division alongside Meregali and Fellipe Andrew (another brewing issue).
It's still a way off as we have no idea when the IBJJF will return with their flagship event. With five top names all vying for a chance at absolute gold, it's clear Alliance will need to find a solution to this issue.
---
Conner Deangelis promoted to black belt by Keenan
Keenan Cornelius promoted his third ever black belt on March 31st, tying the black belt around Conner Deangelis's waist at his Legion AJJ gym in San Diego.
"For anybody who has seen Conner compete he's been a black belt for many years at this point. There are certain people, they're already a black belt, everyone knows it, you roll with him and he's obviously in the top 20 in the world in the gi, that much is apparent if you've fought the top 3 like I have. I know Conner has that level of ability to reach the absolute peak of jiu-jitsu skill and talent."
---
Upcoming Events On Flograppling
Abu Dhabi World Professional Jiu-Jitsu Championship
The rescheduled Abu Dhabi World Pro will go down on April 8-9 and you can watch it here on FloGrappling.
Featuring returning champs Espen Mathiesen, Tommy Langaker, Gabriel Sousa, Paulo Miyao, Claudio Calasans, Joao Gabriel Rocha, Mayssa Bastos, Bianca Basilio and Beatriz Mesquita.
Top Brazilians such as Leo Saggioro, Andy Murasaki, Isaque Bahiense, Manuel Ribamar, Gutemberg Pereira, Patrick Gaudio, Erich Munis, Anderson Munis, and international athletes including Levi Jones-Leary, Adam Wardzinski, Philippe Pomaski, Gerard Labinski, and local hero Faisal Al-Ketbi.
Fight to Win 169
Saturday, April 10
Emerald City Invitational Event #1
Saturday, April 10
The main attraction of the night will be a 170 lb pro no-gi tourney featuring some of the nations top talent, including several top-ranked competitors.
170lb tournament
WNO: Craig Jones vs Tye Ruotolo
Friday, April 30
The full card is now available! Don't miss this one.
Main card
Prelims (live on YouTube and Facebook)