Fight to Win 169
Grappling Bulletin: "Comeback Kid" Kennedy Maciel's Submission Of The Year
Grappling Bulletin: "Comeback Kid" Kennedy Maciel's Submission Of The Year
The petition starts here and now. It's time to bestow another nickname on Kennedy Maciel: "The Comeback Kid".
Apr 12, 2021
by Hywel Teague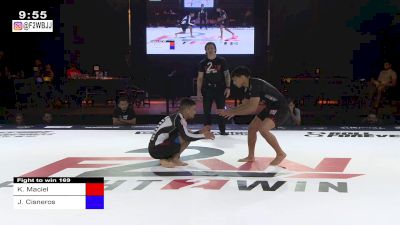 Don't forget to watch the Grappling Bulletin podcast, every Monday at 3:30pm ET. Watch it on FloGrappling.com or the app, or catch it on YouTube or Facebook.
---
He's already known as "Cobrinha Junior", but after Saturday night's incredible performance Kennedy Maciel should also go by the moniker "The Comeback Kid".
If you haven't see it, you must watch the final seconds of the match between Kennedy and Joshua Cisneros from Fight to Win 169.
Kennedy Maciel's Incredible Come-From-Behind Submission Win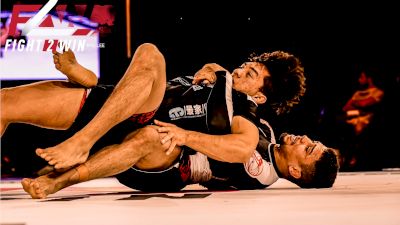 Kennedy got the back and caught the submission with 10 seconds left in the match. This was an incredible achievement in it's own right, but even more impressive when you consider what Kennedy had to fight though to get that far.
Cisneros had taken Kennedy into deep water in the match, putting him in three dangerous, locked-on submission attacks. The first was a kimura that had Kennedy rolling for his life to escape, the second was a deep triangle that lasted four long minutes, and this was followed by an omoplata that futher tested Kennedy's resilience to the limit. Mere mortals would tapped out to half the pressure Cisneros poured onto his opponent, but Kennedy dug deep and showed why he is the champion by capitalizing on a fleeting yet crucial mistake by Cisneros to catch the back and sink in a choke. Whereas Cisneros accumulated over five and a half minutes of match time actively pursuing submission attacks, Kennedy was able to go from outside the guard to forcing the tap in a total of 24 seconds.
Many fans were blown away by how Cisneros lost after being in control for the majority of the match. They blamed his downfall on a technical error, and this is true, but take nothing away from Kennedy here. He didn't win because Cisneros gave him the match– he handled everything that was thrown at him and fired back with a laser-precision submission attack of his own. He answered Cisneros's rookie enthusiasm with seasoned aplomb.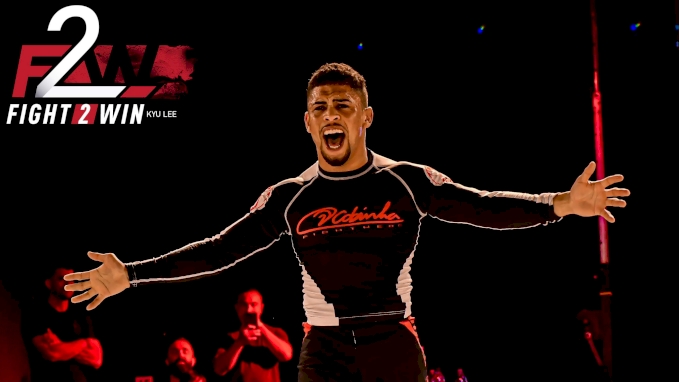 A big reason for that is because this is not the first time Kennedy has been put in these positions. We count two similar matches where Kennedy was stuck in deep submissions only for him to escape and answer by savagely finishing his opponents:
Back in 2018 when still a brown belt, Maciel had a war at Pans with Gabriel Sousa. The ZR Team rep passed the guard, secured Kennedy's back and had him in a deep collar choke. Maciel patiently found his way out and put Sousa to sleep with a choke of his own.
At the 2019 ADCC World Championships Maciel spent almost two full minutes in a fully locked-on body triangle from the back in his 66kg elimination match against Ruan Alvarenga. Down on points, he escape and submitted Alvarenga with a flying triangle with just one minute left on the clock.
Cisneros is the real deal: he was nominated as one of the breakthrough grapplers of 2020 and by going after big names both gi and no-gi he's ready to make the most out of his rookie year, but he obviously needs time to settle into his new rank – that's to be expected. Veteran black belts, pay attention because this kid is coming for you.
Kennedy is now the 155lb title holder in both gi and no-gi, and remains the #1-ranked no-gi grappler in the division. With performances like these, it could be a while before we see somebody challenge him for that position.
Not only do we see this as an early contender for Match of the Year, but also for Submission of the Year. What a match. Remember this one when it comes to voting, as it's sure to be on the shortlist.
Watch:
---
Mackenzie Dern Wins by Armbar, Enters UFC Title Discussion
Another clinical display of jiu-jitsu for Mackenzie Dern, who submitted Nina Nunes with a textbook armbar at the UFC Fight Night on April 10. Dern, who is ranked #11 in the UFC Strawweight division, submitted the #5-ranked fighter in the division, Nina Nunes.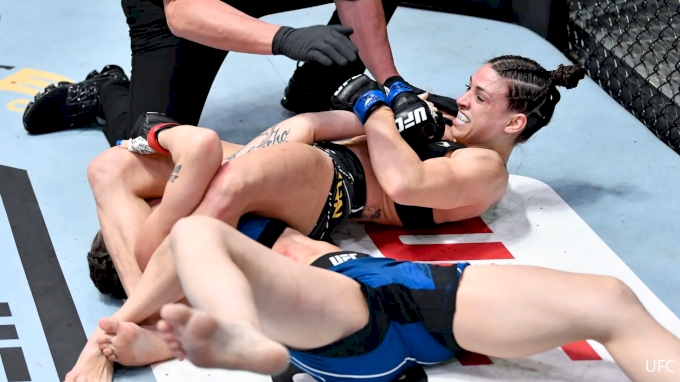 Dern's seventh MMA career submission
Dern is now tied for the most finishes in strawweight history with four, and her performance has got people talking about how she could soon be facing off with the likes of Rose Namajunas, Joanna Jedrzejczyk, and down the line, champion Zhang Weili.
"I really feel champ material right now," says Dern, who is on a four-fight win streak. She earned an extra $50k for her submission, her third in four matches.
It's now been just over three years since Dern made her UFC debut and the 28-year-old is now 11-1. This is her seventh career submission, further confirming her position as the #2-ranked fighter on our FloGrappling Jiu-Jitsu in MMA Ranking.
Unstoppable on the ground @MackenzieDern proves her jiu jitsu works on anyone! #UFCVegas23 pic.twitter.com/UP1Z74a6FY

— UFC (@ufc) April 10, 2021
---
PJ Barch Crowned Champ at Emerald City Invitational
The 10th Planet black belt was on the warpath at Emerald City's 170lb 16-man invitational, and was not to be denied. He took four submissions in four matches– the Emerald City Invitational tournament was using official EBI rules, but PJ Barch didn't have to worry as he finished everybody in front of him in regulation.
Barch tapped out Andrew Solano with a rear naked choke, Werther Marciales via armbar, John Combs with a nasty inside heel hook and then fellow 10th Planet rep Alan Sanchez in the final via savage kimura.
Barch bounced back from his decision loss to Andrew Wiltse at WNO and was looking to make a statement. He certainly did that, and explained to us that he is fired up for April 30 when he'll face Nicky Ryan at the next WNO event.
PJ Barch Is Fired Up For Nicky Ryan After Winning Emerald City Invitational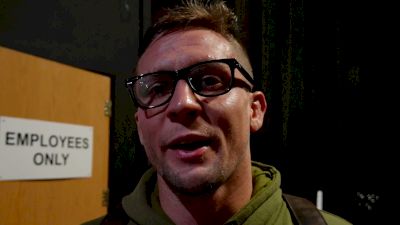 Watch PJ's matches:
---
Biggest Upsets / Shocks From Abu Dhabi World Pro
The results are in from World Pro and we'll discuss these on the show, but I wanted to point out a couple of the biggest upsets and shocks.
Israel Almeida beat 2019 World Pro champ Gabriel Sousa by submission in the 69kg semifinals. Sousa came back to take bronze.
Pablo Lavaselli of Argentina beat Espen Mathiesen in the 77kg final 5-4. Earlier in the bracket Lavaselli had beaten Andre Cantanhede of Brazil, who had submitted Renato Canuto in the opening round of the Brazilian 77kg country qualifier.
Renato Cardoso beat Patrick Gaudio 2-0 in the 94kg semifinal in a somewhat controversial call. Cardoso took silver, losing to Adam Wardzinski in the final.
Brenda Larissa seems to be the only woman who can go toe-to-toe with Mayssa Bastos. She beat the returning champ 3-2 in the 49kg brown-black final.
Brown belt Eleftheria Christodoulou of Cyprus beat USA's Kendall Reusing 4-1 in the 95kg brown-black division.
---
Upcoming events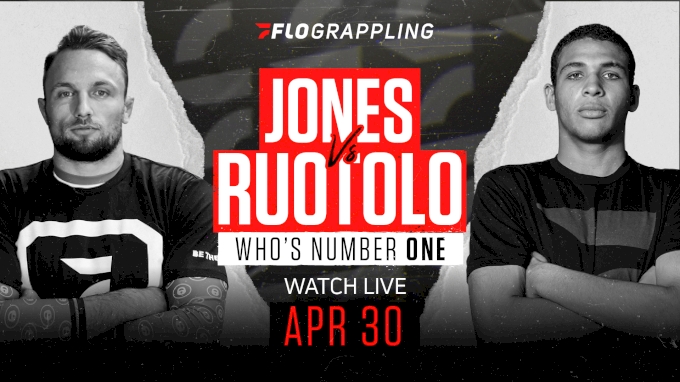 Friday, April 30, 2021
The full card is now available! Don't miss this one.
Main card
Craig Jones (Danaher Death Squad) vs Tye Ruotolo (Atos) - 200lbs catchweight
Rafael Lovato Jr. (Six Blades) vs Gilbert Burns (Fight Sports) - light-heavyweight (205lbs)
Nicky Ryan (Danaher Death Squad) vs PJ Barch (10th Planet) - catchweight (175lbs)
Grace Gundrum (10th Planet) vs TBD - strawweight (115lbs)
Ethan Crelinsten (Danaher Death Squad) vs Kade Ruotolo (Atos) - lightweight (155lbs)
Andrew Wiltse (Pedigo Submission Fighting) vs David Garmo (Assembly Jiu-Jitsu) – middleweight (185lbs)
Prelims (live on YouTube and Facebook)
Jessie Crane (Ares BJJ) vs Lauren Sears (10th Planet) - strawweight (115lbs)
Haisam Rida (Assembly Jiu-Jitsu) vs Sloan Clymer (Legion American Jiu-Jitsu) - light-heavyweight (205lbs)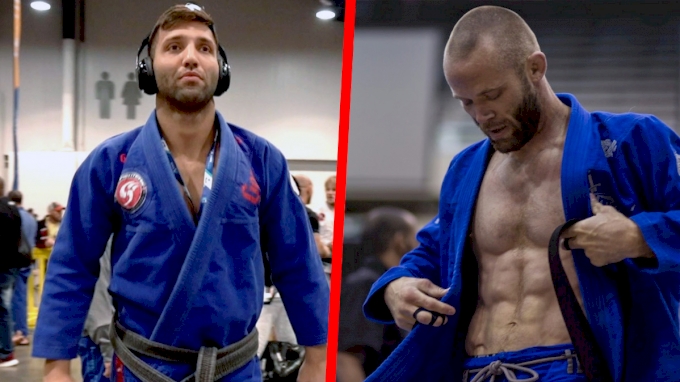 Apr 17, 2021
The main event features two of the best Masters competitors on the scene: Josh Hinger and Rafael 'Formiga' Barbosa will face off in a Masters middleweight title match. Also on the card is #4-ranked medium-heavyweight Matheus Luna of Checkmat vs #3-ranked lightweight Jonnatas Gracie of Atos.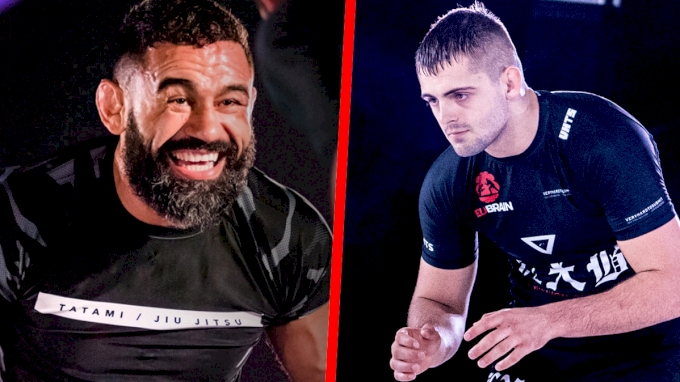 Apr 24, 2021
Florida local and hometown hero Vagner Rocha will take on rising star William Tackett in the main event. This no-gi match pits the #1-ranked 185lb no-gi grappler Rocha of Fight Sports against Tackett of Checkmat, who is ranked #3. Also on Fight to Win 171 are no-gi matches: