Big Deal PRO #3
Grappling Bulletin: Mica Galvao, The 17yo Brand New Black Belt Superstar
Grappling Bulletin: Mica Galvao, The 17yo Brand New Black Belt Superstar
Brown belts all over the world are taking a big sigh of relief, but many black belts are probably dreading the day they face Galvao across the mat.
Jul 12, 2021
by Hywel Teague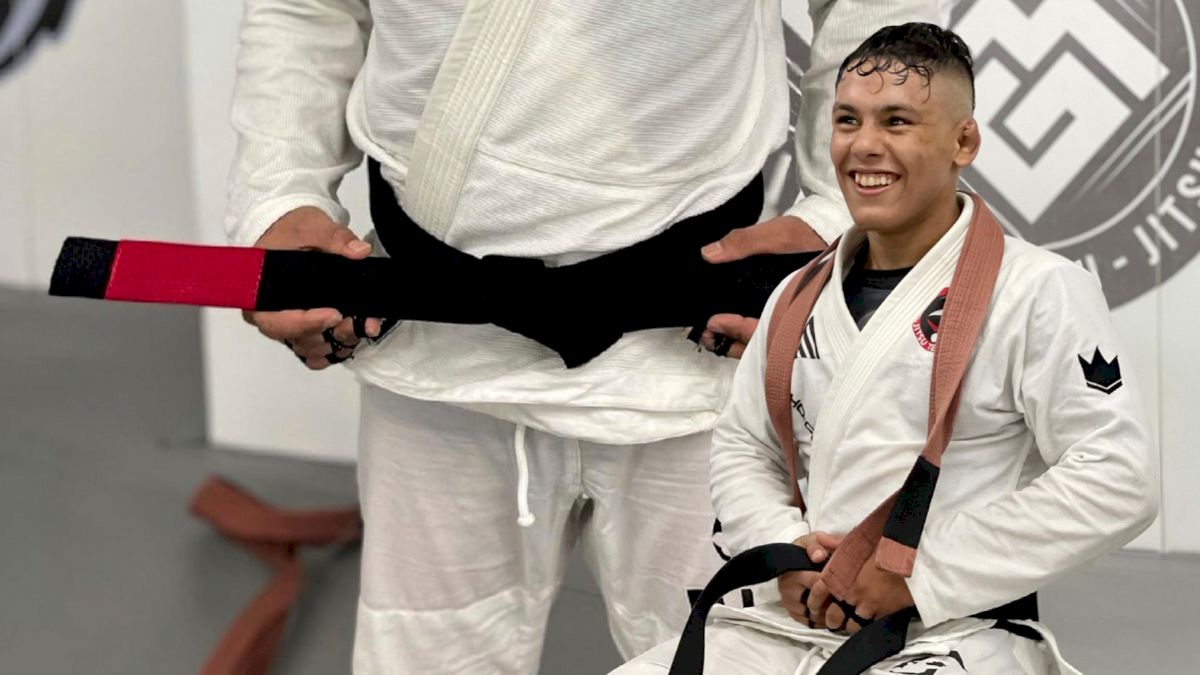 Mica Galvao isn't the first teenager to ever be promoted to black belt, but from what we've been able to gather he is one of the youngest ever. Save for a handful of members of the Gracie family, we believe Galvao is in rare company in that he wears a black belt before his 18th birthday. Does this mean Galvao will still be able to compete? Scroll down for the answer. All this and much more in this week's Grappling Bulletin.
---
Don't forget to watch the Grappling Bulletin podcast, every Monday at 3:30pm ET. Watch it on FloGrappling.com or the app, or catch it LIVE on YouTube or Facebook.
Missed the live show? Catch up on the replays here.
---
Mica Galvao Becomes One Of The Youngest Ever Jiu-Jitsu Black Belts
How old do you have to be to get a black belt in jiu-jitsu? The commonly-held opinion is you should be no younger than 18 years of age. Unlike other martial arts, where it's not uncommon to see 10 or 12 years olds wearing a black belt, jiu-jitsu is considered the most rigorous and demanding of arts in which to progress through the ranks.
Galvao has enjoyed success both gi and no-gi as a brown belt.
If you follow the IBJJF age requirements to the letter, which most competition team coaches do, then 18 or 19 is about as young as you can be to get a black belt. Some famous grapplers who were promoted while still teenagers include Mikey Musumeci (age 18), Jessa Khan (age 18) and Nicky Ryan (age 19). Almost all of Helio Gracie's children (Rickson, Roller, Royce etc) were promoted around the age of 18, for reference.
It's highly unusual for a grappler to be promoted to black belt while age 17, but Micael Galvao is not your ordinary grappler. Consider his results this year, which included beating the highly-rated Tainan Dalpra of AOJ in a match of the year candidate and winning the Third Coast Grappling 8-man Grand Prix beating three black belts by submission (John Combs, Pedro Rocha and Pedro Marinho). We always knew he had the potential to be truly special– 2021 was the year he showed the world just how good he is.
Even though Mica Galvao doesn't turn 18 until October 8, his coach (and father) Melqui Galvao decided to award him the coveted faixa preta. There's no question he deserves it, but people are interested to know how long it will be before he can compete.
Galvao can compete between now and the end of the year in invitational events and super fights, but he will not be eligible to compete in IBJJF tournaments until January 1, 2022. This is because IBJJF regulations state there is a minimum age to be eligible to compete in the adult division, regardless of rank (General Competition Guidelines, Article 1.2 to 1.3)
"There is no maximum age for the adult and master divisions, but there is a minimum age.

The divisions shall abide by the age limits … described in the table below:

ADULT (Current Year) – (Birth Year) ≥ 18"
That means you may only compete as an adult in an IBJJF event the year you turn 19. Galvao, who turns 18 on October 8, 2021, just needs to wait until January 1st and he is good to go.
Check out this video of Galvao's black belt promotion. You can watch him compete on August 1 when he joins the BJJBet 8-man no-gi Grand Prix alongside Leandro Lo, Vagner Rocha, Rousimar Palhares and more.
---
UFC 264: A Good and Bad Night for Jiu-Jitsu
Once again Gilbert Burns flew the flag for the jiu-jitsu community in the Octagon, beating Stephen "Wonderboy" Thompson with a careful three-rounded strategy designed to exploit his grappling advantage. Durinho is a one-time UFC welterweight title challenger, and he remains at the top of the ranking with this win. It wasn't easy as he had to avoid Thompson's dangerous striking, but Durinho's clever use of the cage to control his opponent saw him earn a decisive decision win. Sharp-eared viewers of the show will have heard Joe Rogan give a shout out to Durinho's recent match with Rafael Lovato Jr. on WNO, which he used to illustrate the incredible grappling pedigree of Burns. Thanks Joe!
🗣 @GilbertDurinho calling out top names in the division! #UFC264 pic.twitter.com/rjrMFxHQ9Y

— UFC (@ufc) July 11, 2021
It was almost two years to the day since Ryan Hall last fought in the UFC, and his return did not go well. The ADCC silver medalist is one of the best known grapplers in the lightweight division and had struggled to find opponents because of his unorthodox fighting style and submission prowess. Ilia Topuria was able to evade Hall's attacks and TKO'd him with ground and pound after defending a spinning hook kick. Hall's record drops to 8-2 following the loss, only the second time Hall was not victorious since his MMA debut in 2006.
HOW ABOUT THAT 🤯 @TopuriaIlia #UFC264 pic.twitter.com/ZQvUa1nJpo

— UFC (@ufc) July 11, 2021
Also, flyweight Zhalgas Zhumagulov of Kazakstan hit what 10th Planet people call a ninja choke, which is a front guillotine but with the hands in a quasi-RNC grip. Deadly when applied with force, as Zhumagulov did when he pushed opponent Jerome Rivera up against the fence to get the finish. That was Zhumagulov's first career submission win in 19 fights.
How's that for a first win in the UFC 😱

🇰🇿 @ZhakoZhumagulov gets a first RD tap! #UFC264 pic.twitter.com/ZvWSVfXiY6

— UFC (@ufc) July 10, 2021
---
What's the Big Deal?
Big Deal Pro 3 went down in Florianopolis, Brazil and showcased both gi and no-gi matches featuring some of the biggest names in Brazil. The most notable result has to be that of Anderson Munis, one of the three Munis brothers representing Dream Art, who won the 8-man ultra-heavyweight tournament.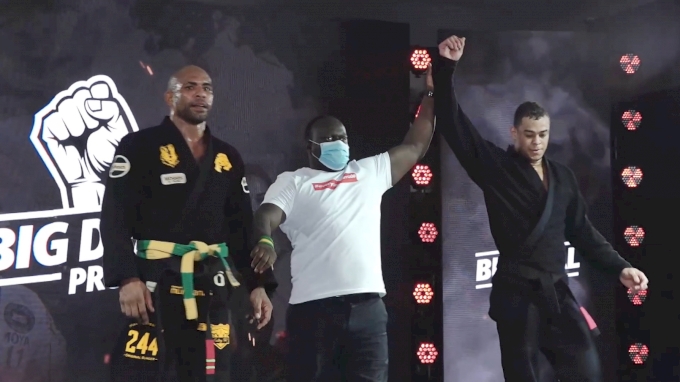 Munis won the GP by beating Erberth Santos in the final 0-0, 2-1 adv. Much has been said and written about Erberth's inconsistency, but he looked in shape and focused in fighting his way through to the final. Munis was able to utilize his long legs and strong grips to slow down and nullify Erberth's noted explosiveness. Anderson also beat Harysson Pereira in the opening round 2-0 and earned a 0-0 split decision against Gabriel Henrique in the semifinal.
Leandro Lo squeezed out a 0-0, 2-0 adv win versus Henrique Ceconi. Lo elected to play guard against Ceconi and came close to scoring a sweep but ran out of space. Aside from one notable exchange where Lo briefly tried to get on top, neither man really pulled the trigger and it was mostly an uneventful match.
One of the most entertaining and interesting matches was a no-gi encounter between Isaque Bahiense of Alliance / Dream Art and Servio Tulio of Gracie Barra. Tulio's strategy seemed mostly centered on attacking the legs of Bahiense, who countered with estima locks, and well-timed near-guard passes.
No-Gi Scrap: Bahiense Fends Off Leg Attacks at Big Deal Pro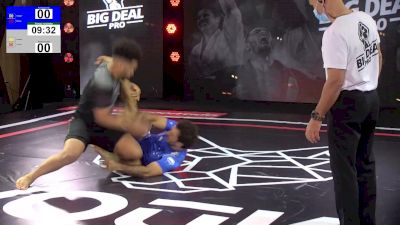 The final score doesn't reflect the amount of action that took place and both men were good at not allowing their opponent to put up points. Bahiense is one of the best no-gi grapplers in his weight class out of Brazil– technically he may still lag behind some of the best based out of North America, but his combination of fight IQ, athleticism and experience would make him a tough opponent for anybody.
Technically speaking, there were some really cool moments that I want to highlight below.
First is Leo Lara's old school choke that he used to beat the half guard of Jeison Silva. The only time I've ever seen anybody do this choke was when I went to a Mario Sperry seminar back in 2014. Pay attention to how Leo slips his right hand into the collar and then uses his left arm to push down on the back of the head and control Silva's upper body. If you've never felt this choke, you'd be surprised how strong it is.
Leo Lara Uses Old School Choke to Beat Half Guard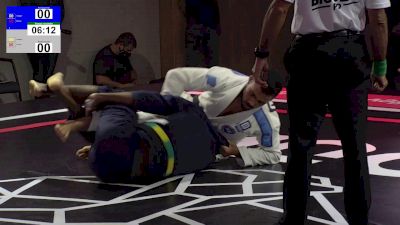 Here's another cool moment, this time from Mauricio Oliveira of Dream Art. Wellington Alemao trains with Leandro Lo and he's got an insanely tough guard, which is why it blew me away to see Mauricio cut right through it with this straight forward and direct guard counter to the open guard.
Mauricio Oliveira Cuts Through Open Guard With Simple Pass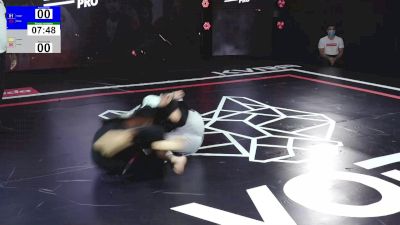 Another classic move here, this time from Erich Munis. He scored the balao sweep twice in his match with Leonardo Lemos, and the second time opened up the opportunity to go straight onto the armbar. It's one of those moves that never er goes out of fashion, but it's rare to see it pulled off at the highest level.
Erich Munis Uses Balao Sweep to Armbar Submission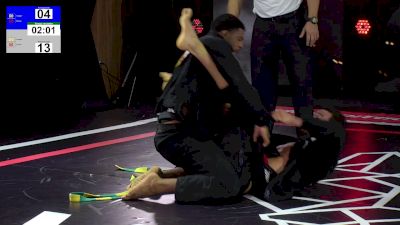 ---
Batista Impresses with Solid Win vs Tex
The main event at Fight to Win 176 between Edwin "Junny} Ocasio and Bebeto Oliveira didn't quite live up to the hype. Junny couldn't tie up Bebeto in any of his leg attacks, and Bebeto came nowhere near passing Junny's guard.
The real entertainment was between Gustavo Batista of Atos and Aaron Tex Johnson in a heavyweight no-gi match. Batista almost never competes no-gi but has recently entered the scene and this match proves that his heavy pressure and precise guard passing can work against a top-10 ranked heavyweight in Tex, who ranks #6 at +205lb.
Batista's style isn't the flashiest, but it is incredibly effective. He smothers his opponents with mid-range pressure and deftly maneuvers their legs with seemingly little effort. Watch this highlight video to see what I mean– his footwork and early leg lock defense are worth studying.
Gustavo Batista Shuts Down Tex Johnson with Pressure Masterclass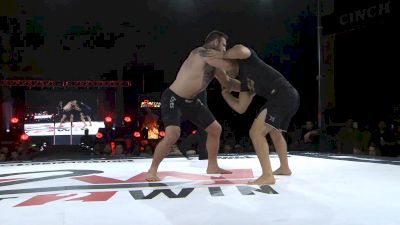 ---
IBJJF results & recap
Here are the standout results from the 2021 IBJJF Chicago Open.
Rising Gracie Barra star Bruno Matias captured double gold at medium-heavy and in the open class in the gi and won gold in the open class of the no-gi division, beating Oliver Taza in the absolute final 6-2.
Igor Feliz had a successful black belt debut, beating Alexandre Molinaro for lightweight gold in the gi.
The crafty veteran Vitor Oliveira claimed gi gold, fending off representatives of the next generation once again. He beat Luan Andrei in the middleweight final.
Laurah Hallock earned double gold in the women's black belt divisions, defeating rising star Jessica Buchman along the way.
Brown belt Ismael Lima of GF Team got double gold, winning the featherweight and open class.
---
Upcoming Events
We have 50+ live grappling events from around the world between now and the end of year– watch them live or on demand on FloGrappling.