2021 FloGrappling Road to ADCC
Live Updates & Results | FloGrappling's Road To ADCC
Live Updates & Results | FloGrappling's Road To ADCC
Tune in here for up to the minute results, updates and analysis from FloGrappling's Road to ADCC, live on July 17.
Jul 17, 2021
by Corey Stockton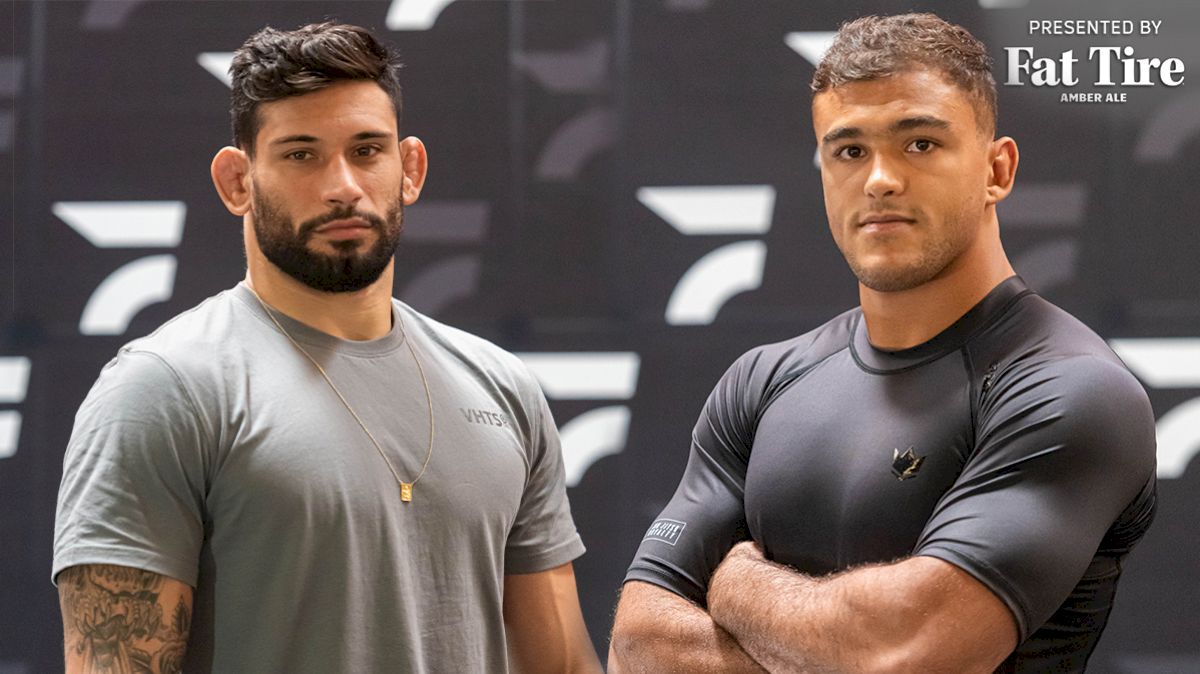 The first event of it's kind, FloGrappling's Road To ADCC is underway. ADCC champions, veterans and hopeful invitees will square off in six matches under the ADCC-finals ruleset. In the main event, the 2019 ADCC 88 kg champion, Matheus Diniz, will fight up in weight to take on the 2019 99+ kg champion, Kaynan Duarte. Duarte weighted in at 101.2 kg, which could be a significant advantage against Diniz, who weighted in at 93.4 kg. But Diniz is a master strategist in the ADCC ruleset, and has an opportunity to prove that again here.
Also on the card, Nicky Ryan will face Dante Leon, Elisabeth Clay will face Ana Carolina Vieira, William Tackett will face Lucas "Hulk" Barbosa, Geo Martinez will face Mikey Musumeci, and Kade Ruotolo will take on Roberto Jimenez.
Consider this your hub for the most up to date results and analysis. Tune into this article, and keep refreshing the page for everything you need to know, updated live and matside at FloGrappling's Road to ADCC.
---
This match delivered exactly as expected; it opened with an aggressive exchange of hand fighting and wrestling which eventually put Kade Ruotolo on top. As Roberto Jimenez wrestled up, Kade countered, starting an trade of positional switches and submission attacks which hardly stopped. Ruotolo established a dominant position shortly before the points phase started, and climbed to back control there. Once he established position, he trapped an arm and settled in his rear naked choke for the finish.
Roberto Jimenez def Kade Ruotolo via rear naked choke (12:04)
---
Lis Clay took an early negative point, sitting to guard after just 75 seconds of wrestling. She remained aggressive from her guard, entering into leg entanglements but not finding a bite. But her aggression led to several stalling warnings assessed to Ana Carolina.
As the points period began, Ana Carolina baited Liz to wrestle up to her feet, and as the action was stopped on the boundary, Liz was stuck standing. Ana Carolina quickly took her down, increasing her lead. Liz continued seeking attacks, but Ana Carolina found her moment, grabbing a tight guillotine and beginning a passing sequence. Although she didn't finish the pass, she had her pressure behind her, finding an arm triangle position to punctuate the victory, and snapping Elisabeth Clay's 11-match submission win streak.
Ana Carolina Vieira def Elisabeth Clay via points (2-0, one negative each)
---
Lucas Barbosa demonstrated dominance on the scoreboard after scoring a takedown. Tackett continued attacking throughout, but Hulk passed at will. In fact, he allowed Tackett to recompose guard on multiple occasions to continue racking up points. He scored 34 points, but took 4 penalties from the judges for not pursuing the finish.
Lucas Barbosa def William Tackett via points (34-0)
---
Mikey wrestled with Geo momentarily, and conceded a takedown when Geo shot. Mikey attacked on an armlock, and secured a sharp arm lock. He pursued the finish, but Geo refused to tap. Mikey switched to attacking the legs, where he got a few strong bites on the leg, but no submission from Martinez.
Both athletes were sitting as the points portion began, leading to several minutes of leg lock shootouts, of which Musumeci demonstrated clear control.
With less than five minutes remaining, Geo came to his feet, giving Musumeci a path to scoring. Musumeci inverted to k-guard and completed a matrix backtake, earning his points and chasing the finish for the final moments.
Geo and Mikey had exchanged words during the match, and they continued arguing after the match. In his post-fight interview, Mikey called Geo an amateur for his demeanor.
Mikey Musumeci def Geo Martinez via points (6-0)
---
Nicky Ryan dictated the pace of the match early, hitting an early takedown, and frequently conceding sweeps to demonstrate his abilities to wrestle up from the guard. As the points portion of the match began, Ryan scored a quick three points off a body lock pass, then pulled guard, where he iced Dante Leon for the rest of the match. Dante looked to pick up the pace, and Ryan's pace slowed dramatically.
He came away with the win, and as he returned to his feet, revealed a significant knee injury, likely causing his loss of pace.
Nicky Ryan def Dante Leon via points (3-0)
---
This match was all Kaynan Duarte. He earned a quick takedown with an inside trip, then got to a secure passing position. He back-stepped into cross ashi, and finished with a cloverleaf, becoming the second person ever to submit Matheus Diniz.
Kaynan Duarte def Matheus Diniz via cloverleaf (2:04)