2021 BJJBET II - Who's Next
BJJ Bet II Official Weigh-In Results
BJJ Bet II Official Weigh-In Results
BJJ Bet II will feature a no-gi middleweight tournament at 88kg, with Leandro Lo, Lucas "Hulk" Barbosa, Mica Galvao and even Rousimar Palhares.
Aug 1, 2021
by Hywel Teague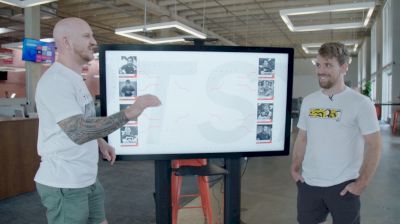 The weigh-ins for the BJJ Bet middleweight no-gi tournament took place in Sao Paulo, Brazil, with all eight competitors making weight.
Available only to FloGrappling subscribers outside of Brazil. For Local PPV information, go to https://www.bjjbet.com/
You can watch the full weigh-in video at the bottom of this article. Scroll down for the competitors' weights and to find out who were the lightest and heaviest grapplers.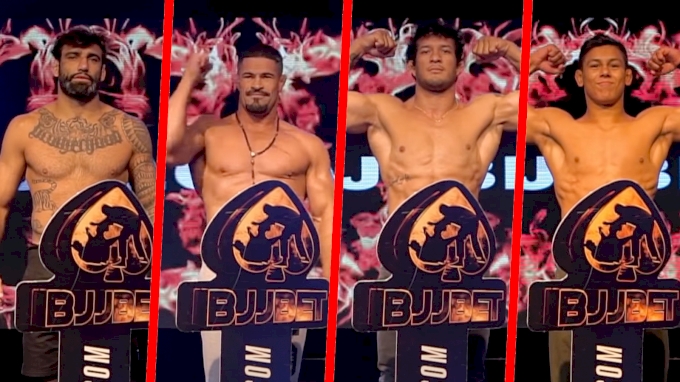 Left to right: Leandro Lo, Rousimar Palhares, Lucas Barbosa and Micael Galvao.
BJJ Bet Middleweight No-Gi Tournament
The tournament will feature a unique ruleset that features both points and overtime periods. Matches will be eight minutes long and feature standard point-scoring much like IBJJF-rules contests, but with no advantages. In the case of a draw, there will be a three-minute overtime round, and a judges decision if this extra period ends in a draw. Heel hooks are permitted.
One of the most anticipated aspects of this event is the return of Leandro Lo to no-gi competition. His last no-gi match was in September 2021 at the ADCC World Championships.
"It's been a long time since I competed no-gi," said Lo. "I think now I'll start competing more no-gi, I don't know, depending on this, we'll see if ti goes well. I'm excited, I trained a lot, studied a lot of no-gi."
Superfights
IBJJF World champions Nicholas Meregali, Matheus Gabriel and Tayane Porfirio all feature in main card superfights. Meregali, who weighed in at 99kg, will face the last-minute replacement Rider Zuchi (97.6kg) after Felipe Pena pulled out with a torn pectoral muscle.
This is the first time Matheus Gabriel has competed in Brazil since he was a blue belt. A black belt world champion, the last time Gabriel competed in a jiu-jitsu event in his home country was way back in 2015. Gabriel faces off with Luan Carvalho in a gi match.
Tayane Porfirio was suspended by USADA for a doping violation relating to the 2018 IBJJF World Championships and is ineligible to compete in IBJJF tournaments until 2022. Over the last year she has lost approximately 50lb, dropping from +140kg (over 310lb) to 113kg (249lb). She faces Gabi Pessanha (84.1kg) in a gi match.


BJJ Bet II
Prelims
Caio BBG vs Pedro Machado
Duda Tozoni vs Jessica Carolina
Leo Lara vs Jorge Michelan
No-Gi GP opening round
Leandro Lo vs Rafael Paganini
Rousimar "Toquinho" Palhares vs William Tackett
Lucas "Hulk" Barbosa vs Servio Tulio
Micael Galvao vs Mauricio Oliveira
Superfights
Matheus Onda vs Samuel Nagai
Meyram Maquine vs Murilo Amaral
Superfights
Matheus Gabriel vs Luan Carvalho
Gabi Pessanha vs Tayane Porfirio
Nicholas Meregal vs Rider Zuchi