2021 Pan Jiu-Jitsu IBJJF Championship
The Brown Belts You Need To Know Before The 2021 IBJJF Pan Championships
The Brown Belts You Need To Know Before The 2021 IBJJF Pan Championships
Some talented young stars are taking on brown belt divisions for the 2021 IBJJF Pan Championships on Sept. 1-5. Here are the names you need to know.
Aug 24, 2021
by Corey Stockton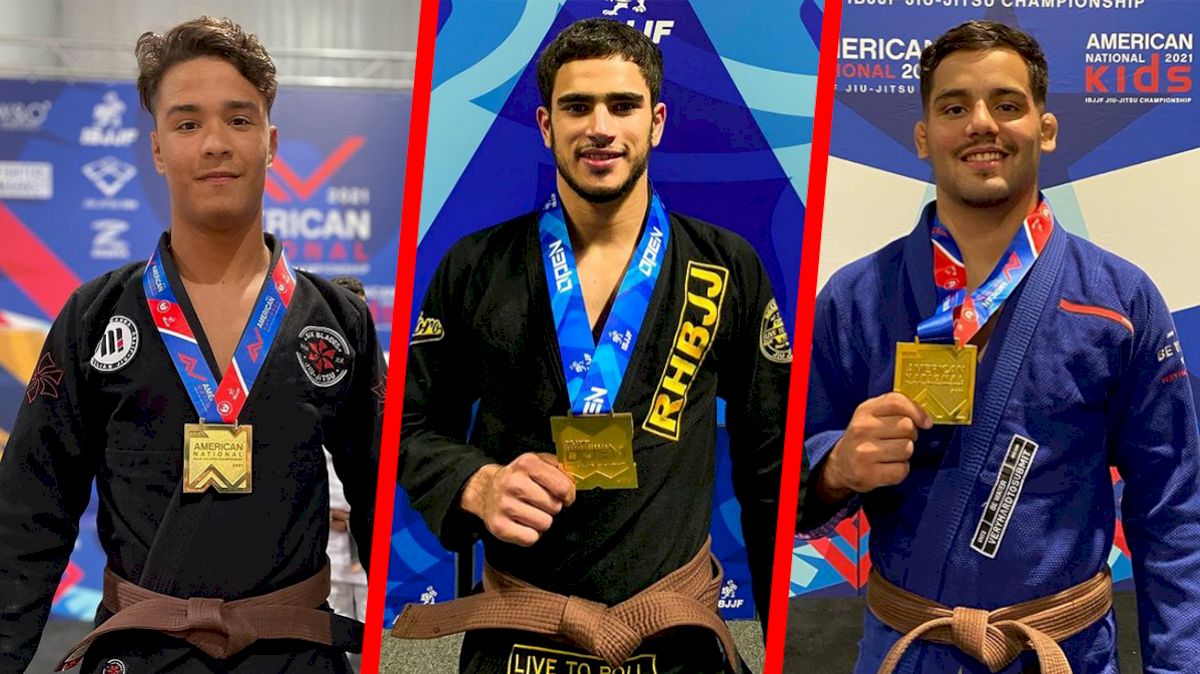 The 2021 IBJJF Pan Championship is shaping up to be the most star-studded gi event of the last 18 months. Returning Pans champions, rookie black belts, and some of Brazil's finest up and coming competitors are all in the mix.
While Pans will be a great opportunity to watch some of the most competitive black belts square off for a coveted title, it's also a chance to look toward the future. Some of the brown belts registered for Pans show promise to be future black belt champions. They have the precision, the athleticism, the star power; these are the brown belts to watch at the 2021 IBJJF Pan Championships on September 1-5.
---
Male Roosterweight | 13-man division
The favorites:
Osamah Almarwai
Pierre Pires
Tadiyah Danforth
---
Male Light Featherweight | 13-man division
The favorites:
Thalys Pontes earned his brown belt in 2020, a few months after earning a Pans title. During his Pans run, he won each of his four matches via submission. Pontes is best known for his vicious loop choke, and his perpetually dangerous closed guard. He's the man to beat in this division. Currently 17-0 as a brown belt, Pontes will be the top dog in this division.
---
Male Featherweight | 25-man division
The favorites:
Ismael Santos*
Zach Kaina'alili*
Vinicius Silva
Richard Bukovcsan
Edward Lucero Jr.
Rohan Patel
Ismael dos Santos is one of the top prospects at featherweight. He's fresh off a gold medal performance at American Nationals, and has been piling up medals in the weight class — not to mention the absolute division — all year.
Art Of Jiu-Jitsu's newest brown belt, Zach Kaina has had the purple belt featherweight division under lock and key for the last two years. Now he's prepared to try his skills at the next level. Kaina is technical, strategically savvy, and keeps a high pace, which makes him one to keep an eye on in this division.
---
Male Lightweight | 28-man division
The favorites:
Eduardo Roque*
Anthony Ortiz
Eduardo Roque seems to have spent every weekend this year atop a podium. Roque knows when to turn up the pace, and when he does, he generally keeps the scramble alive until he finds a submission. He took bronze at Pans in 2020, and will have his eyes set a few levels higher this time around.
---
Male Middleweight | 26-man division
The favorites:
Jonathan Fennell
Benjamin Kunzle
Austin Oranday has been stockpiling hardware in the middleweight division since early 2020. He has a finisher's spirit, and is particularly dangerous with his leg locks. This may be his division to take.
---
Male Medium Heavyweight | 19-man division
The favorites:
The heaviest top prospect out of AOJ, Matheus Rodrigues regularly submits any and all opponents set before him. He should be considered the favorite to win this division, and to reach the absolute podium as well.
---
Male Heavyweight | 18-man division
The favorites:
The heavyweight division may be the most exciting of the brown belt tournament. "El Monstro," Elder Cruz looked stellar in his brown belt debut at American Nationals. "The Hillbilly Hammer," Jacob Couch, will be a fan favorite in this division. But the unsung hero is "Laranjinha," Felipe Costa, who has demonstrated a better gi pedigree than his division cohorts. He's the next big star out of Six Blades, and this could be his coming out party.
---
Male Super Heavyweight | 9-man division
The favorites:
Javier Zaruski*
Renan Cruz
Javier Zaruski of Atos has been one of the toughest draws in the heavy weight classes all year. He has a pressure oriented style, with which he wears down his oppoents, and usually grinds out a late arm triangle submission.
---
Male Ultra Heavyweight | 13-man division
The favorites:
Taylor Kettler
Guilherme Bacha
Matheus Menezes
---
Female Roosterweight | 7-woman Division
The Favorite
---
Female Light Featherweight | 8-woman division
The favorites:
Jessica Crane has been dominant all year on the IBJJF circuit. Without a doubt, she'll be the one to beat here. But new brown belt Abbi Pontes could pose a substantial threat to Crane. She recently defeated the decorated black belt Brenda Larissa at AJP Miami. Last time Pontes and Crane met, Pontes won a decision victory for gold at 2020 Pans when both women were purple belts.
---
Female Featherweight | 11-woman division
The favorites:
Priscilla Eckhardt
Fernanda Figueira
---
Female Lightweight | 8-woman division
The favorite:
---
Female Middleweight | 5-woman division
The favorite:
Deise Leonanjo has been atop nearly every podium at purple belt, and has remained successful since earning her brown belt in July. Pans gold in her first try would be a huge feather in her cap, and she's the favorite to win it here.
Female medium heavyweight | 5-woman division
The favorite:
---
Female heavyweight | 5-woman division
The favorites:
Leticia Cardozo
Luciana Mota
---
Female Super Heavyweight | 3-woman division
The favorite:
---
Full 2021 IBJJF Pans Brown Belt Roster:
Adult / Male / Rooster
TOTAL: 13
| TEAM | NAME |
| --- | --- |
| Alliance Los Angeles | Abraham S Majedi |
| Alliance Maryland | Tadiyah William Danforth |
| Alliance Orlando | Carlos Alberto Florez |
| Ares BJJ | Matheus Henrique Araújo Azancot Vilaça |
| Ares BJJ | Tomás Brunner |
| Art of Jiu Jitsu | Hiryu Niwa |
| Atos Jiu-Jitsu | Osamah Ali Ali Almarwai |
| BJJ Globetrotters | Coco Izutsu |
| Brazil 021 School of Jiu-Jitsu | Pierre Pires |
| Crazy 88 | Christopher Duyquan Tran |
| Dojo Leo Iturralde | Jose Gregorio Orozco Bonilla |
| Team Robson Moura | Eric Michael Naples |
| VBros BJJ | Antonio J. B. Villiatora |
Adult / Male / Light-Feather
TOTAL: 13
| TEAM | NAME |
| --- | --- |
| 127 BJJ | Valor Ulysses Boyer |
| Alliance Ecuador | Enrique A Guerrero Gonzalez |
| Ares BJJ | Ermeson Rogério Ribeiro de Sousa |
| Art of Jiu Jitsu | Dennis Russell Sisti |
| Art of Jiu Jitsu | Reon Niwa |
| Carlson Gracie Team | Sebastian Ernesto Serpa |
| Demian Maia Jiu-Jitsu USA | Julien Ariel Lopez-Moreno |
| Nova União USA | Aidan L. Collins |
| PSLPB Cicero Costha | Thalys de Oliveira Pontes |
| Roberto Traven BJJ | Thomas Foster Kennedy |
| Soul Fighters Texas | Jarrod Trotter |
| Team Lloyd Irvin | Shon Rico Staton II |
| Team Robson Moura | Matheus D. C. M. Fonseca |
Adult / Male / Feather
TOTAL: 24
| TEAM | NAME |
| --- | --- |
| Active Jiu-Jitsu | Andy Ramirez Reyes |
| Alliance | Nicholas Seth Gavin |
| American Jiu-Jitsu Syndicate | Nicholas Randall Gifford |
| American Top Team Junior Fernandes | Justin Carneiro |
| Armyfighter Combatives | Chad Edward Myers |
| Art of Jiu Jitsu | Lucas Batista Rodrigues |
| Brazil 021 School of Jiu-Jitsu | Vinícius da Silva Pereira |
| Checkmat Vida Jiu-Jitsu | Eric Joseph Alfonso Jr. |
| Combat Base | Eduardo Manuel Farfan Arias |
| ECJJA | Richard Raul Bukovcsan |
| GF Team | Artur dos Santos Oliveira |
| GF Team | Ismael dos Santos Lima |
| Gracie Barra Cancun | Quetzalcoatl Rivas Gonzalez |
| Gracie Barra Rio de Janeiro | Marcelo Perialdo D. de Almeida |
| Gracie Barra Upland | Cody M. Yanez-Jahangiri |
| Gracie Barra Upland | Jason Alexander Dowser |
| Legion American Jiu-Jitsu | Edward Vincente Lucero Jr. |
| NOLA Brazilian Jiu-Jitsu | Mateus Daciuk Moreira |
| Nova União International | Nicolas Ignacio Ponce Gallegos |
| Roberto Traven BJJ | An Thien Vu |
| Rodrigo Pinheiro BJJ | Nicholas Fernando Martinez |
| SAS Team | Christian Eli Hoffman |
| Taylor Biagi Jiu-Jitsu | Rohan M Patel |
| Warriors Factory Haubert Team BJJ | Samir E. Bendeck Chaluja |
Adult / Male / Light
TOTAL: 28
| TEAM | NAME |
| --- | --- |
| Alliance Ecuador | Paolo Portaluppi Alcivar |
| Alliance Marcelo Garcia | Ricardo Costa |
| Ares BJJ MABJJ Academy | Amr Mohamed M. Elsayed Hassanin Gebril |
| Atos Jiu-Jitsu | André Marcelo Gamarra Sicuro Valle |
| Atos Jiu-Jitsu | Daniel Sathler Campos |
| Calasans BJJ International | Enrique Chaluja |
| Checkmat JM Modern JJ | Michael Shane McDonald |
| Daniri Jiu-Jitsu | Jose de Jesus M. Cornelio |
| Fight Sports | Bernardo Delibero |
| GF Team | Vinícius Góes Barbosa |
| GF Team International | Gennaro Gianfranco Yucra |
| Gilbert Durinho Association USA | Ari Lee Pollan |
| Gracie Barra America | Brian Travis |
| Gracie Barra Morgan Hill, CA | Gerson Alef da Silva Oliveira |
| Gracie Barra Rio de Janeiro | Carlos André Silva dos Santos |
| Nine Nine Japan | Myke Ohura de Jesus |
| Ohana Jiu-Jitsu Academy | Manuel Roberto Aguilar |
| PSLPB Cicero Costha | Lucas Garcia de Alcantara |
| Renzo Gracie Academy | Almir Muratovic |
| Renzo Gracie Newark | Matheus Batista da Silva |
| Soul Fighters Texas | Joshua Berry Kennon |
| Start Brazilian Jiu-Jitsu | Eduardo de Araujo Roque |
| Team Lloyd Irvin | Elijah Amir Dorsey |
| Team Robson Moura | Deven Collin Snyder |
| Team Shawn Hammonds | Andrew Michael Pardee |
| Trident Jiu-Jitsu | Kevin Eduardo M. de Jesus |
| Unity Jiu-jitsu | Anthony Christopher Ortiz |
| VBros BJJ | Alika Villiatora |
Adult / Male / Middle
TOTAL: 26
| TEAM | NAME |
| --- | --- |
| Alliance Atlanta | Delbert Louie Griffith |
| Alliance Charlotte | Austin Caine Oranday |
| American Top Team Junior Fernandes | Bernardo Goncalves Ribas |
| Ares BJJ MABJJ Academy | Jonathan P. Bechtloff |
| Danny Savery BJJ / New England United | Curtis Justin Mateus |
| De La Riva Jiu-Jitsu USA | Marco Domenico Lorusso |
| Essential Jiu-Jitsu | Dante Derrick Muschamp |
| Fight Sports | Benjamin Kunzle |
| Fight Sports | Felipe Porto Schiavon |
| GF Team Recreio | Guilherme Thury Mosqueira de Azevedo |
| Gracie Allegiance | Noah Alfredo Chen |
| Gracie Barra Columbus | Christopher Lee Pratt |
| Guigo JJ International | Eduardo Josue Castillo Zimic |
| Legion American Jiu-Jitsu | Jonathan Lane Fennell |
| Marcelo Alonso Brazilian Jiu-Jitsu | Kaleb Dewayne Germany |
| McVicker's Brazilian Jiu Jitsu | Christopher Matthew Wojcik |
| McVicker's Brazilian Jiu Jitsu | Ramses Bugarin |
| Me, We | Yuto Yanai |
| Niagara Falls Brazilian Jiu-Jitsu | Daniel Christian Donahue |
| Pedigo Submission Fighting | Clay Landon Mayfield |
| Qatar BJJ Brasil | Carlos Alberto Castro de Araújo Neto |
| Roberto Traven BJJ | Elijah Youngblood Pizarro |
| Roberto Traven BJJ | Shammah Eugene Womack |
| Start Brazilian Jiu-Jitsu | Mason Grey Barchard |
| Tactics | Matheus Bloemer |
| Team James Clingerman | Chase Westin Bruton |
Adult / Male / Medium-Heavy
TOTAL: 19
| TEAM | NAME |
| --- | --- |
| Alliance SP | Enderson Dias de Almeida |
| American Top Team Davie | Scott Edmond Pitts |
| American Top Team Junior Fernandes | Dilano O'Brian Taylor |
| Anibal Fight | Felipe Aníbal Ferraz Teixeira |
| Art of Jiu Jitsu | Mateus Rodrigues de Souza |
| Atos Jiu-Jitsu | Logan M. Yox |
| Carlson Gracie | Jared Wayne Haymon |
| CheckMat | Jansen Gomes Ramos |
| Clark's University of Martial Arts | Aaron Colter Tiegs |
| Daniel Gracie Academy | Brendan Peck |
| Fight Sports | Stephen Thomas Bonfardin |
| Gulf Breeze Brazilian Jiu-Jitsu / Checkmat | Gilberto Henrique Saraiva |
| Gustavo Machado BJJ | Jason Jay Castellanos |
| Helio Soneca BJJ | Nathan Alan Haddad |
| Pedigo Submission Fighting | Jorge Valladares |
| Renzo Gracie Academy | Arthan Bandeira Silva Barcellos |
| Solis Martial Arts Club | Chad Eric Ross |
| Trident Jiu-Jitsu | Sterling Van Mellman |
| Xcell Jiu-Jitsu Academy | Gabriel Alexander Landinguin |
Adult / Male / Heavy
TOTAL: 18
| TEAM | NAME |
| --- | --- |
| Alliance SP | Lucas Giraud Ribeiro |
| Ares BJJ Brasil | Italo Lima Costa |
| Ares BJJ MABJJ Academy | Theo Lee L. de Andrades |
| Checkmat New York | José Miguel Díaz Ureña |
| CheckMat USA | Elder Alexander Cruz |
| CheckMat USA | Monir Ahmed Toukhi |
| Double Five Dallas | Steffen M. Banta |
| Fabio Novaes BJJ | Matheus P. B. Alves |
| Fernando Moya Jiu-Jitsu Academy | Javier Arturo Barter |
| Fight Sports | John-Dylan Romann |
| Gracie Barra Rio de Janeiro | João Márcio Ferreira dos Santos |
| Kuwait Jiu-Jitsu Academy | Emad K. I. Alsumait |
| Pedigo Submission Fighting | Jacob Lee Couch |
| Renzo Gracie Orlando | Ramiro Leon |
| Roberto Traven BJJ | Olodon Densu-Ru Vassall |
| Six Blades Jiu-Jitsu - Brasil | Cássio Felipe Sousa Costa |
| Supremacy Brazilian Jiu-Jitsu | Zachary Kenneth Allen |
| TAC Team BJJ | Bryan Peterson |
Adult / Male / Super-Heavy
TOTAL: 9
| TEAM | NAME |
| --- | --- |
| American Jiu-Jitsu Syndicate | Bryce Sexton |
| Atos Jiu-Jitsu | Javier Zaruski Saul |
| CheckMat USA | Gregory William Mooney |
| Double Five Tijuca | Lucas Valentim Alves Montalvão |
| GF Team Ohio | Daniel Marc Calvert |
| Legacy Jiu-Jitsu - Team Alberto Crane | Josiah Errol De Los Santos Wakefield |
| Marcio Cruz Brazilian Jiu-Jitsu | Renan Cruz |
| Renzo Gracie Ottawa | Justin Primrose |
| Toronto BJJ | Michael Bakhtiyarov |
Adult / Male / Ultra-Heavy
TOTAL: 13
| TEAM | NAME |
| --- | --- |
| Atos Jiu-Jitsu | Matheus de Menezes Ferreira Marely |
| Babalu's Iron Gym | Ricardo N. Camarero Esparza |
| Brazilian Top Team Boston | Levi de Moura Guimarães |
| Caio Terra Association | Taylor Michael Kettler |
| CheckMat | Guilherme Bacha Guedes |
| CheckMat | Paulo André Lanzillotti |
| Double Five Highland Village | Ricky R Kolmel |
| Fabio Novaes BJJ | Tyler Scott Moore |
| GF Team | Andrezo Ramos Andrezo |
| Gracie Barra Charlotte | Omarre Lavere Griffith |
| Pedro Sauer Team | Bradley Addison Burkett |
| Renzo Gracie Academy | Solan P. Thomas |
| Walters Jiu-Jitsu | Thurman Maurice Green |
Adult / Female / Rooster
TOTAL: 7
| TEAM | NAME |
| --- | --- |
| Alliance Los Angeles | Giulia Guimaraes Gregorut |
| Ares BJJ | Ana Luiza Oliveira |
| Atos Atlanta BJJ | Faye Lynn Cherrier |
| Atos Jiu-Jitsu | Jhenifer Aquino Gonzaga |
| Fifty/50 Jiu-Jitsu | Nora Ticha Levy-Forsythe |
| Fight Sports | Julia Gomes B. de Jesus |
| Manzur Bros | Jazmin Hamuy |
Adult / Female / Light-Feather
TOTAL: 8
| TEAM | NAME |
| --- | --- |
| Ares BJJ MABJJ Academy | Jessica Mallely Crane |
| BJJ Revolution Team - International | Mara Ananda Kelly |
| GF Team | Melissa Britez Costa |
| Gracie Barra Northridge | Jennifer J Mendoza |
| One Jiu-Jitsu USA | Kathleen Egan |
| PSLPB Cicero Costha USA | Abbigayle Pontes |
| Ralph Gracie Jiu-Jitsu Berkeley | Dorothy Tran Dao |
| ZR Team California | Michelle Jacqueline Nunez |
Adult / Female / Feather
TOTAL: 11
| TEAM | NAME |
| --- | --- |
| Alliance Ecuador | Diana Gabriela Diaz Santander |
| Atos JJ Rio Claro | Elizabeth Joy Liera |
| Carlson Gracie Central Florida | Shawna Lee Ormsby |
| Cicero Costha Canada | Janine Lillian Mutton |
| Easton BJJ | Ana Mayordomo Garcia |
| Fight Sports | Miranda Galban |
| Maxercise Phila | Natalie Konieczny |
| Pablo Silva BJJ | Priscilla Eckhardt |
| PSLPB Cicero Costha | Fernanda Sabrina Elias Figueira |
| SAS Team USA | Alannah Arnett |
| Trident Jiu-Jitsu | Jessie Jane Grace |
Adult / Female / Light
TOTAL: 8
| TEAM | NAME |
| --- | --- |
| Ares BJJ | Gabriela Americo |
| Bruno Bastos BJJ Midland | Emily Elizabeth Fernandez |
| CheckMat | Thamires Arruda Monteiro |
| Cohab Chile | Melissa A. Ubal Cortes |
| Logos JJ | Rachel Claire Ranschau |
| Prime Jiu-Jitsu Center | Morgan Leigh Black |
| PSLPB Cicero Costha USA | Yasmim Coutinho Pinheiro |
| Tac Team BJJ - Midwest | Joanna Christine Trindade |
Adult / Female / Middle
TOTAL: 5
| TEAM | NAME |
| --- | --- |
| 316 BJJ | Alix Nomie A. Cornu |
| Art of Jiu Jitsu | Iasmim Casser da Silva |
| GF Team | Betina Chaves Penedo Pereira |
| Legacy Jiu-Jitsu - Team Alberto Crane | Erika Dawn Aeschliman |
| PSLPB Cicero Costha USA | Deise dos Santos Leonanjo |
Adult / Female / Medium-Heavy
TOTAL: 5
| TEAM | NAME |
| --- | --- |
| Alliance SP | Larissa Dias de Almeida |
| Carlson Gracie Team Alberta | Rebecca Faris |
| Gracie Barra Madison | Julie Michaela Ribeiro |
| Paul Silva Jiu Jitsu | Savannah Maria Barth |
| Renato Tavares Association | Hannah Marie Harjo |
Adult / Female / Heavy
TOTAL: 5
| TEAM | NAME |
| --- | --- |
| Alliance JJ | Letícia Cardozo de Carvalho |
| Brazilian Top Team | Maria Vitória Gonçalves Ruffatto |
| Pedro Sauer Team | Akeela Jovon Al-Hameed |
| Zenith BJJ - Las Vegas | Luciana Mota Castelo Branco |
| ZR Team NC | Eleftheria Christodoulou |
Adult / Female / Super-Heavy
TOTAL: 3
| TEAM | NAME |
| --- | --- |
| Lotus Club USA | Savannah Marie Ellis |
| Rodrigo Pinheiro BJJ | Maryanna Santos Cardoso |
| TRUJITSU/Excelsior | Alayna Lott |