2021 World Jiu-Jitsu IBJJF Championship
With No Buchecha at 2021 IBJJF Worlds, Who Wins The Absolute?
With No Buchecha at 2021 IBJJF Worlds, Who Wins The Absolute?
With no Buchecha at IBJJF Worlds, the stage is set for the most competitive absolute division in years.
Nov 23, 2021
by Hywel Teague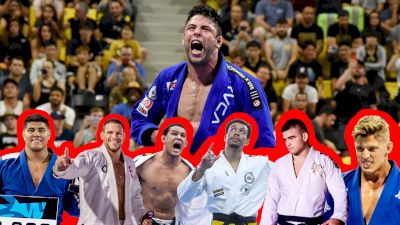 The 2021 IBJJF World Championships returns after a two-year hiatus, and one of the biggest questions from jiu-jitsu fans, followers and analysts is about who will win the absolute division.
The title of absolute division champion has almost exclusively belonged to one man for the last 10 years.
Marcus "Buchecha" Almeida of Checkmat claimed no less than six absolute division gold medals from 2012 to 2019, missing only 2015 (the year he blew his knee out) and 2018 (the year he gave the medal to the injured Leandro Lo).
Few have ever come close to toppling Buchecha from the top spot, but there is an opportunity for a new champion to emerge at the 2021 IBJJF World Championships.
The Checkmat star has shifted his focus to MMA and will fight in Singapore on December 3. For only the second time in a decade, Buchecha will skip the IBJJF World Championships, opening the door for a new figure to create a legacy.
The stage is set for the most competitive absolute division in years, and there is no clear favorite. Instead, we have a group of hungry black belts poised to fight their way to the top of the podium.
Below we'll break down who are the frontrunners for gold, and identify the outsiders who could score some surprises.
The IBJJF GP contestants
This invitational tournament served as something of a preview for the absolute division, as we expect all four participants to enter the absolute. Victor Hugo of Six Blades secured the prize with a submission against Team Lloyd Irvin's Mahamed Aly in the final, although Fellipe Andrew (Alliance) and Gustavo Batista (Atos) both looked perfectly capable of going head to head with anybody in front of them. Batista fought the 80lb-heavier Hugo and lost by a narrow margin, while Andrew has won absolute titles at both the IBJJF Pan and European Championships.
The Best of Brazil
Registration is still open for Worlds, and we see new names appear on the list every single day. Many of Brazil's top athletes will do their best to attend, and we can identify three big names who stand real chances of winning the absolute. Erich Munis of Dream Art claimed both heavyweight and absolute gold at the recent Brazilian Nationals. Nicholas Meregali (Alliance) and Felipe Pena (Gracie Barra) are both world championship absolute bronze medalists. An interesting point of note is that Felipe Pena has moved up to super-heavyweight, a possible sign he is packing on the pounds in anticipation of going up against bigger opponents in the absolute.
The Atos A-team
Kaynan Duarte and Lucas "Hulk" Barbosa have both claimed World Championship gold in their careers. Kaynan is the heavier and the more obvious choice to compete for absolute gold, although it wouldn't be a surprise to see them both enter the open class.
The Big Men
The ultra-heavyweight division can be counted upon to deliver absolute hopefuls, and it would be a surprise not to see Max Gimenis (GF Team) or Roberto "Cyborg" Abreu (Fight Sports) throw their hat in the ring. Wallace Costa of GF Team and Luiz Panza of Checkmat are also natural choices. No word yet on whether Joao Gabriel Rocha (Double Five) will be at Worlds this year, although you have to imagine if he makes it there he'll do both weight and absolute.
The Maybes
A quick scan of the black belts signed up for Worlds and a few names jump out: Devhonte Johnson of Unity, GF Team rookie black belt Davi Cabral, newcomer Rider Zuchi, the veteran Dimitrius Souza of Alliance and others.
Leandro Lo, signed up as Unity, has made it to the finals of the absolute division three years in a row (2017-2019), but seeing him signed up as medium-heavyweight casts doubts on whether he'll enter the absolute this year. Whatever happens, we'll be watching closely.