2021 World Jiu-Jitsu IBJJF Championship
Worlds Brackets Released! See The 11 Most Interesting Early Round Matches
Worlds Brackets Released! See The 11 Most Interesting Early Round Matches
The IBJJF has dropped the brackets for Worlds. Here are the most exciting first round, and potential second round matches in the black belt ranks.
Dec 5, 2021
by Corey Stockton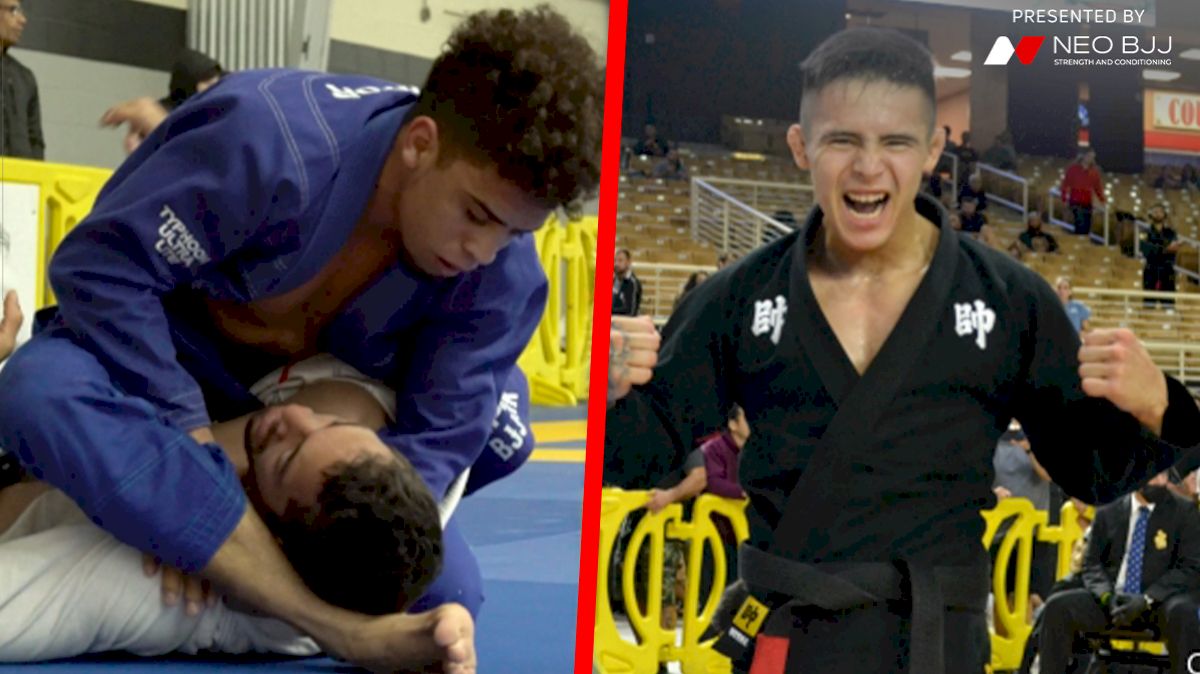 The brackets for the 25th edition of the IBJJF World Championships are now official. Those brackets are available here via bjjcompsystem.com. The number of potentially exciting matchups is expansive, but there are a few matches guaranteed in the early rounds that you can't miss. We've sifted through the black belt divisions to identify the best first round pairings — as well as likely second round matches — that are bound to provide some of the best jiu-jitsu action of the year.
---
First round matches
Featherweight | Saturday, Dec. 11 | 5:32 p.m. ET | Mat 8
Two rising stars in the featherweight division will square off in the first round. At 2020 Pans, Nagai ran up the score against Maciel's Alliance teammate, Isaac Doederlein, a match that will likely be fresh on both of their minds as they enter the mat. Nagai is an explosive grappler who will look to take advantage of the smallest opening, while Maciel often uses movement to create openings of his own. This has all the makings of a ten-minute scramble. The winner could go on to face the no.1 seed, Shane Jamil Hill-Taylor, though he will also have to get through a first-round opponent.
Roosterweight | Saturday, Dec. 11 | 5:26 p.m. ET | Mat 2
Thalison Soares built his name in the colored belt ranks, winning worlds at every belt before earning his black belt. Since winning Worlds at brown belt, he's been overseas, awaiting his return to the World Championships. While Soares has been abroad, The Giant Slayer, Estevan Martinez, has been establishing his name in the spotlight as one of today's most exciting roosterweights. Soares is technical and precise, while Martinez is chaotic, aggressive, and nearly impossible to submit. This match has all the makings of a spectacle in the very first round of the tournament. The winner will move on to face ten-time division champion Bruno Malfacine.
Super Heavyweight | Saturday, Dec. 11 | 5:14 p.m. ET | Mat 6
One of the most dominant heavyweight women in history will take on the fastest rising star in the heavyweight divisions in this first round matchup. This will be Garcia's first gi match in more than two years, while Pessanha has been incredibly active in gi competition in the same timespan. She's 47-5. The winner could go on to face Yara Soares.
Light Featherweight | Saturday, Dec. 11 | 3:30 p.m. ET | Mat 5
Two young tacticians are set to face off in the first round of the light featherweight division. The "Magicman," Edmond has a unique guard game with which he'll try to set traps for Vaisman, but Vaisman is a sniper, and needs just one opportunity to throw his own triangle, or fly past Edmond's guard. The winner of this match will have his work cut out for himself; this division is loaded with landmines, not to mention frontrunners such as Meyram Maquine and Diego "Pato" Oliveira.
---
Potential second round matches
Lightweight | Saturday, Dec. 11 | 3:26 p.m. ET | Mat 6
Espen Mathiesen is one of the most persistent back chasers in the lightweight division; that's saying something given the number of berimbolo specialists at that weight class. But in the second round, he could face one of the most creative and unpredictable grapplers in any weight class. Mathiesen will have to get past Francisco Barbarotti in the first round to get to Canuto.
Ultra Heavyweight | Sunday, Dec. 12 | 3:32 p.m. ET | Mat 3
Two-time World Champ Nicholas Meregali has been on a slide for the last few years, and will take his first match at ultra heavyweight against a division stalwart, Roberto Abreu. Cyborg has been a force at this division for years, but has never won Worlds here. This is likely to be a gritty match whether most of the action is on the feet or on the mat. Cyborg will have to get through his first round match, but the winner of this bout is likely to take on Victor Hugo in the semis.
Lightweight | Saturday, Dec. 11 | 3:14 p.m. ET | Mat 6
A true veteran of the lightweight division, AJ Agazarm has spent most of this year testing his mettle in the ultra heavyweight division. But if he gets through the first round at his natural weight class, he will run into the enigmatic berimbolo specialist Levi Jones-Leary. Agazarm may look to frustrate Jones-Leary, who is still looking to capture his first world title after being double-DQ'd in his debut in 2019. The winner of this match will have a significant second round test: the winner of Canuto and (potentially) Mathiesen.
Middleweight | Saturday, Dec. 11 | 3:47 p.m. ET | Mat 3
Some of Tommy Langaker's most exciting matches have come against hard-nosed opponents, which makes his match against Matias Luna a must-watch. Luna has a forward, aggressive style which is likely to draw similar energy from Langaker. This could look as much like a fight as a jiu-jitsu match.
Super Heavyweight | Saturday, Dec. 11 | 5:02 p.m. ET | Mat 1
Munis is making his black belt debut at Worlds against a familiar opponent in Xavier. Munis recently edged out a victory in the finals at Abu Dhabi World Pro, but Xavier made waves in the opening rounds of that tournament, as well in the earlier country qualifier. Neither of these men are likely to concede an inch. Xavier will have to get through an opening match to meet Munis. Whoever wins could go on to meet Felipe Pena in the semifinals, though that match is far from guaranteed.
Lightweight | Saturday, Dec. 11 | 3:50 p.m. ET | Mat 6
Andy Murasaki's lack of experience in IBJJF competition at the black belt level has once again put him up against the no.1 seed, Jonatha Alves, in the early rounds. Alves got the better of the last exchange at Pans. The score was narrow, but the anticipation and the gravity of the match kept the eyes of the entire arena glued to the action. Neither man will concede a single grip, as the smallest mistake could decide the winner of this match. Though Murasaki has a low seed, he shouldn't be counted out. The winner of this match has a real opportunity to win the entire division, stacked as it is.
Medium Heavyweight | Saturday, Dec. 11 | 5:14 p.m. ET | Mat 7
Leandro Lo will return to the division where he has been most dominant in search of his seventh world title. He'll could a warm welcome from Nathan Mendelsohn, an aggressive wrestler and top player, in his first match. Mendelsohn would be a significant underdog in this match if he gets past his first opponent, but he's a game challenger for Lo. Their chippy styles match up perfectly to make this fight a scramble from end to end. Lo operates best in the scramble, and this match could be a litmus test to see if he's still armed with his flashy submission skills.