2021 World Jiu-Jitsu IBJJF Championship
Everything You Need To Know Before Today's IBJJF World Championship Finals
Everything You Need To Know Before Today's IBJJF World Championship Finals
See the Worlds finals brackets here. Plus the team race standings, champions searching for another gold & divisions which guarantee a first time champion.
Dec 12, 2021
by Corey Stockton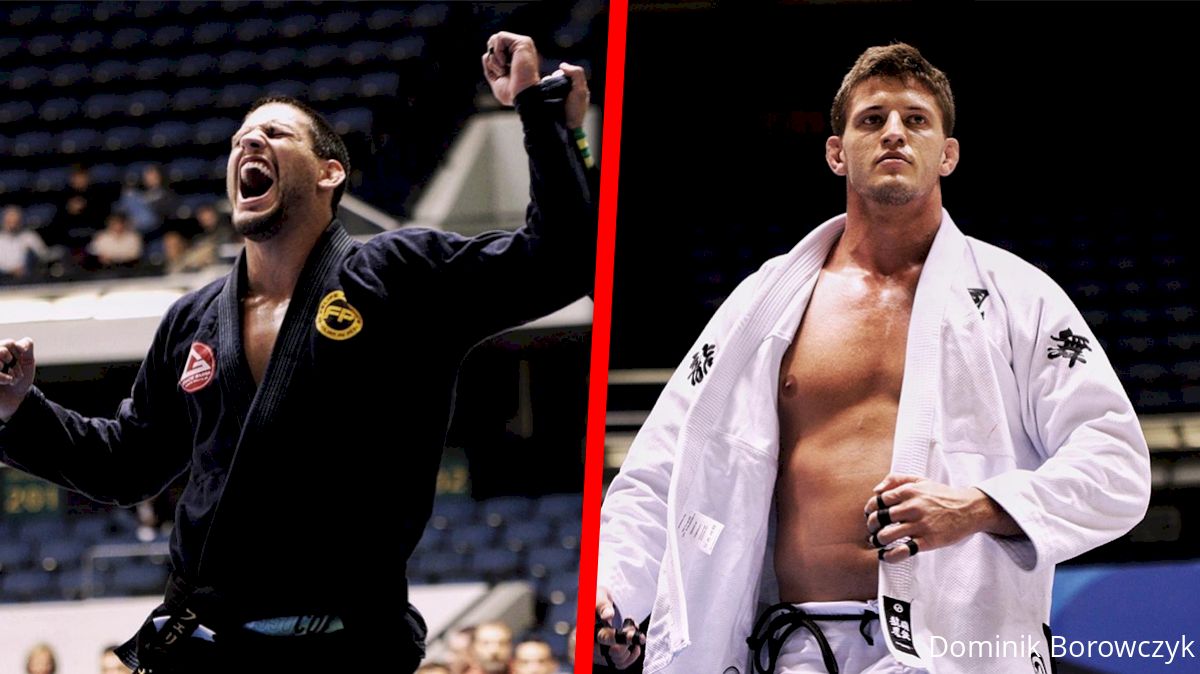 The 2021 IBJJF Worlds finals are set! The absolute divisions and the women's divisions have been whittled down to a single remaining match to decide this year's champions; and the male divisions have been narrowed to eight men each.
There's a lot at stake for each of the 88 athletes remaining, and the teams which are still in the running for the Worlds team trophy. Find out who's still in it, and what's on the line below, and watch all the action live on FloGrappling.
---
Men's absolute final
Nicholas Meregali of Dream Art will face Felipe Pena of Gracie Barra in a highly anticipated grudge match in the open class final. Meregali defeated Pena in their last encounter in 2018. They've been on the books for a rematch at several turns this year, but each of those fell through. Instead, that match will take place on the biggest stage in jiu-jitsu.
Whichever man is crowned will earn his first absolute world title. Both of them will be competing in an absolute final for the first time.
Women's absolute final
Neither Gabi Pessanha or Yara Soares has competed in an IBJJF World Championship at black belt until now. Both of them, however, did the unthinkable yesterday, submitting Gabi Garcia at different points in the tournament. They've faced each other several times in their black belt career and Pessanha has the edge in that rivalry. But Soares is not forgetting that fact, and will be eager to overcome it when it matters.
Pessanha and Soares will also square off earlier in the day in the super heavyweight final.
Men's brackets
Roosterweight | 12:30 p.m. ET
Jonas Andrade vs Tomoyuki Hahimoto
Mikey Musumeci vs Bebeto Oliveira
Bruno Malfacine vs Thalison Soares
Roiter Lima vs Rodnei Barbosa
Light Featherweight | 12:54 p.m. ET
Rene Lopez vs Ram Andana
Diego "Pato" Oliveira vs Yuta Shimada
Meyram Maquine vs Willis Nunes
Featherweight | 1:18 p.m. ET
Alexssandro Sodre vs Isaac Doederlein
Richar Nogueira vs Fabricio Andrey
Osvaldo Queixinho Moizinho vs Diego Sodre
Shane Jamil Hill-Taylor vs Kennedy Maciel
Lightweight | 1:42 p.m.
Michael Liera Jr. vs Matheus Gabriel
Murilo Amaral vs Johnatha Alves
Renato Canuto vs Levi Jones-Leary
Middleweight | 2:54 p.m.
Isaque Bahiense vs Jackson Nagai
Tommy Langaker vs Jaime Canuto
Ronaldo Junior vs Tainan Dalpra
Medium Heavyweight | 3:18 p.m. ET
Lucas "Hulk" Barbosa vs Fabio Alano
Andre Porfirio vs Murilo Santana
Gustavo Batista vs Ruan Oliveira
Heavyweight | 3:42 p.m. ET
Filipe Pinheiro vs Dimitrius Souza
Helton Junior vs Kaynan Duarte
Gabriel Oliveira vs Matheus Godoy
Super Heavyweight | 4:06 p.m. ET
Marcelo Oliveira vs Fellipe Andrew
Devhonte Johnson vs Fellipe Trovo
Joshua Guerra vs Erich Munis
Felipe Pena vs Harryson Perreira
Ultra Heavyweight | 4:42 p.m. ET
Nicholas Meregali vs Roberto "Cyborg" Abreu
Antonio Zuazo vs Igor Schneider
Women's finals
Roosterweight
Mayssa Bastos vs Jessica Dantas | 6:02 p.m. ET
Light Featherweight
Ana Rodrigues vs Tammi Musumeci | 6:14 p.m. ET
Featherweight
Gabi McComb vs Bianca Basilio | 6:26 p.m. ET
Lightweight
Beatriz Mesquita vs Luiza Monteiro | 6:38 p.m. ET
Middleweight
Thamara Ferreira vs Andressa Cintra | 6:50 p.m. ET
Medium Heavyweight
Elisabeth Clay vs Ana Carolina Vieira | 7:02 p.m. ET
Heavyweight
Izadora Cristina Silva vs Melissa Cueto | 7:14 p.m. ET
Super Heavyweight
Gabi Pessanha vs Yara Soares | 5:50 p.m. ET
---
The team race is still too close to call
The team race remains closely contested for the male team trophy. Alliance built a significant lead on the first day with their blue belt army, but that lead was overturned by Checkmat on the second day, as the purple and brown belts from Checkmat hit the podium time and time again. Checkmat is currently in the lead by eight points, meaning just one gold medal could be the difference for the team trophy.
Three more teams in the running: Unity, Gracie Barra, and Atos, who all have solid teams in the black belt divisions returning for the finals.
Here are the male team standings headed into the final day of Worlds.
Checkmat | 50 points
Alliance | 42 points
Unity | 25 points
Gracie Barra | 24 points
Atos | 24 points
Across all ten black belt male divisions, each of these teams have enough points left on the table to earn the team trophy. Atos and Alliance will each earn an additional point, as Atos' Kaynan Duarte and Alliance's Fellipe Andrew will take one point for bronze in the absolute division once the winner of that bracket has been decided. The rest of the available points will be decided on Sunday.
There are several teams outside of the top five who could steal those much desired points from the teams in the running for the trophy. But The top five teams will be looking to capitalize on their finalists. Here's how many points each team can still earn given their remaining competitors in each division:
Checkmat | 39 points available | Athletes at rooster, light, middle, and ultra heavyweight
Alliance | 85 points available | Athletes at all categories except lightweight
Unity | 30 points available | Athletes at light, medium heavy, and super heavyweight
Gracie Barra | 57 points available | Athletes at rooster, light, medium heavy, heavy, super heavy and open weight (3 points guaranteed at open weight)
Atos | 41 points available | Athletes at light, middle, medium heavy, heavy and super heavyweight
Alliance has the best chance of winning the team title due to their proximity to the lead and the number of points they still have available to them. But Gracie Barra could also sneak into the lead if Fellipe Pena double golds, snagging 18 points for his team.
The female divisions have been narrowed down to the finalists, meaning the potential winning teams are easier to predict. In the female divisions, it's a two team race for the trophy. Here are the current standings:
GF Team | 54 points
Dream Art | 31 points
Checkmat | 31 points
GF Team is currently ahead, but has only one athlete remaining in the final. Mayssa Bastos could take gold in the roosterweight division, securing nine points to bolster her team's lead. But that may not be enough to fend off Dream Art, which has athletes in four division finals, with a potential value of 36 points in Dream Art's best case scenario. Wins in all four divisions would give them 67 points, and guarantee the trophy.
Checkmat has three points coming for bronze medals at the feather, light and middleweight divisions (one point each), which could lock up a third place spot with 34 points. But Atos is creeping up behind them.
Atos currently has 12 points, and has 21 points left on the table across two divisions. Best case scenario for Atos, their female team could finish in second place. Atos is guaranteed 15 points even in their worst case, to finish with 27.
Whether Checkmat or Atos finishes in third will ultimately come down to a match between Luiza Monteiro and Bia Mesquita. If Mesquita wins, Atos will earn the third place finish, pushing ahead of Checkmat.
---
Previous champions who made it the final rounds
Male Roosterweight
Mikey Musumeci

Bruno Malfacine
Male Light Featherweight
None, a first-time champion will be crowned in this division
Male Featherweight
Male Lightweight
Male Middleweight
Male Medium Heavyweight
Leandro Lo

Lucas Barbosa

Otavio Sousa
Male Heavyweight
None, a first-time champion will be crowned in this division
Male Super Heavyweight
Male Ultra Heavyweight
Female Roosterweight
Female Light Featherweight
None, a first-time champion will be crowned in this division
Female Featherweight
None, a first-time champion will be crowned in this division
Female Lightweight
Luiza Monteiro

Beatriz Mesquita
Female Middleweight
Female Medium Heavyweight
Female Heavyweight
None, a first-time champion will be crowned in this division
Female Super Heavyweight
None, a first-time champion will be crowned in this division