Tezos WNO: Gordon Ryan vs Jacob Couch
Live Updates & Results | Tezos WNO: Gordon Ryan vs Jacob Couch
Live Updates & Results | Tezos WNO: Gordon Ryan vs Jacob Couch
Keep this page refreshed during Tezos WNO for up to date results, insights, statistics & analysis, and for links to the replays as soon as each match ends.
Mar 26, 2022
by Corey Stockton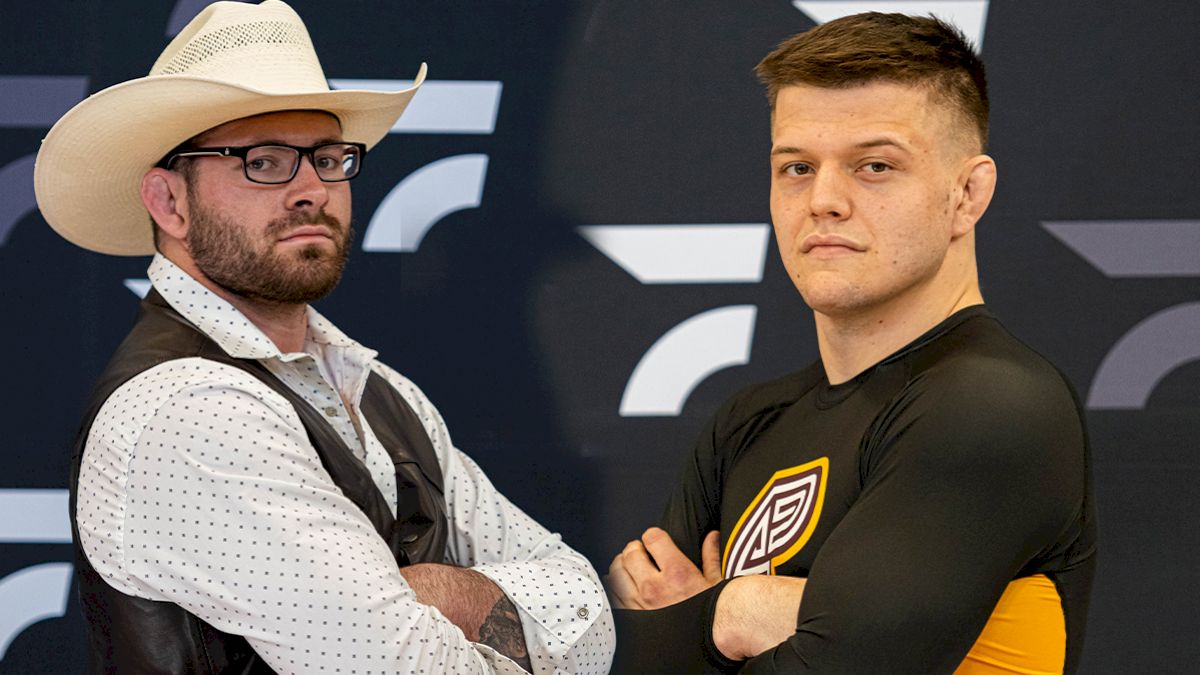 Unlock this article, live events, and more with a subscription!
Get Started
Already a subscriber? Log In
After 364 days out of competition, Gordon Ryan will return tonight against the Hillbilly Hammer, Jacob Couch. In the time that Ryan has been on the shelf, Couch has become one of Tezos WNO's most active athletes; and he'll finally get his opportunity to headline an event tonight at Tezos WNO: Gordon Ryan vs Jacob Couch presented by Fat Tire.
This is the biggest opportunity of Couch's career. The young, rising star is taking on one of the best grapplers in history in this 30-minute marquee matchup. And he's promised to deliver the forward pace and aggressive grappling style that got him here.
In the co-main event, Micael Galvao will look to keep his incredible momentum going as he faces WNO and ADCC veteran Dante Leon in what is anticipated to be the match of the night. Also on the main card, Nicholas Meregali will make his no-gi debut against IBJJF No-Gi Worlds champion Arnaldo Maidana.
All this and more, the nine-bout card begins at 9 p.m. ET. Don't miss a minute of the action. Keep this page refreshed throughout the evening to see the most up to date results, insights, statistics and analysis, and for links to the replays as soon as each match ends.
---
Order of Matches:
Prelims | Free on YouTube and Facebook
David Garmo vs Benji Silva | Middleweight
Joe Dierkhising vs Luke Griffith | Heavyweight
Jessie Crane vs Sohia Cassella | Strawweight
Main Card | Only on FloGrappling
Gabriel Sousa vs Keith Krikorian | Lightweight
Haisam Rida vs Elder Cruz | Light heavyweight
Nicholas Meregali vs Arnaldo Maidana | Heavywight
Dante Leon vs Micael Galvao | Welterweight
Gordon Ryan vs Jacob Couch | Heavyweight (30 min)
---
Preshow Predictions
Michael Sears picked: Sousa, Rida, Meregali, Leon, Ryan
Tim Spriggs picked: Krikorian, Rida, Meregali, Galvao, Ryan
Caio Terra picked: Sousa, Cruz, Meregali, Galvao, Couch
Riccardo Ammendolia picked: Sousa, Rida, Meregali, Galvao, Ryan
---
Garmo pulled to guard early, and a cagey match ensued as Silva was reluctant to push to finish a pass. As a result, both men earned penalties, and neither found any significant attack. Garmo won each of the judges favor periods, and a seoi nage attempt in the final period may have been the most significant move of the match.
It was enough to earn him his first win on the Tezos WNO mats, pushing his record to 1-2.
David Garmo def Benji Silva via split decision
---
Joe Dierkhising vs Luke Griffith | Heavyweight | 15 minutes
Dierkhising controlled the wrestling early, spearing Griffith to the mat. But Griffith wrestled up from his guard quickly, turning a single into a rear body lock and then jumping on Dierkhising's back and tapping him with a rear naked choke.
It is the fastest submission of the 2022 Tezos WNO season so far, and the fastest of any choke ever on Tezos WNO.
Luke Griffith def Joe Dierkhising via rear naked choke (1:27)
---
Record broken: Sophia Cassella sat to guard and immediately started spamming leg locks. She entered backside 50-50 and found the heel hook in just 35 seconds. It's now the second fastest submission in Tezos WNO history, the new fastest submisson of the year, and the fastest ever in Tezos WNO women's division history.
Sophia Cassella def Jessie Crane via inside heel hook from backside 50-50 (0:35)
---
A back and forth leg lock shootout punctuated by aggressive outside passing from Sousa and threatening no-arm triangles from Krikorian, this main card matchup was nonstop.
Krikorian got the better of the leg lock exchanges throughout, initiating most of the entanglements and demonstrating better control. But it was a final minute pass and near back take, and a near "cryangle attempt," which sealed the deal for the WNO first-timer.
Keith Krikorian def Gabriel Sousa via unanimous decision
---
Haisam Rida seems to have planned the perfect strategy to deal with the wrestling of Elder Cruz. Cruz had a well timed shot, perfectly countered by a good guard jump by Rida.
A second shot from Cruz was met by a heavy sprawl, and an immediate spin behind. Rida secured the back and locked up a rear naked choke, taking his third submission victory, his fifth win overall, on Tezos WNO.
Rida moves to 5-1; Cruz takes his first loss, and moves to 2-1.
Haisam Rida def Elder Cruz via rear naked choke (4:25)
---
Maidana opened the match with some aggressive pass-bys, but never attempted to follow them up with a shot. All the while, Meregali built momentum with his wrestling, spamming snatch single legs, and eventually putting Maidana to the ground, where he passed immediately.
Maidana eventually recovered to his feet, but continued to clear ties and never act. Maidana recieved a pair of penalties, and started to show signs of exhaustion. He collected a single leg late in the match, but Meregali countered hard. He passed again, this time immediately to a kumura grip, and finished with an armbar in the closing moment of the match.
Nicholas Meregali def Arnaldo Maidana via armbar (14:30)
---
Leon's superior wrestling put Galvao to his back on several occasions, but Galvao was constantly looking to spin underneath, and used that attack on one occasion to threaten Leon's arm. There was a thin margin deciding the match, but it ultimately went to decision in favor of Galvao. He's now 5-1 on Tezos WNO.
Micael Galvao def Dante Leon via unanimous decision
---
Jacob Couch came out and pushed the attack, taking aggressive shots on Gordon Ryan's leg. But Ryan eventually snapped Couch to the mat, spinning to the back and beginning to deliver his pressure.
Couch kept himself in the fight, offering a leg lock attack before finally getting smashed.
Once Ryan assumed dominant position, he went on a determined and smothering attack. He attacked with several arm triangles before finally collecting an armbar victory.
Gordon Ryan def Jacob Couch via armbar (12:09)