2022 ADCC West Coast Trial
Bracket Breakdown | See The Day 2 Favorites At ADCC West Coast Trials
Bracket Breakdown | See The Day 2 Favorites At ADCC West Coast Trials
Day two of the 2022 ADCC West Coast Trials is set. See the brackets, favorites, and major storylines going into the finals of the largest trials in history.
Apr 3, 2022
by Corey Stockton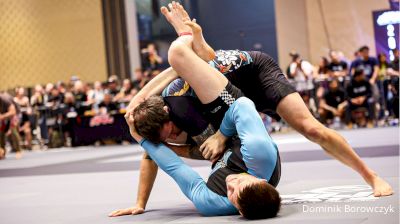 More than 1,000 competitors have been shaved down to just 160. With the first day of the 2022 ADCC West Coast Trials wrapped up, the final brackets are set for the final day of competition.
The 99 kg, 99+ kg, women's - 60 kg and women's 60+ kg have been narrowed down to just 16 athletes, while the 66 kg, 77 kg and 88 kg divisions each have 32 competitors remaining. Here are the brackets, and the favorites in each.
See the complete brackets, updated in real time, on FloArena.
---
66 kg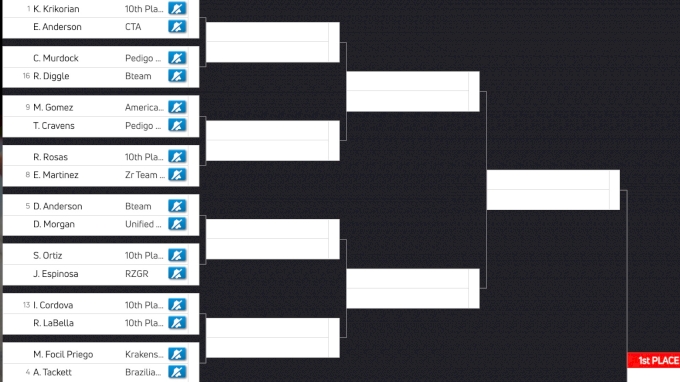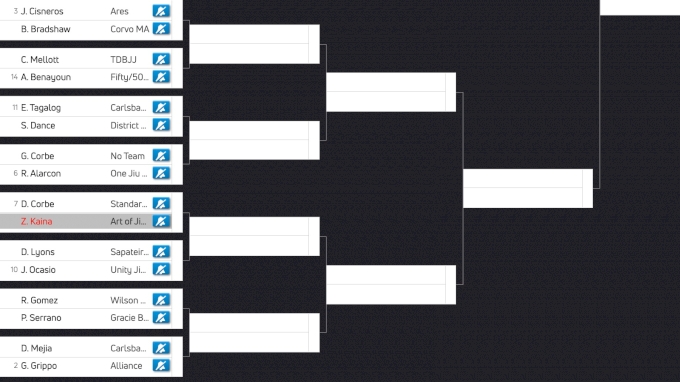 The top four seeds at 66 kg have all pushed through. Keith Krikorian and Andrew Tackett share one side of the bracket, while Gianni Grippo and Joshua Cisneros share the other.
Krikorian had a strong start to the day with one victory by submission and one by points. He has taken silver at the last three trials, and will be looking to finally cash in with a successful performance on day two.
He'll have to beware early of the renowned leg lock specialist, Robert Diggle. He could also expect a later round match with Estevan Martinez. Martinez is notoriously tough to pin down, but Krikorian demonstrated his abilities to control the Giant Slayer at a recent Emerald City Invitational.
Andrew Tackett could have a lighter load, at least until the quaterfinals, where he could meet B-Team's Damien Anderson, who had two submission victories on the day.
The bottom half of the bracket is slightly more star-studded, but if the seeding is correct, we could finally get a matchup between Gianni Grippo, and Joshua Cisneros, both of whom went a perfect two for two on submissions in day one.
Zach Kaina could be a darkhorse here; he took out the tough Frank Rosenthal in an early round in day one to advance. The bottom side is also loaded with Edwin "Junny" Ocasio (two submissions on day one). Deandre Corbe, Richard Alarcon, Adam Benayoun, Elijah Tagalog, and Cameron Mellott.
---
77 kg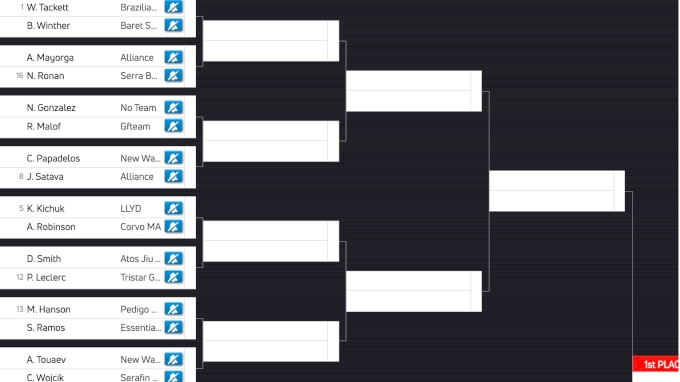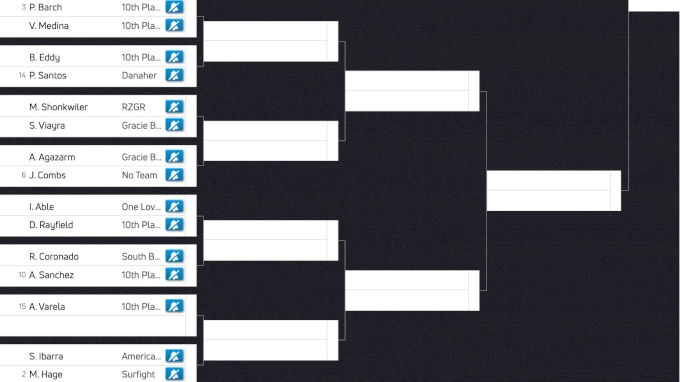 The no.4 seed, Kody Steele lost a decision in day one, leaving William Tackett as the sole Checkmat representative at 77 kg. Tackett is a two-time trials silver medalist, and could finally stamp his ticket if he successfully battles through the final five rounds on day two. Standing in his way are the dangerous Nick Ronan, the ADCC veteran Jon Satava, and the surging leg lock specialist Kieran Kichuk.
On the bottom half of the bracket, Magid Hage will be looking to find success on his fourth trials effort in this ADCC season. He'll be tested by Alan Sanchez early, and could go on to face ADCC veteran John Combs, or long-time trials standout PJ Barch, who looked dominant throughout day one.
---
88 kg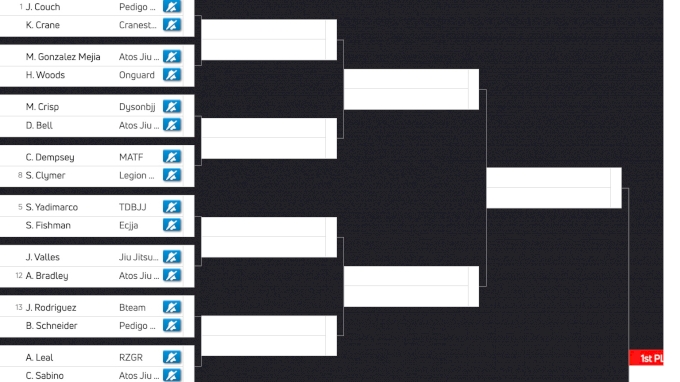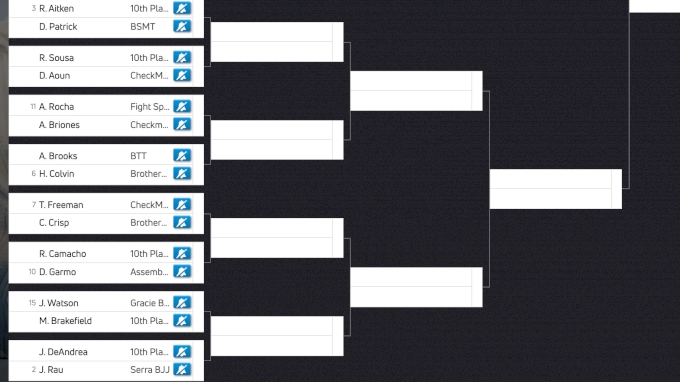 The no.4 seed, Stanley Rosa, fell to Calon Sabino, putting him as a potential semifinal opponent for the clear top dog at 88 kg, Jacob Couch. But Sabino will likely have to face two dangerous opponents, Adam Bradley, and Sean Yadimarco to make it through to the semis.
On the other side of the bracket, David Garmo and Achilles Rocha have emerged as favorites, but veteran Jason Rau will be waiting for them toward the tail end of the bracket. And Rene Sousa has emerged as a real threat after hitting three incredible submissions in day one. With that kind of energy, he could upset the whole division in day two.
---
99 kg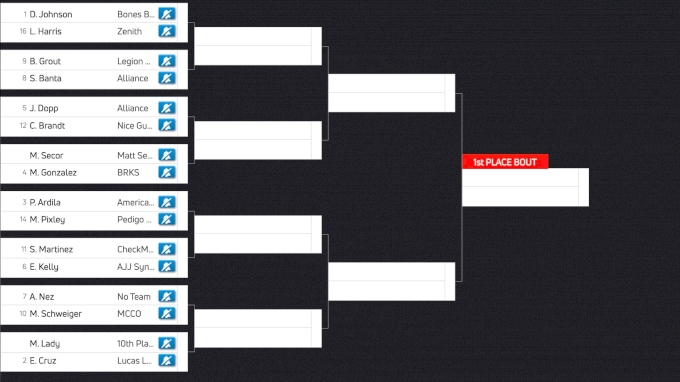 Nearly all of the top 16 seeds pushed through to the final day in the 99 kg category. Elder Cruz and Devhonte Johnson remain the men to beat; Johnson had a standout day with two submissions.
Breylor Grout looked threatening in day one, and could stand in the way of Johnson if he gets through his first round match with Stefen Banta.
Michael Pixley could be a major disruptor in this final 16, as the Pedigo Submission Fighting blue belt won his first two matches by submission in less than a minute each.
---
99+ kg
Some early upsets thinned the herd in of top-16 seeds in the heavywight division. Keep a lookout for the first match in this bracket, a showdown between ADCC veteran Mike Perez and top-seeded Kyle Boehm. Perez is drastically underweight in this category, but could still cause trouble for Boehm.
The winer of this match is likely to face Joseph Dierkhising who had two submissions in day one. The bottom half of this bracket is entirely up for grabs. But the two to watch for are Damon Ramos and New Wave Jiu-Jitsu's Daniel Manasoiu.
---
-60 kg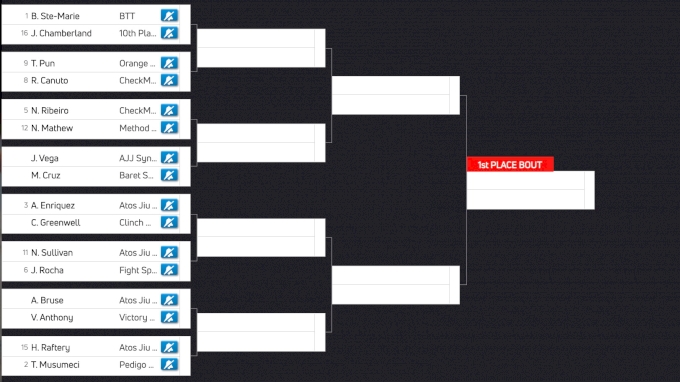 This may be the most stacked division of the entire tournament. The no.1-seed, Brianna Ste-Marie will have her work cut out for her. After a two submission showing in day one, she's likely to take on the winner of an intriguing matchup in the quarterfinals.
Trinity Pun and Raquel Canuto is a true clash of generations, the teenage blue belt vs the multiple-time world champion will be a can't miss match. Canuto had two submissions on the day, but Pun has nothing to lose.
Nathalie Ribeiro could be waiting in the semis after a strong showing in day one.
On the other side of the bracket, Tammi Musumeci, Alex Enriquez (two submissions each) and Jasmine Rocha will all be vying for a spot in the final. Enriquez and Rocha have each earned high placements in previous trials this season, while Musumeci is an ever-dangerous ADCC veteran.
---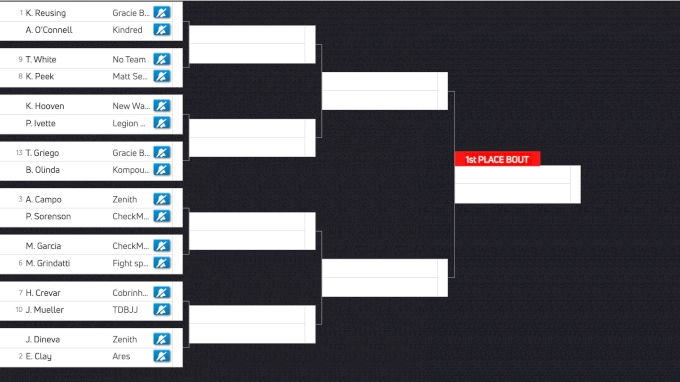 Kendall Reusing vs Elisabeth Clay is the likely story of this division. Reusing will likely cruise to the final after a strong outing in day one, and a gold medal performance at the 2021 East Coast Trials.
Clay will have a harder path, as both Jaidyn Mueller and Amy Campo could be waiting for her. If she gets to the final against Reusing, she may feel confident. Clay has defeated Reusing in all of their recent encounters.
Helena Crevar could play wild card in this division. The teenage sensation had a submission in her only match in day one, and has been clamoring for a shot at professional level talent.