2022 Pan Jiu Jitsu IBJJF Championship
The Standout Colored Belts Competing At The IBJJF Pan Championships
The Standout Colored Belts Competing At The IBJJF Pan Championships
Here are the purple and brown belts we're keeping our eyes on at the 2022 IBJJF Pan Jiu-Jitsu Championships.
Apr 6, 2022
by Corey Stockton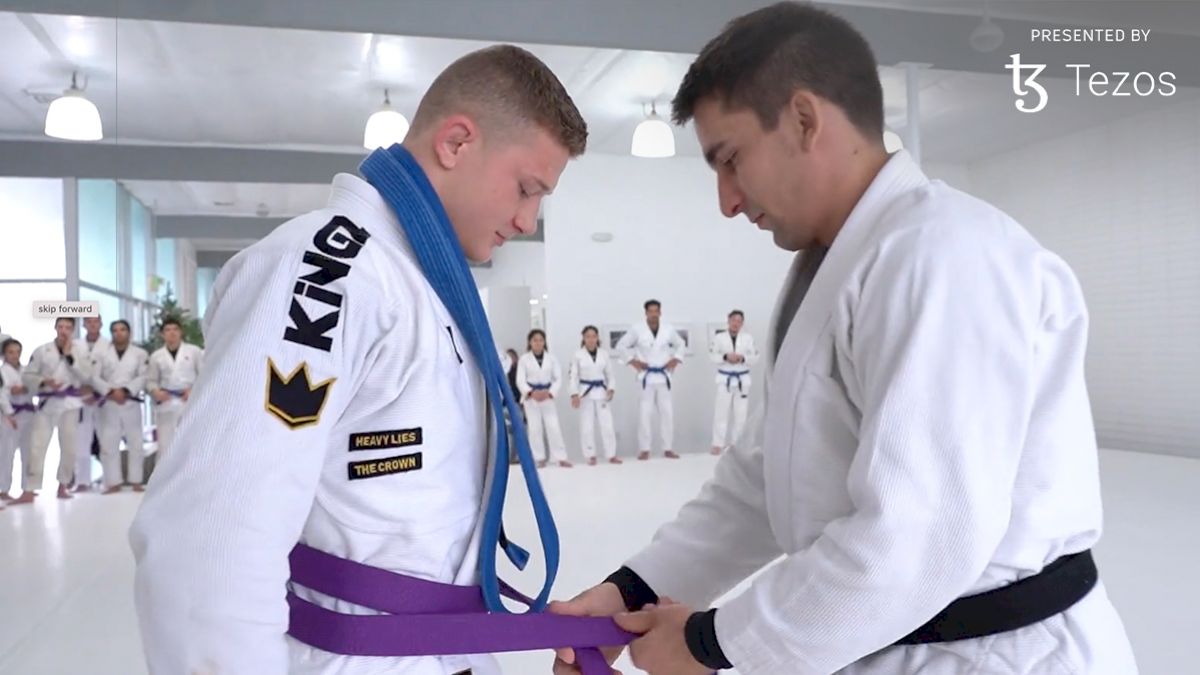 The IBJJF Pan Championships is underway, and over the first few days, hundreds of aspiring grapplers will try to prove that they are the next generation of world class talent. Any of the purple and brown belts could send that point home with an impressive showing of dominant jiu-jitsu at Pans, but there are a few who have already earned our attention.
Here are the colored belts we're keeping our eyes on at the 2022 IBJJF Pan Jiu-Jitsu Championships.
See every bracket from Pans here.
---
Purple Belts (Friday, April 8)
Art Of Jiu-Jitsu's "Ice" Cole Abate will make his debut in IBJJF adult competition at Pans after years dominating the juvenile divisions. Already a world-class talent at any level, Abate has proven he belongs among the best. Fans can anticipate the purple belt to excel in his division, as he's been a successful competitor among black belts in other organizations. Still, Pans will be a litmus test, not just for him, but for the quality of every purple belt in the featherweight division.
These Checkmat rising stars have the style expected of a Checkmat athlete. They drive forward, they're explosive, and they're always on the hunt for submission. Expect the medium heavyweight, Kaleo, and the heavyweight, Aoun, to rack up submissions on Friday.
Shelby Murphey
Another AOJ standout, Shelby Murphey is already a purple belt European and World Champion. She has cleared out the roosterweight division again and again with her classic AOJ passing style and her persistent submissions from the back.
Nia Blackman
Nia Blackman competed as an adult for the first time at the European Championships this year, taking double gold. Another Checkmat standout, Blackman will be a force in the heavyweight division.
Others to watch:
Kobe Litov
Kevin Alencar
Jonathan Waid
Yasmyn Castro
Sophia Magana
Iris Feliz
Giovanna Jara de Sousa
---
Brown Belts (Thursday, April 7)
Zach Kaima
Now down to light featherweight, the AOJ athlete performed well last year at Pans in his brown belt debut. He's more seasoned now, and that experience should pay dividends.
Thalys Pontes is a veteran at brown belt, taking silver at Pans last year. He's a submission hunting guard player famous for his loop choke. Don't blink; Pontes will look to rack up flashy submissions in the light featherweight division.
Elijah Dorsey
Team Lloyd Irvin's Dorsey won Pan's at brown belt last year, and he's looking for a repeat performance on Thursday when the brown belts take the mats. The lightweight has a dynamic game, and won't let his opponent rest for long. He's the man to beat at lightweight.
Lucas de Sousa
Atos' "Foguinho," Lucas Sousa lives up to his nickname. He's a dynamic athlete with an explosive passing game and a fiery armbar. That carried him to double gold at Euros back in February. He'll be the top seed at middleweight.
Christopher Wojcik
Wojcik knocked off many of the favorites in his 77 kg division at the ADCC West Coast Trials last weekend, and is equally as talented in the gi. The middleweight division is loaded with talent, but he'll be one of the favorites.
Dream Art's Rui Alves is the top dog at medium heavyweight. He earned double bronze at Worlds, but never lost decisively. He has the heart of a lion — he fought through the absolute division with a badly injured shoulder at Worlds — and the pace and precision one would expect of a Dream Art athlete.
Aside from an underwhelming performance at Euros earlier this year, Rayron Gracie has been unbeatable in his weight class or the absolute division this year. He's been a menace at blue belt and purple belt, but he seems to have come into his game at brown belt, unleashing his submission game on everyone in his path. He's down from super heavyweight, and has looked incredibly comfortable in this weight class.
Matheus De Menezes
The ultra heavyweight division is relatively thin, and Atos' "Teteu" is the clear cut frontrunner. He may be the best Atos prospect in the upper weight classes this year.
Abbigayle Pontes
Abby Pontes made her brown belt debut at Pans, and cleared out the division. She fell short at Worlds, taking third, but that will only bring out the best of her on Thursday in the light featherweight division. She has a tricky collar sleeve guard, and a deadly triangle/omoplata game from there.
Emilia Pakulski
Unity's European champion at lightweight, Pakulski has a mean pressure game, punctuated by devastating submission skills. Watch out for her armbar, and her chokes from the back.
Maria Ruffatto
Brazilian Top Team's star heavyweight, Ruffatto took brown belt gold at Pans last year in the absolute division after taking bronze at heavyweight. She'll be looking to improve on that performance with a double gold this time around, and will likely rely on her smashing style to do it.
Rachel Ranschau & Elizabeth Liera
These are two of Atos' most dominant female competitors. Rachel Ranschau blasted through her division at Euros, taking gold and hitting silver in the absolute, while Elisabeth Liera took silver at Worlds, submitting each of her opponents on the way to the final.
Others to watch:
Hiru & Reon Niwa
Thomas Foster Kennedy
Dante Muschamp
Felipe Porto
Jorge Vallidares
Ramiro Leon
Bradley Schneider
Francisco Papasideiro
Steffen Banta
Felipe Costa
Deise Leonanjo