2022 Pan Jiu Jitsu IBJJF Championship
Forget The Closeouts, Pay Attention To These Deserving Pan Champs Instead
Forget The Closeouts, Pay Attention To These Deserving Pan Champs Instead
Don't let the disappointment of the closeouts at Pans distract you from the fact there were some very solid performances by the black belt champions.
Apr 12, 2022
by Hywel Teague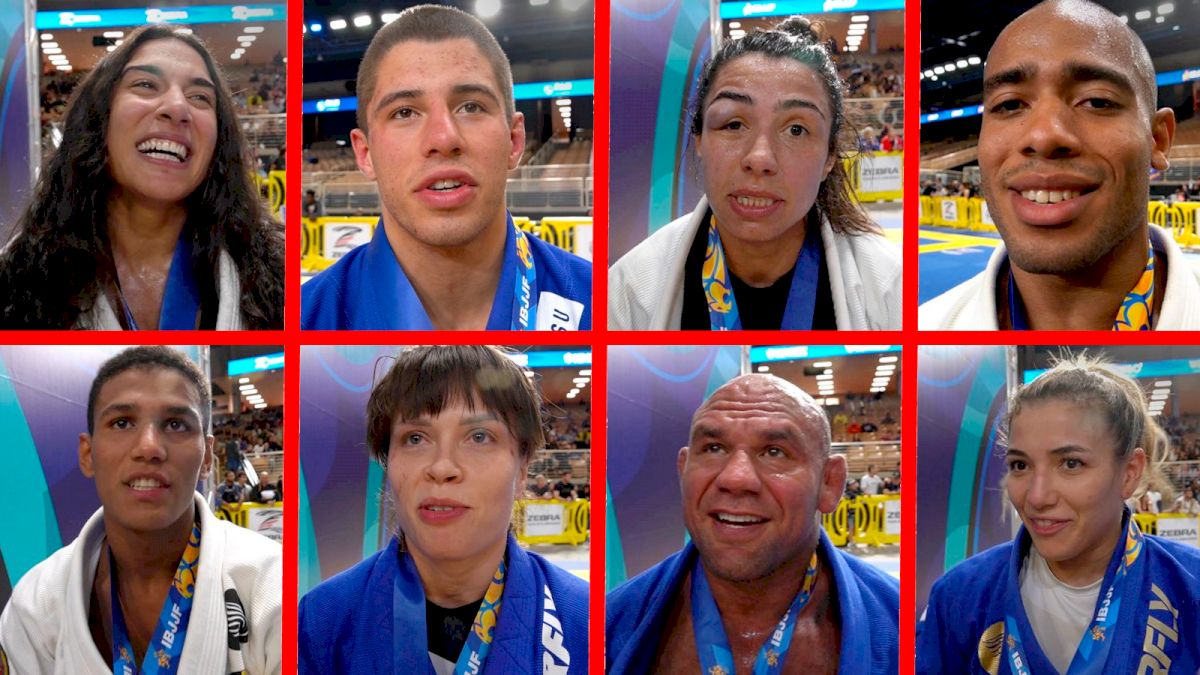 Now the dust has settled on Pans I've had time to reflect on the events of the second-most important event on the IBJJF calendar.
I'll save my thoughts on the closeouts for another day as I feel it's more important to focus on the champions who actually competed for their gold medals. Below, I've listed nine standouts who particularly impressed me. Not only did they rise to the top of the podium but they did so in a way that left an impression.
There is a pervasive (and unfortunate) mentality among many jiu-jitsu competitors who believe that winning is all that matters, and they seem satisfied in doing the absolute minimum possible to get their hand raised. That's not how legacies are created. When you think of the greatest champs in the history of our sport, they didn't make their names by stalling their way to an advantage win.
The names on this list are good examples of the kind of competitors who will help take the sport of jiu-jitsu in the right direction. They fought the hardest, did everything possible to secure a decisive victory and put on a show of athleticism and technique in the process. These are the kind of athletes we love to watch, and deserve the most attention.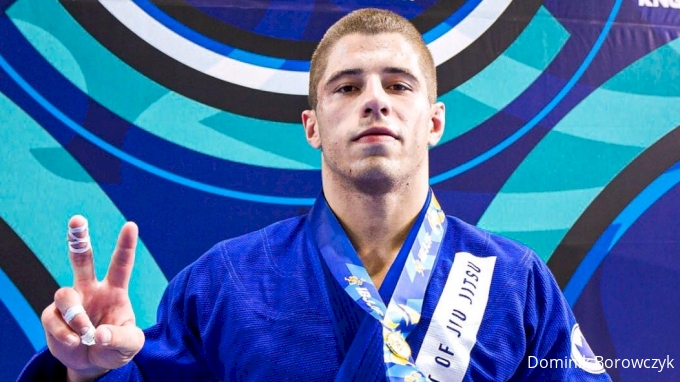 Tainan Dalpra
Middleweight champ Tainan Dalpra Of Art Of Jiu-Jitsu, one of the best pound-for-pound black belts in the world and a World and Pan champion in 2021, is following up his incredible rookie year with a strong start to the season. There doesn't seem to be anybody standing in his way, and the gap between him and the rest of the middleweight division only seems to be growing.
Even with his precision technique he still has room to improve, as he's only 21 years of age and in his second year as a black belt. Tainan is the only male black belt who could feasibly win the IBJJF Grand Slam, as he is the only name to have won gold at both IBJJF majors so far this season (gold medals at the European Championships in Rome and now the Pan Championships in Florida). No word yet on whether he would compete at the Brazilian Nationals in May, but he is very much the favorite to win once again at Worlds in June.
Watch:
Tainan Dalpra def Roberto Jimenez via triangle | watch here
Tainan Dalpra def Eduardo Carvalho via choke from the back (2:21) | watch here
Tainan Dalpra def Ronaldo Junior via points (2-0) | watch here
Middleweight: Tainan Dalpra def Jeferson Guaresi via points (3-0) | watch here
---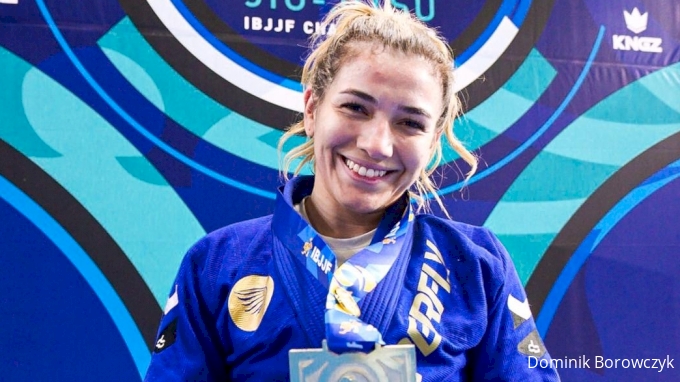 Anna Rodrigues
It's rare to see a cross-collar choke from mount in the black belt divisions these days, and even less so in a final of a major tournament like Pans. Dream Art's Anna Rodrigues submitted 2018 world champ Amanda Monteiro of GF Team in the final, earning her second major title of the season. Rodrigues won gold at the IBJJF Euros earlier this year, and is now one of the few remaining names who could potentially win the IBJJF Grand Slam.
Watch:
Anna Rodrigues def Amanda Monteiro via collar choke from mount (9:02) | watch here
---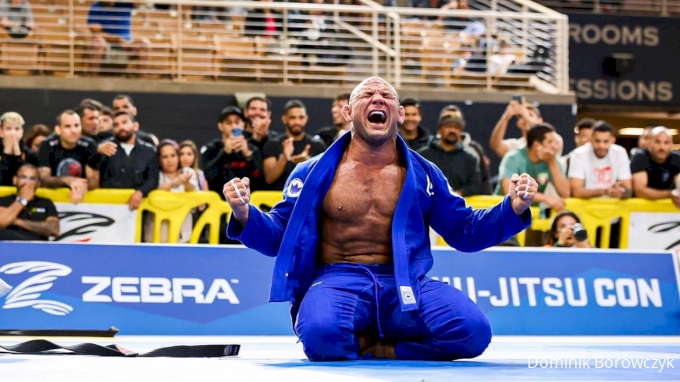 Roberto Cyborg
Who couldn't be impressed by the performance of Roberto "Cyborg" Abreu? The last time Cyborg won a Pan Championship gold medal was way back in 2008. Now 41 years of age and taking on men 15-20 years younger than himself, he faced opponents who probably hadn't even started jiu-jitsu when he got his black belt. He beat three GF Team heavy hitters in a row: Wallace Costa in the quarterfinal, Davi Cabral in the semifinal and Gutemberg Pereira in the final. He didn't concede a single sweep or takedown in the process, maintained a lead in every match and ended the tournament without getting scored on once.
Watch:
Roberto "Cyborg" Abreu def Gutemberg Pereira via score (2-0) | watch here
---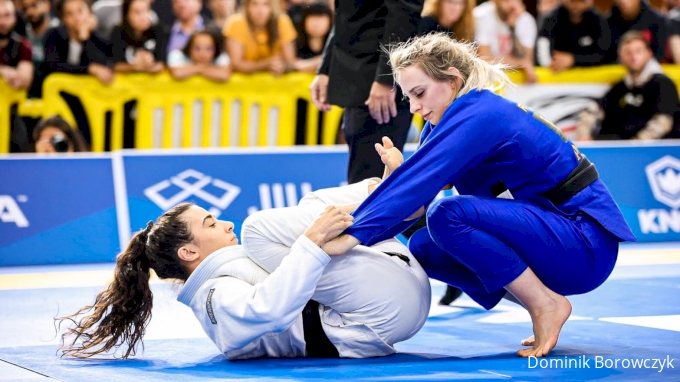 Nathalie Ribeiro
Checkmat's Nathalie Ribeiro (aka "Tata") had an entertaining finals match with the scrappy Ffion Davies but it was her semifinal against Janaina Maia of Gracie Humaita that particularly stands out. Ribeiro aggravated a knee injury just seconds into the match and it looked like she may not be able to continue but after a brief moment she shook it off and went to war in a thriller that went the full 10 minutes. That was followed by another physical encounter with her friendly rival Davies. Ribeiro used her flexible spider guard to counter the go-forward game of her opponent and ultimately reverse position, winning via points.
Watch:
Nathalie Ribeiro def Ffion Davies via points (2-0) | watch here
---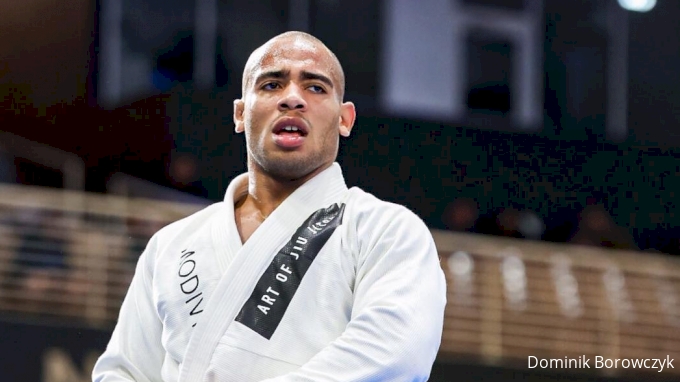 Johnatha Alves
Taking the gold medal in the lightweight division with a calculated and powerful performance, Johnatha Alves beat Andy Murasaki of Atos in the final 2-0. After an intense and ice-cold stare down, the Art Of Jiu-Jitsu black belt came out fast and scored early and kept the pressure on his opponent throughout. Alves' three matches leading into the final all ended via submission; he finished Eduardo Roque in his opener, Daniel Aquino in the quarterfinal and Natan Cheung in the semifinal. That gave Alves his third IBJJF Pan gold medal as a black belt in three consecutive years.
Watch:
Johnatha Alves def Andy Murasaki (2-0) | watch here
---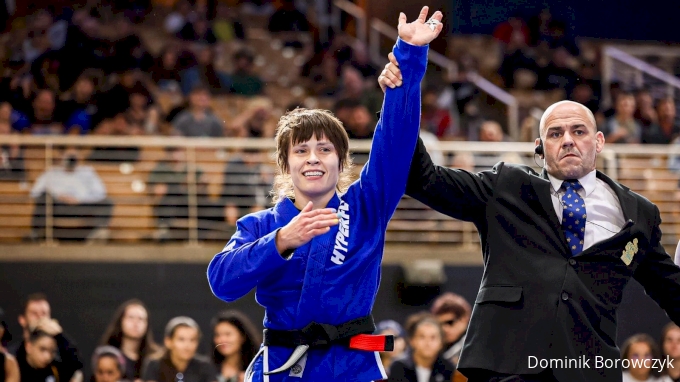 Maria Malyjasiak
The sole European to claim a gold medal at the 2022 IBJJF Pans, Maria Malyjasiak scored one of the most impressive submissions of the tournament with a chokeaplata against Izadora Cristina Silva of Dream Art in the medium-heavyweight final. The chokeaplata is the name given to a collar choke scored from an omoplata position, and Malyjasiak really gave no opportunity for her opponent to even get in the game as she came out fast and aggressive, deftly transitioning from a triangle to the omoplata position before sinking in the match-ending choke.
Watch:
Maria Malyjasiak vs Izadora Cristina Silva via choke-o-plata | watch here
---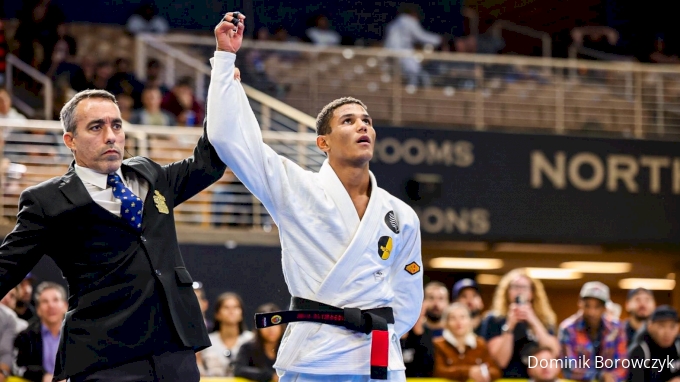 Meyram Maquine
The light-featherweight champion Meyram Maquine of Dream Art went into the division as the number 2 seed and proved why he is among the division's top competitors with wins against Diogo Reis, Kevin Carrasco and Lucas Pinheiro to claim the gold medal. Pinheiro looked like a beast in this tournament, manhandling his opponents and submitting the extremely tough Hiago George with an ankle lock in the semifinal, but Meyram imposed his game on Pinheiro and did what nobody else could do by putting him in bad positions, outscoring him 7-2.
Watch:
Meyram Alves def Lucas Pinheiro via points (7-2) | watch here
---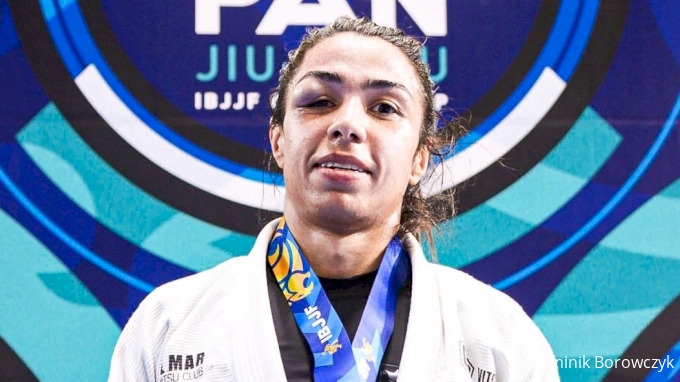 Melissa Cueto
The heavyweight division between Melissa Cueto of Alliance and Maggie Grindatti of Fight Sports was a tough physical match with both athletes fighting through adversity and physical pain. Grindatti came into the match with a serious elbow injury from ADCC Trials the previous week and was in effect competing with one arm, while Cueto took an errant blow to the face that caused her eye to swell with a large hematoma. Cueto was able to get the back of Grindatti and find a choke in the final 60 seconds of a knock-down, drag-out encounter. An incredible showing from both in a very exciting final.
Watch:
Melissa Cueto def Maggie Grindatti via choke (9:22) | watch here
---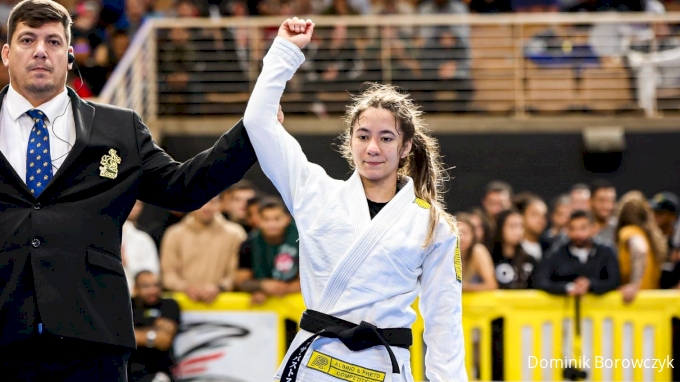 Mayssa Bastos
Queen of the roosterweights, Mayssa Bastos of Unity Jiu-Jitsu continues her dominance over the division. Her final against Lavinia Barbosa of Checkmat was a showcase of top pressure and demonstrates that you don't need to be big to be a heavy top player. Bastos is one of the few black belts still in the running for a grand slam following golds at Euros and now Pans.
Watch:
Mayssa Bastos def Lavinia Barbosa via points (9-0) | watch here