2022 BJJ Stars 8
25-Second Sub Proves Gutemberg Pereira Will Be A Podium Contender At ADCC
25-Second Sub Proves Gutemberg Pereira Will Be A Podium Contender At ADCC
Gutemberg Pereira has a tough test in the ADCC 99+ kg division. But with his 25-second submission victory at BJJ Stars 8, he proved he could be a contender.
May 2, 2022
by Corey Stockton
Gutemberg Pereira was on a hot streak coming into his superfight against Fellipe Andrew at BJJ Stars 8. He went 4-0 at the 2nd South American ADCC Trials with a 100% submission rate; and he followed that up with back to back silver medal weekends in the gi, catching five submissions in five matches there.
But his performance at BJJ Stars may have been his most explosive to date. Pereira quickly jumped onto a front headlock, and wrenched the ADCC veteran's head until he earned the tap, and an eruption of applause from the audience in Sao Paulo.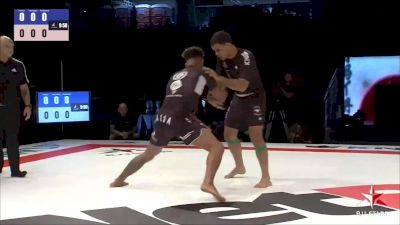 Unlock this video, live events, and more with a subscription!
Get Started
Already a subscriber? Log In
ADCC Trials qualifiers are often considered heavy underdogs at the ADCC World Championships. In divisions stacked with ADCC veterans, these up-and-comers have a mountain to climb at the biggest event in submission wrestling. Pereira will have an especially challenging path in a 99+ kg division with at least four ADCC champions — Gordon Ryan, Felipe Pena, Roberto "Cyborg" Abreu, and Orlando Sanchez — and 2019 silver medalist Nick Rodriguez.
Still, Guto is one of the many ADCC Trials winners from the 2021-22 season who demonstrate podium promise. At trials, he had an average match length of one minute, 26 seconds. He's one of the most submission-oriented big men coming out of GF Team, and he appears to be on a career high since he returned to Brazil.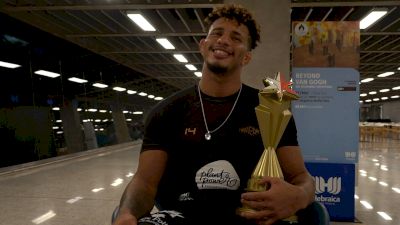 Among the trials winners who qualified for the 99+ kg division, Pereira should be the favorite to progress the furthest. But, depending on his seeding, he could earn his way into the second day at ADCC, or even to the medal rounds. He has demonstrated a capable leg lock game, a dominant wrestling game, and an intense pressure game which could test even the most exciting athletes in this loaded division.