2022 EUG Promotions Event #4
Ronaldo Junior Shines At, EUG 4 Middleweight Grand Prix
Ronaldo Junior Shines At, EUG 4 Middleweight Grand Prix
Ronaldo Junior collected the $10,000 cash prize, winning the 8-man middleweight grand prix at EUG 4.
Jun 15, 2022
by Liam Stein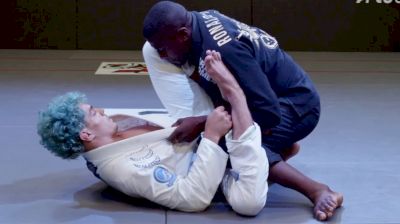 On the heels of his 2022 IBJJF World Championships bronze medal, Ronaldo Junior collected a big cash prize at EUG 4. Coming out on top of an eight-man black belt grand prix at Evolve Ur Game 4, the Atos black belt secured the $10,000 grand prize defeating Shane Shapiro, Alexandre Jesus, and 2019 Pans and European champion Levi Jones-Leary in the process.
After defeating Shapiro by armbar and de Jesus by 0-0 referee's decision, Ronaldo met Unity's Jones-Leary in the final. In the final, Ronaldo earned an early sweep, and continued engaging in a back-and-forth scrambling flurry with the Australian until the final second.
A late fill-in for Jackson Nagai, Jones-Leary earned his shot in the final by defeating Rodrigo Lopes 6-0 before winning a 2-2 referee's decision over Manuel Ribamar. Rounding out the bracket were fighters Austin Oranday and Lucas Gualberto.
Also featured on the card were four colored belt superfights: a juvenile title fight between Champion Jalen Fonacier and Gui Balmante, and superfights featuring Helena Crevar vs. Sienna Alicia, Shye Lilly vs. Emily Leyva, and Carolina Viera vs. Sonja Tsiorious.
On the following Monday, EUG teased the announcement of EUG 5 in an Instagram post. The fifth installment of the promotion will look to be another NoGi event, although a date or fighters are yet to be announced.
---
Results:
Carolina Viera DEF Sonia Tsioris SUB 2:19
Emily Leyva DEF Shye Lilly SUB 3:28
Ronaldo de Souza Jr. DEF Shane Shapiro SUB 7:57
Alexandre Jesus DEF Lucas Gualberto 3-0
Levi Jones-Leary DEF Rodrigo Lopes 6-0
Maunel Ribamar DEF Austin Oranday SUB 9:07
Jalen Fonacier DEF Gui Balmante SUB 1:53
Ronaldo Junior DEF Alexandre de Jesus (decision)
Levi Jones-Leary DEF Manuel Ribamar (last to score)
Helena Crevar DEF Sienna Alicia SUB 2:26
Ronaldo Junior DEF Levi Jones-Leary 2-0