2022 World Jiu-Jitsu IBJJF Championship
Record Breakers & History Makers | Records Broken At The 2022 IBJJF Worlds
Record Breakers & History Makers | Records Broken At The 2022 IBJJF Worlds
Here are some of the most notable superlatives now recorded in the history of the IBJJF World Championships.
Jun 16, 2022
by Corey Stockton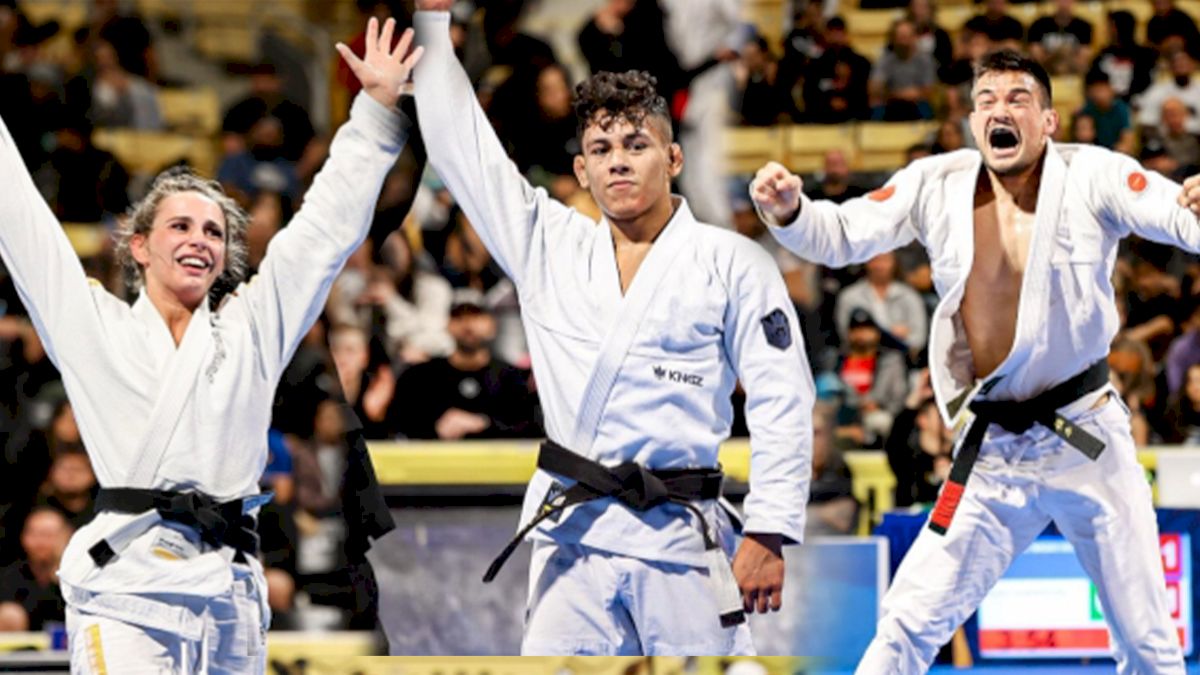 This year's IBJJF World Championships was one of the most highly anticipated of all time. And it delivered, with amazing matchups, budding rivalries, and hours of great jiu-jitsu. In retrospect, it was also a historic year for the event. The 26th edition of IBJJF Worlds saw records broken and history made across the black belt divisions. Here are some of the most notable superlatives now in the history books.
---
Mica Galvao became the youngest-ever IBJJF World Champion, winning the lightweight division 11 months into his black belt career. The rookie black belt was ineligible to compete at the 2021 IBJJF World Championships in December, as he was not yet old enough to compete as a black belt according to IBJJF stipulations.
In his run to gold, Galvao defeated the 2019 featherweight world champ and 2021 lightweight runner up, Matheus Gabriel, in the quarterfinals, then defeated Tye Ruotolo in the final. Ruotolo was also on track to be one of the youngest champions in history.
Galvao, was just 18 years, 7 months, 30 days old when he earned his first IBJJF black belt world title. Galvao also holds the record for youngest Abu Dhabi World Pro champion, which he set in November 2021.
He has the opportunity to make it a three-peat, as Galvao is one of the four invitees who, at the time of ADCC, will be younger than Rafael Mendes was when he won his ADCC title in 2009.
Ffion Davies earned her spot in history as the first British athlete to win a black belt IBJJF world title, defeating Janaina Maia Lebre in the lightweight final. That makes Davies one of the most successful British grapplers of all time, as she has won all four major black belt titles across different years.
Davies shared the podium with fellow UK-born athlete Margot Ciccarelli, who took third in the division. This marked the first instance in the history of the World Championships in which two British athletes stood on the same podium. Ciccarelli and Davies — both of whom have taken bronze at previous editions of Worlds — are now responsible for 57% of all the world titles held by British athletes.
Leandro Lo captured his eight world title, putting him in an elite group of athletes who have won more than seven. Lo joined the ranks of ten-time champs Bruno Malfacine, Bia Mesquita and Roger Gracie, and 13-time champ Marcus "Buchecha" Almeida. Leandro is unique among that bunch, as he is the only one among them to have won titles in more than three separate weight categories. Lo has titles from the lightweight, middleweight, medium heavyweight, heavyweight and open weight divisions.
Ana Carolina Vieira is now one of the most decorated female grapplers in the history of the IBJJF World Championship. Vieira is one of just seven women who has won five or more world titles. She joined Bia Mesquita (10), Hanette Staack (7), Leticia Ribeiro (7), Gabi Garcia (7), Nathieley de Jesus (5) and Luanna Alzuguir (5).
Isaac Doederlein became the sixth American male — and the 10th American overall — to win a black belt world championship. Doederlein overcame a list of opponents who had previously defeated him, including Alexssandro Sodre, Samuel Nagai and Diego Sodre, to win his title. Doederlein shared the podium with bronze medalist Daniel Maira, marking the third time in which two American males shared a podium.
2016: Edwin Najmi & JT Torres | lightweight
2021: Malachi Edmond & Rene Lopez | light featherweight
Gabi Pessanha achieved a double grand slam, winning double gold at each of the major tournaments in the 2022 season. In total, Pessanha has earned double gold in the last five IBJJF majors. Mayssa Bastos also accomplished the 2022 grand slam. Like Pessanha, Bastos has won each of the last five majors.
Two Atos blue belts achieved the grand slam in 2022; Tamara Torros won all four majors in the adult blue belt divisions, while Sarah Galvao achieved double gold at each of this year's majors in the juvenile blue belt division.
---
More breakout stats:
Tainan Dalpra earned his 20th consecutive black belt win at an IBJJF major, defeating Andy Murasaki in the middleweight final.
Thalison Soares earned his first black belt world title, completing his collection. He has now won both Worlds and No-Gi Worlds at every belt level.
Bruno Lima became the first Portuguese grappler to earn a black belt medal at the IBJJF World Championships, taking bronze in the medium heavyweight division.
Amy Campo became the second American athlete in history to compete in a black belt World Championship absolute final, Joining Lana Stefanac, who won in 2009.
Two rookies won World titles this year: Mica Galvao and Larissa Dias. That's the first time more than one rookie black belt took gold in the same year in at least a decade.