Who's Next: Submission Fighter Challenge presented by Tezos
First-Round Picks & Fan Favorites Face Off In Semifinals | WNX Ep. 6 Recap
First-Round Picks & Fan Favorites Face Off In Semifinals | WNX Ep. 6 Recap
The WNX finals are official! See who has a chance at the 3-fight contract, $10,000 grand prize, and WNX Champion Title on July 14!
Jun 24, 2022
by Corey Stockton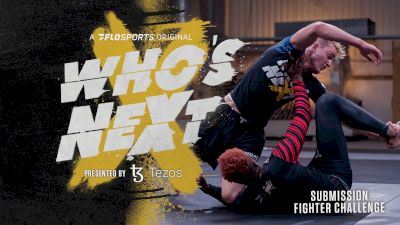 Headed into the final episode of Who's Next: Submission Fighter Challenge presented by Tezos, the final four had been decided. Craig Jones' Blue Team pushed first round pick Izaak Michell and Renaissance man Andrew Tackett into through the quarterfinals; and Tim Spriggs' Red Team moved first round pick Jansen Gomes and 10th Planet submission artist Kyle Chambers into the semis.
The final matchups would be decided on the track. The cast raced for selection in go-karts at the famous Circuit of the Americas, and Izaak Michell's motorcycle racing background seems to have paid dividends.
Michell lapped the entire group, establishing an early lead and continuing to press it, coming ahead of teammate Andrew Tackett and coach Craig Jones before the rest of the pack.
With the decision on the semifinal matchups, Jones pitted first round picks Gomes and Michell against each other, leaving Andrew Tackett and Kyle Chambers to face off.
In the first of the semifinals, Tackett kept a relentless pace on Chambers, taking his back on several occasions, but not finding the finish. For his part, Chambers created opportunities to attack Tackett's legs, but seemed unable to capitalize on the openings, often leaving his back open to counter attacks.
The match continued this way for 92 minutes before Chambers finally secured a kneebar, forcing Tackett to tap and advancing to the WNX final after the second longest match on the show.
In the second semi, Jansen Gomes and Izaak Michell wrestled aggressively for top position. As the match arrived at the mat, Michell tried to attack the leglock weakness of Gomes, but Gomes escaped the first attempt. Michell went back to the well, attacking from the 50-50 position in the second try. There, at the 10-minute mark, he secured a devastating heel hook, earning his shot at the $10,000 cash prize and the three fight contract.
Izaak Michell and Kyle Chambers are the first-ever WNX finalists. They will face off for the grand prize, and the title of WNX Season 1 Champion, in the no-time limit submission-only co-main event of Tezos Who's Number One on Thursday, July 14.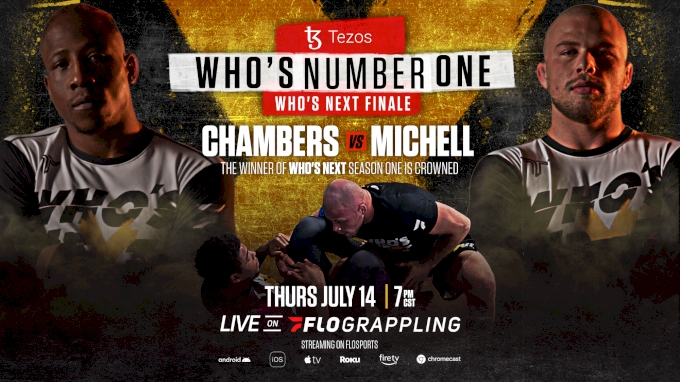 Also on the card, Gordon Ryan will face Pedro Marinho, and the rest of the WNX cast will return on the undercard. Tune in for more match announcements coming soon!