2022 Tezos WNO: Gordon Ryan vs Felipe Pena
Official Tezos WNO: Gordon Ryan vs Felipe Pena Card Announced
Official Tezos WNO: Gordon Ryan vs Felipe Pena Card Announced
See the seven main card matches coming to Tezos WNO: Ryan vs Pena, featuring several ADCC-bound athletes, and the hopefuls looking to make a name.
Jul 18, 2022
by Corey Stockton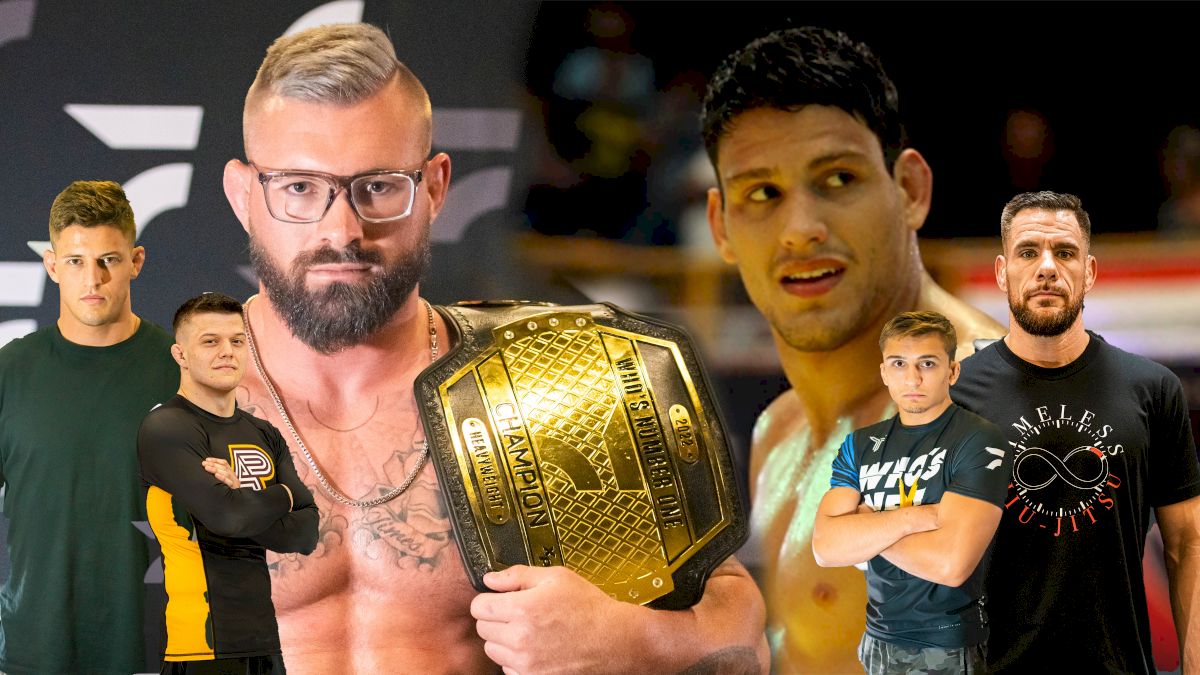 By now, it should not be a secret that Gordon Ryan will face Felipe Pena in a no time limit submission only match on Tezos WNO on Sunday, August 7. That match, first announced on May 20, is now officially for the WNO heavyweight title, as Gordon recently defeated Pedro Marinho to capture the vacant belt. Gordon will put his strap on the line against the only opponent who has ever defeated him by submission, Felipe Pena.
Pena is only the only man to earn two consecutive victories over Gordon, and will be looking to make that three straight in this summer match before ADCC. But Gordon's display of dominance over Marinho, which put him clearly back atop the pound-for-pound rankings, suggests the upcoming match could be his best-ever opportunity to defeat his long-time rival.
---
FloGrappling recently announced six additional matches that will open the night of grappling in Frisco, TX. They are:
Two IBJJF World Champions from two different generations will clash in this heavyweight showdown. Nicholas Meregali is just beginning his foray into no-gi grappling. But he's just a few weeks away from his ADCC debut, and is working to rise as quickly as possible to the top level. Now 2-0 with two submissions in both his WNO career and his no-gi career overall, Meregali will find a huge step up in the caliber of his next opponent, Rafael Lovato Jr.
Lovato Jr. is a No-Gi World Champion, a multiple-time ADCC veteran and a mixed martial arts champion. He'll be Meregali's most decorated opponent yet despite his 0-1 record on the Tezos WNO mats.
Lovato has great wrestling, a powerful top game, and a guard capable of staving off Meregali's impressive passing game.
Both men are headed to ADCC in September, where they'll share the 99 kg division. That makes this matchup a thrilling preview before the biggest ADCC in history.
---
Alan Sanchez is becoming undeniable. The EBI 19 winner and two-time ADCC Trials quarterfinalist has already had a breakout year, but a good showing against Mica Galvao would be the catalyst he needs to become a household name. Galvao is the no.2-ranked middleweight, and the no.5 pound-for-pound. The monster from Manaus rarely misses; he's amassed a 45-3 record (gi & no-gi) over the last two years with a 73% submission rate, including a 5-1 record on the WNO mats.
Sanchez has a steep hill to climb in this matchup, but also a significant opportunity to challenge one of the best on the premiere no-gi event in grappling.
---
Elisabeth Clay is the relative WNO veteran taking on the 1-0 bantamweight champion Bia Mesquita. Currently holding a 3-2 record, Clay will once again battle an ADCC champion. This time, her opponent is the 2017 -60 kg champion. Clay has earned a reputation as a fearsome footlocker, especially in the upper weight categories. But she's moved down in weight, and reoriented her game to better prepare for opponents wise to her preference for footlocks. Clay will need every advantage she can build to overcome Mesquita, who has rarely been beaten in any rulsrulesetet against any opponent.
---
Despite his recent loss to Giancarlo Bodoni at the Who's Next Finale, Jay Rodriguez has been earning the spotlight at every turn through his aggressive, forward jiu-jitsu. Jay Rod's seven-submission win at the ADCC West Coast Trials made him a household name. But he was not the favorite. That position belonged to Jacob Couch, the third-place winner at the ADCC East Coast Trials.
Through their skill, their intensity, their desire to fight for the finish and never to say die in bad positions, and through their affable personalities, Jay Rod and Couch have each earned stardom. And this match — featuring leglocker vs back attacker, guard player vs blitz passer — is sure to deliver as promised.
---
Estevan Martinez has been fed to the wolves so far in his two-fight WNO career. The natural roosterweight first faced the heavier Damien Anderson, then fought for the title against Mikey Musumeci. The Giant Slayer was challenged in both matches, but he wouldn't have had it any other way; and he survived both matches without being submitted.
Now, the No-Gi World Champion will finally meet an opponent nearer his equal — by size and credential — in the Baby Shark, Diogo Reis. Reis won the 1st ADCC South American Trials earlier this year with great displays of wrestling, strategy and submission. But all of those abilities will be put to the test against one of the most fluid, slippery and scrappy athletes in grappling.
---
Straight off a hard-fought loss in his Tezos WNO debut, Fabian Ramirez will get a second chance to tally a win on the WNO mats. But this time, he's facing decorated Fight Sports athlete Fabricio Andrey. Andrey, a gi world champion and an ADCC Trials winner, has proven a sniper from the guard, a constant passing threat, and an attack dynamo.
Ramirez may have the upper hand in leg lock abilities, and would be wise to try to exploit those early, or he could fall victim to the relentless pace off the ADCC-bound Andrey.
Stay tuned for news, insights, exclusive interviews and analysis only on FloGrappling!