2022 Tezos WNO: Gordon Ryan vs Felipe Pena
Gordon Ryan Beats Felipe Pena In Grudge Match, Meregali Outwrestles Lovato
Gordon Ryan Beats Felipe Pena In Grudge Match, Meregali Outwrestles Lovato
The 3rd match in the Ryan vs Pena saga came to an emotional, if anti-climactic end. Ryan retained the heavyweight title, but a rematch has been signed.
Aug 9, 2022
by Corey Stockton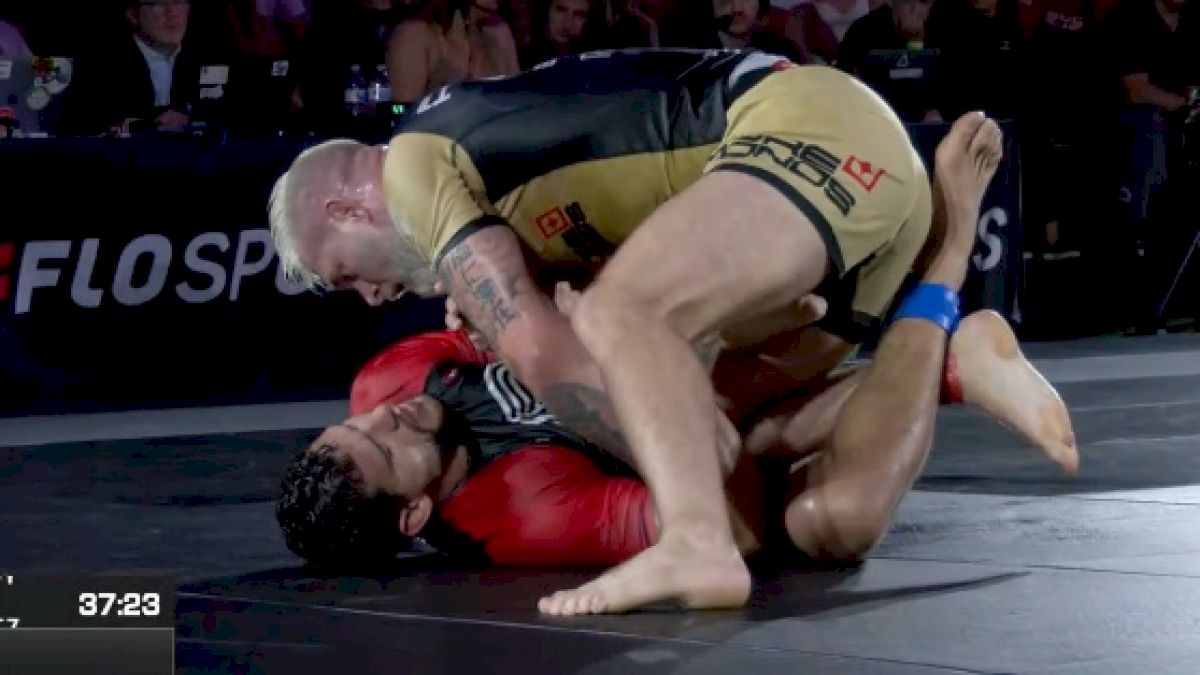 Gordon Ryan defeated Felipe Pena in the Tezos WNO heavyweight title match on Sunday, August 7 in the main event, earning his first victory against the only man to beat him twice.
Ryan slowly poured pressure on Pena for 44 minutes, 41 seconds before Pena gave in, submitting from the bottom position, though Ryan was not applying a finishing technique.
Pena was carrying unfathomable emotional weight, as earlier that day, he learned that his close friend, Leandro Lo, had been shot and killed at a nightclub in Brazil.
Still, Pena endured for longer than any of Ryan's previous opponents on Tezos WNO, and offered offense at several turns throughout the no time limit match. Pena threatened Ryan with sweep and pass attempts, and jousted with Ryan throughout hand fighting phases on the feet. He utilized his respected 50-50 guard and X-guard on several occasions, and showed more offense than many of Ryan's previous six opponents on the WNO mats.
As a condition of his competition in this match, Pena has been guaranteed a rematch with Ryan if he desires.
Gordon Ryan is now 7-0 on Tezos WNO with seven submission victories. His average match length is 20 minutes, 23 seconds.
In the co-main event Nicholas Meregali outwrestled Rafael Lovato Jr. to a unanimous decision victory. Meregali, who is now 3-0 on Tezos WNO, earned the most significant no-gi win of his career, defeating the no-gi world champion, multiple time ADCC veteran, and undefeated mixed martial arts champion just one month ahead of Meregali's ADCC debut.
Meregali used the same takedown on two occasions to bring Lovato to the mat, a double under hook uchimata. Meregali also demonstrated his passing pedigree once again, pressuring through Lovato's guard and cooking him from the mount toward the end of the match. Meregali's victory comes at a crucial time, as it could impact his seeding in the upcoming 2022 ADCC World Championships, the most anticipated grappling event in history.
Mica Galvao earned the only submission of the night, a rear naked choke over Alan Sanchez in a one-sided affair. His Fight Sports Manaus teammates, Diogo Reis and Fabricio Andrey both won their Tezos WNO debuts on the preliminary card. Galvao is now 6-1 on Tezos WNO with two submission victories.
Beatriz Mesquita and Elisabeth Clay fought to a decision in one of the most closely-contested bouts of the night. Mesquita scored with several spearing double legs, and worked calculatedly to pass Clay's guard. Clay rallied in the final five minutes of the match, entering a leg entanglement and working to secure a lock. Mesquita now holds a 2-0 Tezos WNO record.
Jacob Couch defeated Jay Rodriguez in a dominant display of control. Couch pulled guard and locked a kimura. He used the arm attack to sweep Rodriguez, achieving mount, where he rode Rodriguez out for the remainder of the match. Couch moves to 4-3 on Tezos WNO.