2022 Pan IBJJF Jiu-Jitsu No-Gi Championship
See The Athletes Who Qualified For The No-Gi Pans Finals
See The Athletes Who Qualified For The No-Gi Pans Finals
Here are the competitors who pushed through the first day of No-Gi Pans, and will compete in the final rounds on Sunday, October 16.
Oct 16, 2022
by Corey Stockton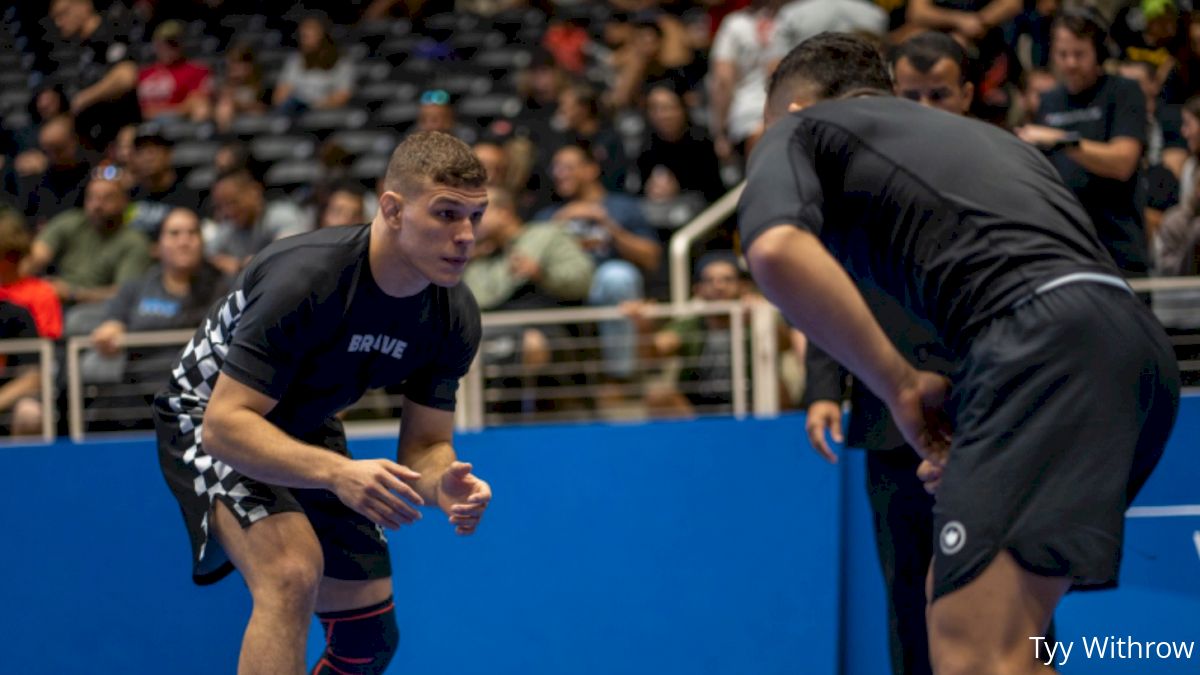 Day 2 of the 2022 IBJJF No-Gi Pan Championships is in the books, meaning the final three black belt rounds, which will take place on Sunday, October 16, are set.
Each of the men's weight classes have been whittled down the final eight athletes, while the final two athletes have already been determined in the women's divisions.
In addition, the male and female open weight finalists have been determined as a result of Saturday's competition.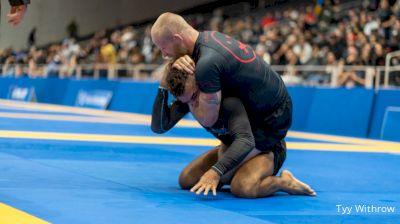 Henrique Ceconi submitted two opponents in the first two rounds of the absolute, and won a wrestling shootout in the semifinal. He'll move on to face Helton Junior, who secured three points victories on his road to the final. The absolute final will be the last match of the day on Sunday.
Elisabeth Clay landed two submissions on her path to the absolute final, where she'll face Vedha Toscano, who scored one submission in two matches. Clay and Toscano were the no.1 and no.2 seeds. Both are No-Gi World Champions. Clay won double gold at No-Gi Pans in 2021 with six submissions in six matches.
---
Men's Roosterweight
Only Chris Tran and Justin Ordinario had to qualify for the final rounds. The remainder of the eight roosterweights earned first round byes into the tournament.
Estevan Martinez vs Chris Tran
Osamah Almarwai vs Justin Ordinario
David Zennario vs Henrique Rossi
Luciano Vieira vs Antonio Villiatora
Men's Light Featherweight
Rene Lopez and Roiter Lima each won a match today to qualify for the final rounds. The remaining five athletes earned byes. Hiago George will get a bye in the quarters, as both of his potential opponents no-showed the tournament.
Hiago George (bye)
Keven Carrasco vs Pedro Serrano
David Teroa vs Roiter Lima
Bebeto Oliveira vs Rene Lopez
Men's Featherweight
Gianni Grippo hit a katagatame from half guard to qualify for the tournament, reminiscent of a submission he used twice at last year's No-Gi Worlds to win the tournament. The multiple time No-Gi World and Pans champ appears primed for another title.
Kyvann Gonzalez was down by 11 points in his qualifying match before putting up a nine-point surge and catching a last minute choke to secure his spot in the quarters.
Gianni Grippo vs Gustavo Dos Santos
Adam Benayoun vs Lucas Silva
Richar Nogueira vs Kyvann Gonzalez
Cameron Adair vs Gavin Corbe
Men's Lightweight
Johnny Tama, Kieran Kichuk and Deandre Corbe all hit submissions in their opening round to qualify for day two.
Johnny Tama vs Johnata Ramos
Damion Oranday vs Kieran Kichuk
Andrew Alexander vs Danilo Morreira
Deandre Corbe vs Rodrigo Francioni
Men's Middleweight
Michael Langhi qualified for the final eight in his reported last try for a No-Gi Pans title. Jeferson Guaresi looked dominant to open his tournament, trying to add on his win streak at IBJJF no-gi majors. He won No-Gi Pans and No-Gi Worlds in 2021.
Jed Hue vs Jeferson Guaresi
Breno Maciel vs Omer Emonoely
Michael Langhi vs Matheus Galvao
Francisco Cueno vs Francisco Cuneo
Men's Medium Heavyweight
Sebastian Rodriguez had one of the most impressive matches of the day to start his No-Gi Pans campaign, securing a submission over Hunter Colvin in a back and forth scrap. Stanley Rosa also submitted his way to the final day in a comeback victory over Bruno Matias.
Sebastian Rodriguez vs Manuel Ribamar
Francisco Lo vs Rodrigo Lopes
Austin Oranday vs Jaime Canuto
Stanley Rosa vs Felipe Ceasr Silva
Men's Heavyweight
Joao Silva vs Alejandro Tolmos
Pedro Rocha vs Elder Cruz
Charles McGuire (bye)
Vagner Rocha vs Thiago Dalcol
Men's Super Heavyweight
Devhonte Johnson vs Daniel McGuire
Diego Ramalho vs Thomas Bracher
Henrique Ceconi vs Cassio Felipe Costa
Keenan Cornelius vs Fellipe Trovo
Men's Ultra Heavyweight
Helton Junior vs Andrew Kimler
Davi Cabral vs Robert Arnett
Max Gimenis vs Salencio Coutinho
Paulo Lanzillotti vs Haisam Rida
---
Women's Roosterweight
Amber Rymarz-Freitas vs Jhenifer Aquino
Women's Light Featherweight
Alex Nguyen's rear naked choke semifinal victory pits her against Thamyres Aquino in the final.
Thamires Aquino vs Alex Nguyen
Women's Featherweight
Patricia Machado vs Alex Enriquez
Women's Lightweight
Ana Rodrigues vs Claire North
Women's Middleweight
A quick submission for Elisabeth Clay earned another final berth vs Vanessa Griffin.
Elisabeth Clay vs Vanessa Griffin
Women's Medium Heavyweight
Thalyta Silva vs Bridget McEliece
Women's Heavyweight
(no competitors)
Women's Super Heavyweight
Mayara Custodio vs Nathiely de Jesus