Tezos WNO: Ste-Marie vs Bastos by Fat Tire
Bastos vs Ste-Marie: 2 Top-Ranked Women To Collide In Tezos WNO Main Event
Bastos vs Ste-Marie: 2 Top-Ranked Women To Collide In Tezos WNO Main Event
Ste-Marie vs Bastos has taken over as the main event at Tezos WNO on November 11 for the first-ever female headliner on Tezos WNO.
Nov 7, 2022
by Mariana Viana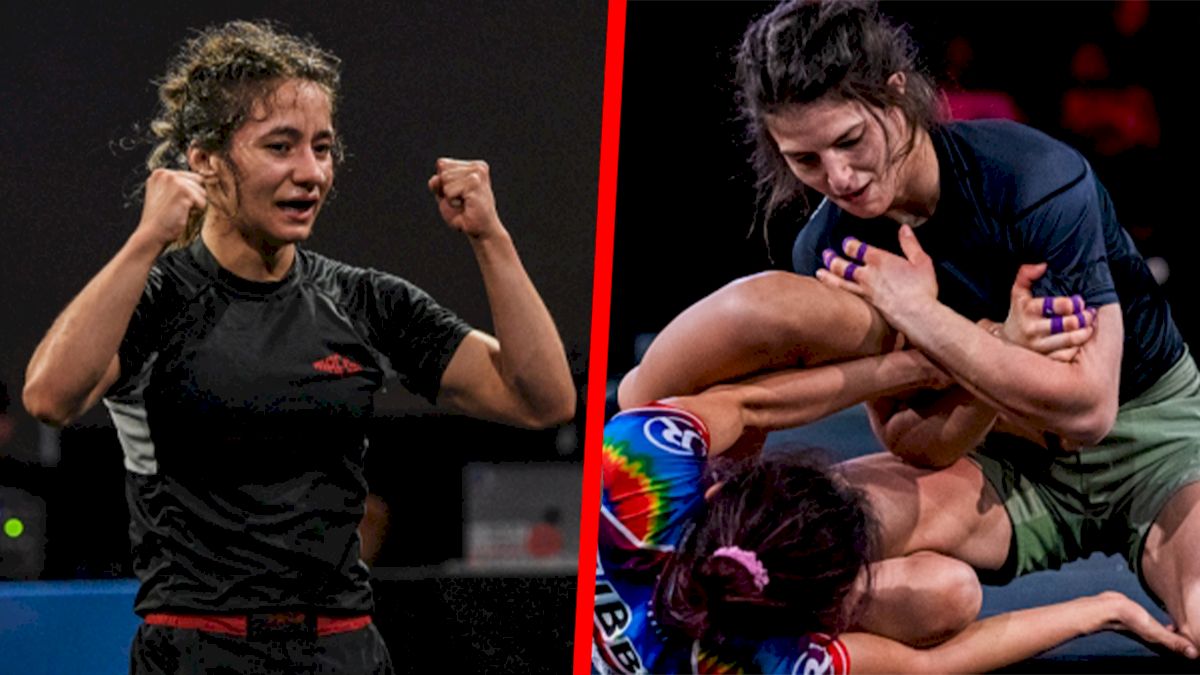 Brianna Ste-Marie will take on Mayssa Bastos at Tezos WNO presented by Fat Tire in Frisco, TX on November 11. Ste-Marie vs Bastos has replaced Pedro Marinho vs Giancarlo Bodoni in the main event, as both men were injured ahead of their scheduled title fight.
Ste-Marie is a Canadian black belt who represents Brazilian Top Team and has a 2-0 record at WNO with one victory against Bri Robertson by submission in March 2021 and one victory by decision after a match of the year contender against Tubby Alequin in January 2022. Both matches were at 125 pounds. She'll face Bastos in the bantamweight division at 135 lbs.
In 2022 Ste-Marie won both 2nd ADCC North American Trials, becoming the first woman in ADCC history to win both East and West Coast trials and thus qualifying for the ADCC World Championship.
Ste-Marie said she is thrilled that women are getting an opportunity to headline at Tezos WNO. She remembered watching the WNO Championships last year and said the women's matches were very competitive, fast paced, and technical. She believes that women's grappling is exploding, and opportunities like this one reflects the recent growth in the sport.
"I have never fought Mayssa, but I think she is a technical and fierce fighter," Ste-Marie said. "To my knowledge, she has never been submitted in competition, so she definitely presents a really exciting challenge. Our styles are quite different so I think it will come down to whether I can suck her into my game, or she will suck me into hers."
Bastos is a Brazilian jiu-jitsu black belt representing Unity Jiu-Jitsu. The first time she participated at WNO was at the end of 2020 against Grace Gundrum. After that, Bastos stormed the WNO championship in 2021, winning three fights to claim the strawweight title. In her four-match WNO tenure, Bastos has only competed at 115 lbs and, where she remains undefeated. managed to come out with the win.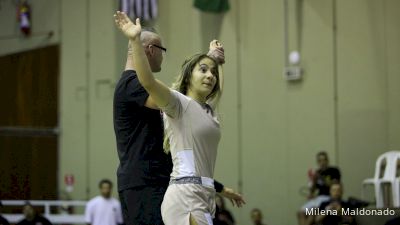 Unlock this video, live events, and more with a subscription!
Get Started
Already a subscriber? Log In
Bastos is a highly decorated athlete, with three IBJJF World titles to her name in the gi, and one more in No-Gi competition. Outside of her recent ADCC debut at -60kg, Bastos has never been defeated in no-gi competition in any ruleset. She's won the FloGrappling Female Grappler Of The Year two years running.
Both women are undefeated on the Tezos WNO mats, but that will change on November 11. They will meet for the first time in the 135 lbs division, a change of context for both athletes. Bastos said she is excited for this match because she sees it as an opportunity to gain experience fighting heavier girls and improving her jiu-jitsu to achieve her future goals.
"This match will be a challenge for me, but I'm excited about it," Bastos said. "It will be a very good experience for me since I want to compete at the ADCC championship again in 2024, and Brianna was a finalist at this event this year."
Ste-Marie and Bastos are now the main event. The exciting match between Jacob Couch and Bruno Matias will be the co-main event and Cole Abate vs Damien Anderson will be third from the top of the card.
FloGrappling will hold an official press conference on Thursday, November 10 at 6 p.m., ET.
---
WATCH TEZOS WNO: Mayssa Bastos vs Brianna Ste-Marie presented by Fat Tire
LIVE NOV. 11 On FloGrappling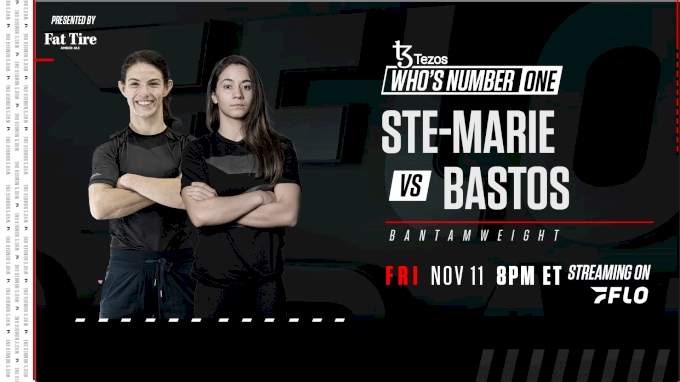 Main Event: Brianna Ste-Marie vs Mayssa Bastos
Co Main Event: Jacob Couch vs Bruno Matias
Cole Abate vs Damien Anderson
Haisam Rida vs Luke Griffith
Ethan Crelinsten vs Fabricio Andrey
Andy Varela vs Jozef Chen
Undercard:
Rosa Walsh vs Emily Fernandez
Mourece Ramirez vs Keven Carrasco