2022 IBJJF Absolute Grand Prix
Zach Kaina vs Dudu Granzotto: A Rivalry Builds At IBJJF GP
Zach Kaina vs Dudu Granzotto: A Rivalry Builds At IBJJF GP
Checkmat's Dudu Granzotto and AOJ's Zach Kaina have followed each other up the ranks. The IBJJF GP will be their biggest and most direct face-off yet.
Nov 18, 2022
by Erica Zendell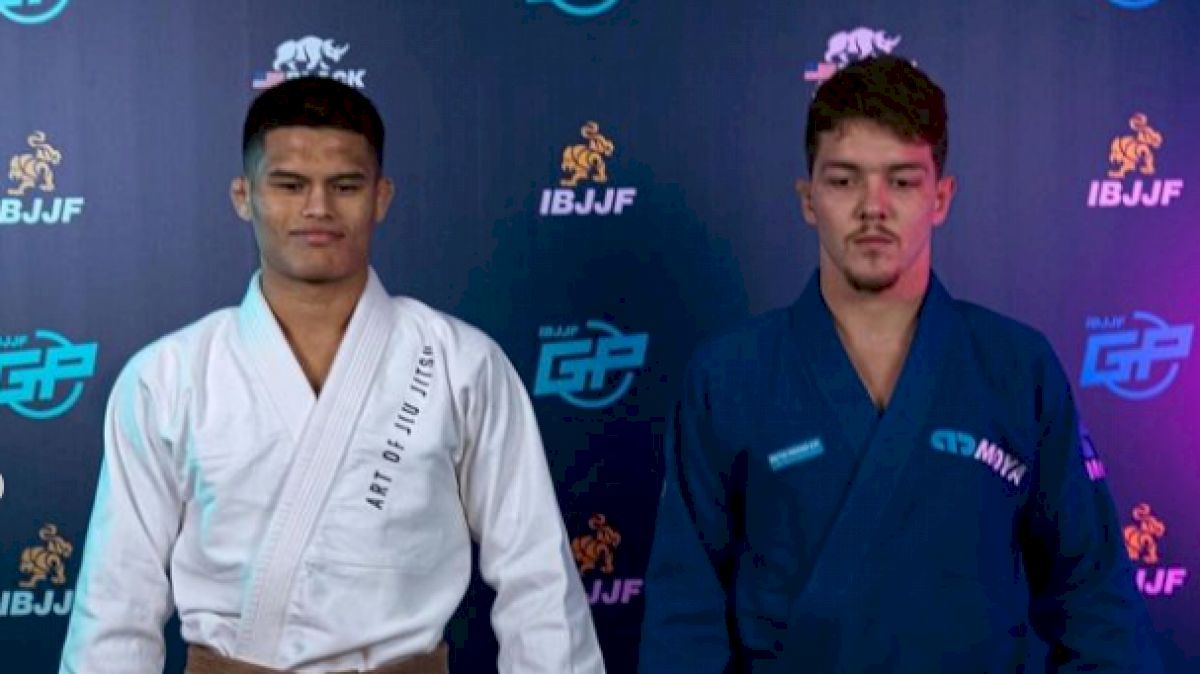 While the IBJJF Grand Prix tends to feature better-known or already-established competitors at the black belt level, the matchup between Zach Kaina and Eduardo Granzotto departs from GP convention in an exciting fashion. Kaina and "Dudu" are still brown belts, but the two athletes showcase the kind of talent and performances to expect in the black belt light-feather and feather division in the years to come.
As is true for many of the most promising up-and-comers in professional jiu-jitsu, both Kaina and Granzotto started competing early and got their reps at the lower belts. Both athletes collected their first World titles in 2018 as Juvenile 1 Blue Belts (Kaina in the Middleweight division and Dudu in the Lightweight division), and have continued to perform well in their rise through the ranks.
Kaina racked up his share of hardware in his time at purple belt–including gold at No-Gi Pans 2020 and American Nationals in 2020–and recently passed his one-year mark for competing in the brown belt division: his brown belt debut was just over a year ago at Pans in September 2021, where he finished with a bronze medal. In the last few months, he clinched another two bronze medal finishes at Worlds 2022 and No-Gi Pans 2022 (in the brown belt light-feather and featherweight divisions, respectively).
Granzotto has been on a similar tear since his own debut in the adult divisions. Breaking a pandemic-induced competitive hiatus in 2020, Dudu took silver at American Nationals and gold at both Pans and Worlds in 2021 in the purple belt light-feather divisions. In his debut season at brown belt in 2022, he placed third at both Pans and Worlds, and collected his first gold at an IBJJF major at brown belt last month, winning the featherweight division of No Gi Pans in October.
Though both athletes could frequently be found on the podium in the feather and light-feather divisions over the last four years, Kaina and Dudu often missed one another on the draw while climbing the ranks from blue belt to brown belt. This year proves an exception. Their superfight at the IBJJF Grand Prix will be their third direct face-off in the last four months, including the Santa Cruz International Open in August (where they faced off in the brown belt featherweight finals) and No Gi Pans in October (where they faced in the brown belt featherweight semifinals). In both their recent matchups, Dudu came away with the wins over Kaina, but not without a fight. In their No Gi Pans matchup, in particular, Granzotto's early two points, persistent top pressure, and ability to escape multiple submission attempts from Kaina, gave him the edge to move to the finals and take gold in the division, but Kaina's attacks on the arms and legs were coming in hot and dangerous.
The IBJJF Grand Prix gives Kaina a perfect opportunity to run back the last two losses and "settle the score" with (or submit) Dudu, and gives Dudu a chance to increase his momentum after his first IBJJF Major gold medal finish at brown belt.
Watch out for the signature AOJ style from Kaina on Friday night, featuring all the textbook elements of the modern game: dynamic guard retention, a precise open guard, and slick outside passing chains on top. Expect Dudu to look for an early and offensive top position, seeking pressure and scrambles, chasing the back off of passes, and hunting submissions.
The two talented competitors will eventually themselves in a stacked Light-Feather or Feather bracket at black belt, the current rotation of which includes the likes of "Baby Shark" Diogo Reis, Isaac Doederlein, "Hokage" Fabricio Andrey, and Diego Batista. But ahead of the challenges presented by their eventual black belt division, Kaina and Dudu's IBJJF GP Matchup is their biggest test–and brightest stage–yet. There's much more to look forward to from these two rising stars, and the Grand Prix is likely to be the first of many more electric matchups for these two athletes.