2022 Finishers 17
The Breakout Stars of Finisher's 17: A November to Remember
The Breakout Stars of Finisher's 17: A November to Remember
David Stoil, Colin Cronin and Laylah Watkins are on the rise following their successes at Finishers 17 last weekend.
Nov 22, 2022
by Liam Stein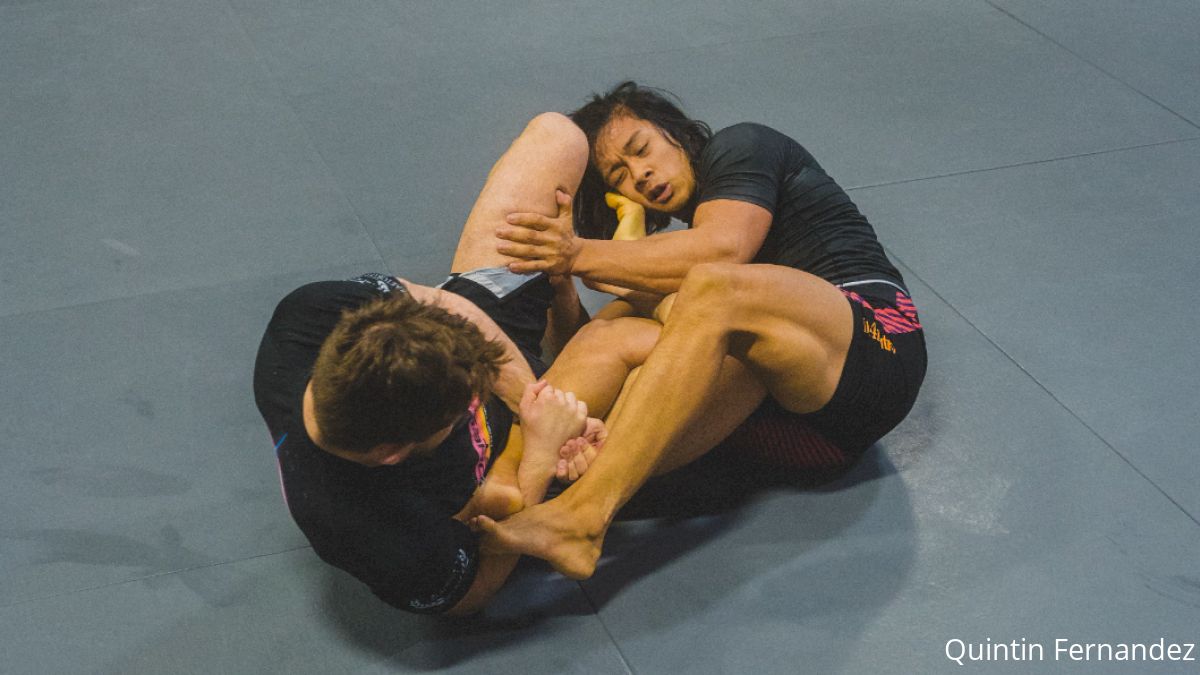 This past weekend at Finisher's HQ in Bethlehem, Pennsylvania, the 17th edition of Finisher's Submission Only featured two riveting women's title fights and a 16-man, $2,000 cash prize lightweight bracket.
Atos Atlanta athletes Fay Cherrier and Alex Enriquez both came out on top, securing Finisher's Sub Only titles for their team. Standard Jiu-Jitsu's Deandre Corbe won the lightweight bracket and $2,000. While these three hardened grapplers went home with the headline wins, Finisher's 17 provided a lens into the up-and-coming grappling talent eager to burst into the competitive spotlight leading into the next ADCC Trials run.
Without a doubt, the biggest stock gainer from this event was David Stoil. Finishing runner-up to Deandre Corbe, Stoil made his way to the finals with submission victories over Gavin Corbe, David Garcia, and Travis Depriest. Just short of a month ago at Twisted Church, Stoil rattled off three straight heel hook submissions, including a victory over Deandre Corbe, before falling in the finals to Ethan Crelinsten. Representing Vanguard by way of Sydney West Martial Arts, the Australian purple belt joins the ranks of sub-hunters from down under with increasingly sharp false-reap attacks ready to display at each competition.
Vault BJJ's Colin Cronin found an impressive finish via reverse triangle choke in his superfight. Cronin, a former high-school wrestling standout in Pennsylvania, spent time rostered at the University of Pittsburgh and Kutztown University as part of their wrestling programs. Explosive from the beginning, Cronin found a single-leg transition to a leg entanglement, before settling on an anaconda attempt. Unable to find the finish at first, Cronin maintained positional control and passed to mount where he locked up a reverse triangle choke in less than four minutes. With a relentless pace and suffocating top pressure, Cronin seemed poised to climb the ladder at the upper levels of grappling.
Another standout competitor this weekend was Laylah Watkins. One of two 15-year-old Watkins' Wrecking Crew purple belts to fight at Finisher's 17, Watkins additionally competed at Submission Hunter Pro 80 in Texas on Friday night. Both fights occurred within twenty-four hours of each other. Watkins claimed back to back armbar victories in spectacular fashion. Watkins' Teammate, Jett Thompson, also had a good showing with a 1-1 finish in the 16-man pro bracket.
---
Full Results
155 lb Tournament
Round of 16
Gavin Corbe sub. Devin Vogel via Inside Heel Hook (0:31)
Jett Thompson sub. Billy Tiger via Inside Heel Hook (0:59)
David Garcia sub. Matheus Batista via Rear Naked Choke (4:21)
David Stoil sub. Travis Depreist via Straight Ankle Lock (0:53)
Sid Tavolaro sub. Randy Baker via Armbar in EBI OT
Deandre Corbe sub. Jonathan Lopez via Triangle Armbar (2:18)
Ben Eddy sub. Josh Flores via Yoko Sankaku (2:49)
Fabian Ramirez sub. Quinn Puryear via Z-Lock (3:22)
Round of 8
Gavin Corbe sub. Jett Thompson via Straight Ankle Lock (0:30)
David Stoil sub. David Garcia via Rear Naked Choke (4:46)
Deandre Corbe sub. Sid Tavolaro via Armbar (3:56)
Fabian Ramirez sub. Ben Eddy via Rear Naked Choke in EBI OT
Round of 4
David Stoil sub. Gavin Corbe via Rear Naked Choke in EBI OT
Deandre Corbe sub. Fabian Ramirez via Triangle Armbar (1:46)
Championship
Deandre Corbe sub. David Stoil via Armbar (7:58)
Superfights
Laylah Watkins (Watkins Wrecking Crew) sub. Lilliana Ramos (10P Newton) via Armbar
Dylan Harnish (Mid World Martial Arts) sub. Matt Baptiste (Ascension Athletics) via D'Arce Choke
105lbs Title - Fey Cherrier (Atos Atlanta) sub. Cristina Pinto (Silver Fox) via Outside Heel Hook
Bobby Riordon (Ocean County Jiu-Jitsu) sub. Nate Hinkson (10th Planet Masury) via Triangle Choke
135lbs Title - Alex Enriquez (Atos Atlanta) def. Nicole Matthew (Method Jiu-Jitsu) via fastest escape EBI OT4
Jeff Book (NJ Ronin) sub. Sean Lavelle (Onyx Combat Sports) via Triangle Armbar
Colin Cronin (Vault BJJ) sub. Evan Glasgold (10P Long Island) via Reverse Triangle Choke
Colin Gironda (Jiu-Jitsu One) sub. Jonathan Patton (Team Chitwood) via Armbar
Frankie Rodriguez (10P LongIsland) sub. Sean Hughes (Webb BJJ) via Straight Ankle Lock
Ali Hammam (Bones BJJ) def. Pierson White (Mid World Martial Arts) via DQ for fleeing
Chris Dempsey (Mat Factory) sub. Andrew Jones (10P Bethlehem) via Neck Crank
Trent Zadarko (Mat Factory) sub. Kris Gratalo (Gracie NJ) via Straight Ankle Lock
Nick Mancini (Riverfront Jiu-Jitsu) sub. Chris Valverde (Berks BJJ) via Inside Heel Hook
Ansley Cox (Hart BJJ) sub. Maiah Yankello (True Believer/GF Team Pittsburgh) via Armbar
James VanOsdol (10P Bethlehem) sub. Ron Snee (Mat Factory) via Rear Naked Choke
Elyse Shaw (Riverfront Jiu-Jitsu) sub. Tatiana Koltsova (Hart BJJ) via Flying Armbar
Joey Auman (Pure MMA) vs Jordan Seinz (Studio 57)