2022 Submission Hunter Pro 80
Kneebars & Hindulotines: Submission Hunter Pro 80 Recap
Kneebars & Hindulotines: Submission Hunter Pro 80 Recap
Jared Chaffee keeps streak alive with a 37-second kneebar, Abel Berrocal lands the submission of the weekend.
Nov 22, 2022
by Liam Stein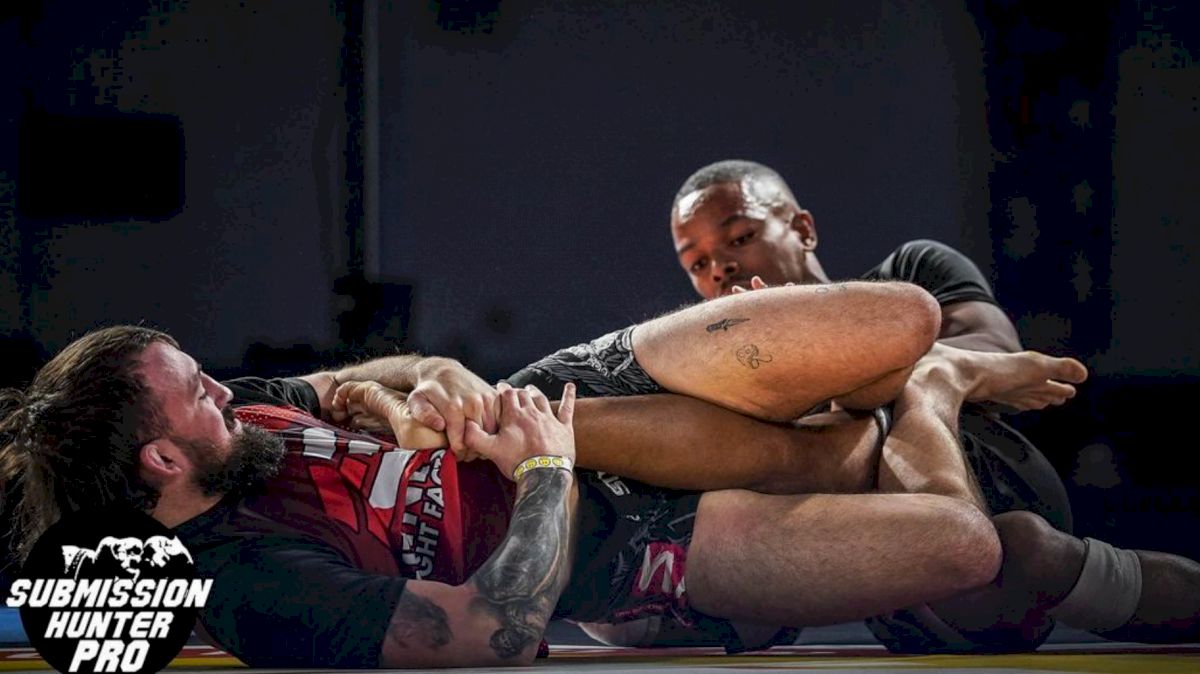 Last Friday in Duncanville, Texas, at Submission Hunter Pro 80, Jared Chaffee of Carlson Gracie Houston reeled off his third kneebar finish on the SHP stage. Scoring the submission in37 seconds, Chaffee took out a game competitor in Phillip Bulloch with extreme precision. Highlighting a card filled with submissions, Abel Barrocel put his opponent out cold with a rare Hindulotine submission.
Kicking off the black belt competition, Chip Cole fought his way to a submission victory via toe hold over Jason Gybels. Keeping calm in the open guard of Gybels, Cole navigated his way to the hold after a competitive guard battle. In additional black belt action, Edward Whisenant finished Daniel Roy. Passing Roy's guard late in the fight, Whisenant settled in north-south and found the finish via breadcutter choke with two-minutes remaining.
In the co-main event, Chaffee vs. Bulloch, Chaffee immediately sat to guard and attempted an armbar before entering the legs of Bulloch. Quickly controlling both legs, Chaffee surveyed his options before isolating the knee of Bulloch for the finish. A former MMA fighter under the Bellator and LFA organizations, Chaffee has been actively competing at Submission Hunter Pro with great success.
In the final black belt bout of the evening, and sole blackbelt no-gi fight, Joao Pedro Somalia and Devin Miller put on an exciting display of grappling on the feet and the mat in their fight to a draw. In the most impressive submission of the night, blue belt Abel Berrocal defeated Kaleb Mack with an uncommon submission. Berrocal came out on top after putting Mack to sleep in a crafty Hindulotine submission hold just forty seconds into the fight.
---
Full Results
No-Gi
Bryson Jones vs. Nick Wilson – DRAW
Adrian Gallardo sub. Jonathan Reardon via Armbar
Elijah Rodriguez sub. Stephen Adams via Rear Naked Choke
Katherine Lo sub. Skylar Stewart via Kimura
Black Belt
Chip Cole sub. Jason Gybels via Toe Hold
Thompson Marikano vs. Lucas Garcia – DRAW
Carlos Henriquez vs. Mike Lundie – DRAW
Edward Whisenant sub. Daniel Roy via Breadcutter Choke
Jared Chaffee sub. Phillip Bulloch via Kneebar
37 seconds, unreal sub—3rd kneebar on SHP
Joao Pedro Somalia vs. Devin Miller – DRAW (No-Gi)
Brown Belt
Taeger Berrones vs. Eric Bennet – DRAW (No-Gi)
Mike Medina vs. Gustavo Oliveria – DRAW
Jorge Galvan sub. Daniel Dunn via Armbar
Purple Belt
Evan Wise sub. Isaiah Sanchez via Armbar
Roy Ocanas sub. Cody Lehry via Kneebar (No-Gi)
Yessnia Aguilera vs. Hannah Sternblitz – DRAW (No-Gi)
Laylah Watkins sub. Brittany Cowan via Armbar (No-Gi)
Jacob Schwan vs. Michael McCray – DRAW (No-Gi)
Susanna Morado vs. Shannon O'Shea – DRAW (No-Gi)
Dominic Ramos sub. Robbie Galan via Caio Terra Lock (No-Gi)
Isaiah Ordaz sub. Aaron Archer via Guillotine
Blue Belt
Rolando Cook sub. Joel Rodriguez via Toe Hold (No-Gi)
Jesse Carter sub. David Buis via Rear Naked Choke (No-Gi)
Abel Berrocal sub. Kaleb Mack via Hindulotine (No-Gi)
Joannis Cristales vs. Michael Allen Hale – DRAW
Catherine Nguyen vs. Mendi Carlson – DRAW
Julian Perez sub. Michael Darko via Straight Ankle Lock
Kids and Teens:
Grey Belt (Gi)
Kevin Denkovitkij sub. Austin Pitts via Triangle Choke
Yellow Belt (Gi)
Charlee Joy Baza sub. Callie Klemke via Arm Triangle Choke from Guard
Sean Klemke vs. Andres Cuellar – DRAW
Orange Belt (Gi)
Hannah Watkins sub. Lucia Ada via Kimura
Blue Belt (Gi)
Lihandro Valdes vs. Brady Ramsey – DRAW