2022 Rise Invitational Match 10
Maldonado Wins 135 lb Tourney, Rosentral Defends 145 lb Strap At Rise 10
Maldonado Wins 135 lb Tourney, Rosentral Defends 145 lb Strap At Rise 10
Frank Rosenthal submitted Kevin Dantzler to defend the 145 lb belt; Mateo Maldonado defeats three in 135 lb bracket for $2,500 prize.
Nov 29, 2022
by Liam Stein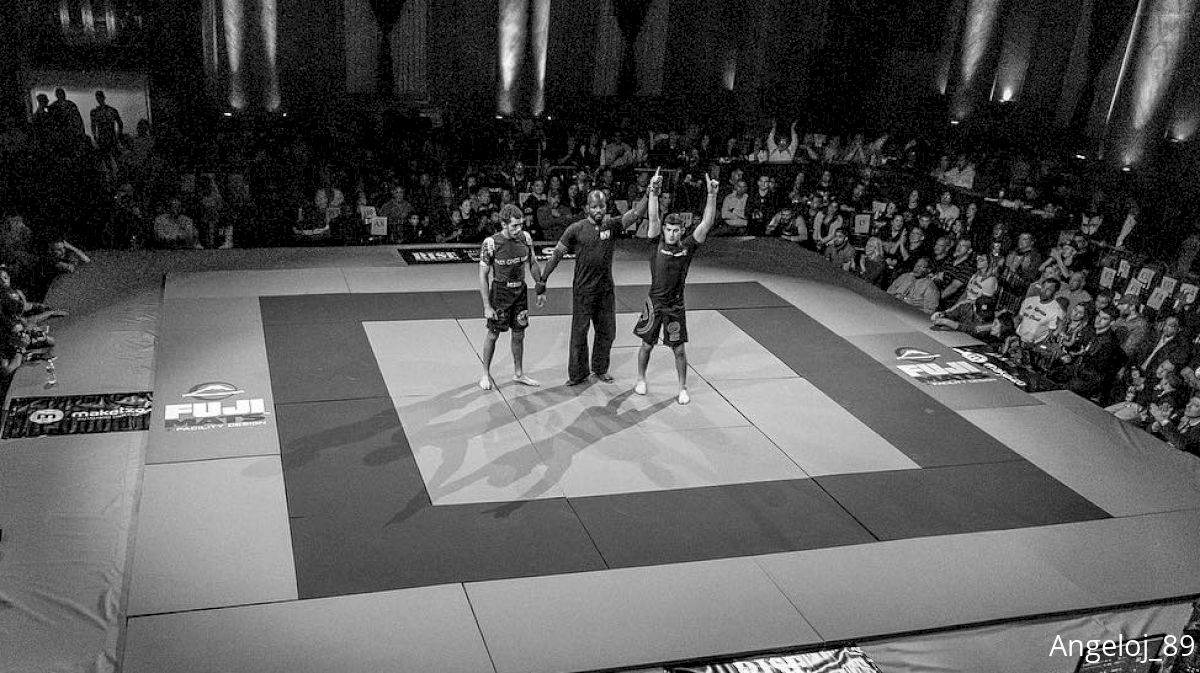 Grappling returned to Long Island, New York for an action-packed RiSE Invitational 10. In the co-main event, reigning champion Frank Rosenthal defended his featherweight belt with an impressive submission victory, while Mateo Maldonado was crowned Bantamweight Champion after coming out on top of an 8-man submission-only bracket.
Met by challenger Kevin Dantzler of Webb MMA, Fifty/50's Rosenthal retained his title with an outside heel hook late in the bout.
Dantzler fought valiantly, taking Rosenthal's back and unleashing a bevy of submission attempts, yet Rosenthal's composure and resilience paid dividends as he secured the submission finish with only three minutes remaining.
In the bantamweight bracket, Mateo Maldonado submitted Josh Thomas via armbar and scored a close victory over Andrew DeGraff by ride time advantage in EBI OT. In the final, he met MMA veteran Tevin Dyce. Dyce scored the first takedown and locked in a rear naked choke but failed to finish the attempt. Maintaining his calm, Maldonado escaped with seconds remaining. In overtime, Maldonado escaped around the 30-second mark and utilized a double underhook grip and body triangle to neutralize Dyce's attempts at escape, winning on ride time.
To earn his berth in the final, Dyce outlasted Danny Ramirez in EBI OT before submitting Eric Naples via RNC in EBI OT.
Of the four featured superfights of the main card, 10th Planet Bethlehem's Rene Sousa found the lone submission, finishing Rashad Perez with a cloverleaf leglock. Sousa was not the only Who's Next veteran on the card; his Who's Next co-star Mike Rakshan who fought Lukas Strassburg to a draw. After several offensive attempts early by Strassburg, Rakshan took control and locked his signature "camel crusher" scarf-hold as time expired.
In addition to the main card, several undercard bouts featured dynamic finishes from dead orchards to flying triangles. For the full results, check below:
---
Full Results
Undercard (6 minutes Sub or Draw)
Joe Carey (10P LI) def Yosef Enayation (LAW MMA) via Dead Orchard - 135 - Blue
Mike Pulido (Hamptons BJJ) draw Max Meenan (Serra/Vanguard BJJ) - 140 - Blue
Erick Barrenenechea (Legends Martial Arts) vs Salron Zepherin (Bones BJJ) - 200 - Blue
Emily Harris (Bones BJJ) def Betty Huang (MP BJJ) via Dead Orchard - 115 - Blue
Nick Shimkin (ATT Happy Valley) draw Diego Chaparro (10th Planet Long Island) - 140 - Blue
Jess Johnson (10P NYC) draw Laureta Lahu (LAW MMA) - 140 - Blue
Anthony Borelli (Freedom BJJ) vs Tyler Newcamp (LAW MMA) – DRAW - 205
Trista Kline (Blackhole Jiu Jitsu) def Nikki Heuer (10th Planet Long Island) via Inside Heel Hook - 135 - Blue
Lucas Campos (Gracie Barra) def Oliver Lopez (Masterskya) via straight ankle lock- 145 - Purple
Joshua Flores (Serra/Vangurad) def Vee Thong (Masterskya) via Inside Heel Hook - 150 - Purple
Edmir Sokoli (Bergen County BJJ) def Mike Spryou (Freedom BJJ) via Straight Ankle Lock- 195 - Purple
Cheryl Rock (Royal BJJ) draw Alesha Zappitella (Hungry Grappler) - 135
Chris Emery (The Hive BJJ) draw Kyle Monahan (Vanguard BJJ) 175 - Brown
Justin High (Gracie 717) draw Vinnie Corrado (Bones BJJ) - 215 - Brown
Jarbem Pacheco (Quaranteam) def Rasheed Perez (Renzo Gracie NYC) via Arm Triangle Choke - 175 - Brown
Main Card
Steve Nichols (Gracie Barra) draw Seth Hanneken (Vanguard Jiu Jitsu) - 215 - Black

Bantamweight Tournament Quarterfinals

(10 minutes Sub Only + 1 round of EBI overtime)
Mateo Maldonado (Animals MMA) def Josh Thomas (Hungry Grappler) via Armbar
Andrew DeGraff (Nova Jiu Jiu Jitsu) def. Jack Stapleton (Ascension Athletics) via Triangle Choke
Eric Naples (The Hive BJJ) def Joey Aumann (Pure MMA) via Flying Triangle Choke
Tevin Dyce (Legends Martial Arts) def Danny Ramirez (Tiger Schulmann's) via ride time (OT)
Featured SuperFight (6 minutes Sub or Draw)
Luis Cabrera (Bronx BJJ) draw Zach Fallah (Serra BJJ) - 185 - Black

Bantamweight Tournament Semifinals

Mateo Maldonado def Andrew DeGraff via ride time (OT)
Tevin Dyce def Eric Naples via Rear Naked Choke (OT)
Featured SuperFights (6 minutes Sub Or Draw)
Lukas Strassburger (Synthesis BJJ)) draw Mike Rakshan (Immortals BJJ) - 200 - Brown
Rene Sousa (10th Planet Bethlehem) def Rashad Perez (Renzo Gracie NYC) via Cloverleaf - 185 - Brown
Bantamweight Tournament - 3rd Place Match
Andrew DeGraff def Eric Naples via D'Arce Choke

Co-Main Event - Featherweight Title

(10 minutes Sub Only + 1 round of EBI overtime)
Frank Rosenthal (50/50 BJJ) def. Kevin Dantzler (Webb MMA) via Outside Heel Hook

Main Event - Bantamweight Tournament Finals

Mateo Maldonado def Tevin Dyce via Ride Time (OT)