Grappling Bulletin goes live every Monday on FloGrappling. We cover the biggest news, results and happenings in the world of jiu-jitsu.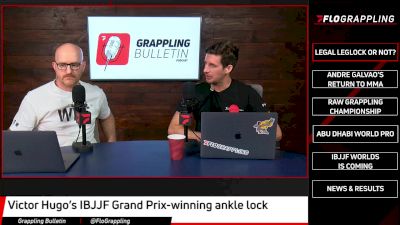 The Controversial Leg Lock That Could Be Illegal | Grappling Bulletin (Ep. 36)
Nov 15, 2021
Don't forget to watch the Grappling Bulletin podcast, every Monday at 3:30pm ET. Watch it on FloGrappling.com or the app, or catch it LIVE on YouTube or Facebook.
LEGAL LEGLOCK OR NOT?
Under IBJJF rules, twisting leg locks that attack the knee such as heel hooks are not permitted in gi competition, and some coaches and athletes are asking why this ankle lock variation is still permitted.
Checkmat founder and head coach Leo Vieira posted a detailed breakdown of why he feels the ankle lock as used by Victor Hugo is an illegal technique, yet exists because of a loop hole in the rules.
Jiu-jitsu is an art in a constant state of technical development and evolution. Whatever the resulting decision is, it will only serve the community to know exactly how leg locks should be applied under the rules of the tournament.
ANDRE GALVAO'S RETURN TO MMA
Andre Galvao has signed an two-year, six-fight MMA contract with ONE Championship, and he anticipates fighting as soon as February next year.
The ADCC superfight champion, 39, fought seven times between 2008 and 2010 and is 5-2 in MMA.
Galvao explained his desire to return to MMA: "I always had a dream to get a belt in MMA. A lot of people don't know I fought MMA before. My no-gi jiu-jitsu wasn't like I have nowadays. I'm a better wrestler, and jiu-jitsu has evolved so much. I felt like I will showcase my jiu-jitsu in MMA."
His last fight was a TKO loss to Tyrone Woodley in 2010. Of Galvao's five wins, three were via submission and one via TKO.
RAW GRAPPLING CHAMPIONSHIP
ABU DHABI WORLD PRO
Black belt gold rush: A truly international event with significant cash prizes at stake, the World Pro attracts decorated veterans and hopeful up and comers from across the globe.
IBJJF WORLDS IS COMING
2021: Year of the next generation?
The big names in for the IBJJF World Championship
A few notable names told us they're skipping the IBJJF World Championships this year.
NEWS & RESULTS
Brazilian jiu-jitsu legend Marcus 'Buchecha' Almeida meets knockout artist Kang Ji Won in an explosive heavyweight matchup on Friday, 3 December in Singapore
The "Giant Slayer" Estevan Martinez of ZR Team won the Hudson Valley Invitational 135lb pro division with 5 wins and 3 submissions. Watch the event replays here.
Grapplefest 10 goes down on Nov 20: The Ruotolo brothers return, Dante Leon faces Oliver Taza and more.