KASAI Pro 2 features an epic clash between Eddie Cummings and KASAI world lightweight champion Renato Canuto, a must-see grudge match between Geo Martinez and Nicky Ryan, and an eight-man round-robin tournament to crown KASAI's inaugural world middleweight champion.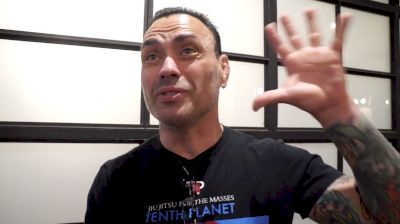 Eddie Bravo Responds To AJ Agazarm's 'You Know Jack Shit' Callout
Apr 15, 2018
AJ Agazarm claims Eddie Bravo and Joe Rogan know "jack shit." However, Bravo isn't having any of it.
Speaking to FloGrappling just after KASAI Pro 2 wrapped up Saturday in New York, the 10th Planet founder seemed unbothered by Agazarm's statement.
"AJ Agazarm is like WWE," Bravo said. "I don't take anything he says seriously."
Bravo also gave his thoughts on his team's performance in the event, including the result of Geo Martinez vs. Nicky Ryan and Richie Martinez's performance in the 185lb middleweight championship.