Fight 2 Win stops by Fresno, CA for a night of gi and no-gi sub-only superfights!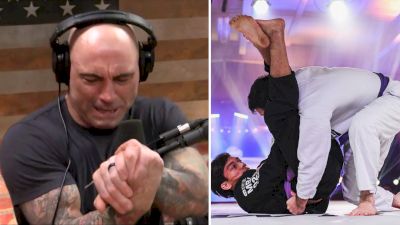 "It Works!" Rogan Talks Fight 2 Win 'Scissor Choke'
Dec 13, 2018
On a recent episode of the popular podcast the Joe Rogan Experience, Rogan and his guest Michael Bisping discussed the recent viral submission from Fight 2 Win 96.
"It Works! There's something about the scissor choke" Joe said.
"If you get the knees on the right part of the neck and squeeze like a b*tch, it hurts" Bisping added.
At Fight 2 Win 96 in Fresno California purple belt Josh Cisneros pulled off the submission of the night and maybe even the submission of the year! Not ten seconds into the match Josh locked in a tight 'tepee' or 'scissor' choke from his guard that put his opponent to sleep in seconds.
Cisneros improved to 2-0 under the Fight 2 Win banner with the victory.
Watch the full podcast episode here. To jump to the discussion about the choke click here (starts 1:31:48).