See the results and enjoy coverage of the 2019 IBJJF Brazilian National Championships– aka the Brasileiro.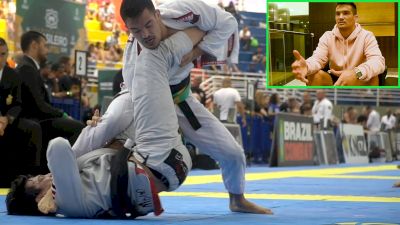 How Doederlein Turned Multiple Losses into the Biggest Win of His Career
May 7, 2019
Isaac Doederlein is the picture of tenacity.
Always on the cusp of a breakout performance, Doederlein has managed to make the podium of nearly every major tournament in the game – just not the top. The Alliance star again had the taste of victory snatched from his grasp in the final of the 2019 Abu Dhabi World Pro against Paulo Miyao after a controversial penalty gave Miyao the lead and eventual win; in fact Miyao has bested Doederlein five times this year, including matches at the European Championships, The London Grand Slam & King of Mats, and the Abu Dhabi World Pro.
A frustrated, but optimistic Doederlein gave us an interview a few hours after his loss in Abu Dhabi that revealed his mental tactics and training modifications that come as a result of a loss like the one he just had – which includes very practical lessons that any competitor or hobbyist can learn from.
Just one week later, Doederlein pulled off his first win over Paulo Miyao in the semi-finals of the Brazilian Nationals to claim his spot in the final. He went on to submit Jao Paulo Neto with a choke from the back and become the second ever American to win gold at the prestigious event.