Watch the 2019 Spyder Invitational BJJ Championship Final live on FloGrappling!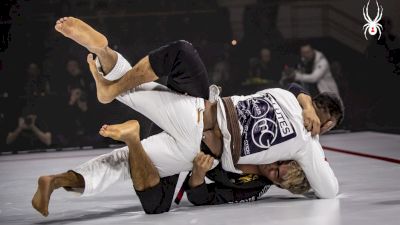 Unlock this video, live events, and more with a subscription!
Get Started
Already a subscriber? Log In
Baleia Breakdown: Levi Jones-Leary Old School Flower Sweep
Dec 3, 2019
Levi Jones Leary is without a doubt, one of Australia's top black belt competitors in our sport today. The black belt under Murilo Santana has made huge waves this last year, winning gold medals at major IBJJF competitions and recently, coming out on top at the stacked Spyder BJJ Championship "King of Kings".
As you can imagine, Levi was a HUGE Miyao Bros fan, as evident in the modern jiu-jitsu style that he uses. He watched them obsessively since he was a white belt and copied their De La Riva sweeps and Berimbolo games, and later became their training partner when he joined the Unity team.
As Levi matured into one of the best black belts in the world, so has his game. The specialist has added some diversity to his guard, as we saw against the very tough Matheus Lutes.
Levi was able to attack from several positions, but the one technique that received a lot of interest was Levi's flower sweep from closed guard!
The sweep allowed Levi to take Matheus's back and win the match. It's far from a new technique, but it's fallen out of favor and we don't see it much nowadays, so it was surprising to see the AussieBolo master Levi use it in this particular match.
As you can see here, the position began in closed guard. Levi actually attempted the sweep earlier on in the match, but Matheus was able to maintain balance and counter.
After a De La Riva sweep scramble, Levi established closed guard again, but this time, you will notice his opponent posting up on his right foot. This makes the attack a little easier for Levi, as he was able to take the back after some grip changes.
Let's take a closer look at the sweep and how he was able to hit it so effectively.
Some of the flower sweep's basic components are:
Control
Reposition
Redirection
Here you will see Levi's controlling grips. He switches from the cross-collar / ankle, to right-side sleeve and left-side pant grip.
With a simple pull of his legs inwards, he immediately repositions Matheus forward.
In a split second maneuver, he redirects Matheus to his right side lifting his right leg up with that pant grip and controlling Matheus's left hand with his sleeve grip. This prevents Matheus from posting to counter. As Mateus is able to frame on his elbow, Levi doubles down and hip bumps all the way up and over, using his left arm to reach around Matheus's shoulder, removing the frame to complete the rotation.
Watch it again: grips, reposition and redirection– all timed perfectly.
The ideal finish would be to end in mount, but as soon as Lutes gets swept he bridges to his right to avoid being scored on. Levi adapts to this movement and switches his grip to behind the neck to help him shift himself to the back. Once there Levi was able to establish position and rack up a nice score.
This positional exchange was definitely the pivotal moment of the contest, which secured Levi the win and put him into the final where he eventually won the grand prize of $100,000.
It's refreshing to see fundamental techniques still being used in our sport today and even better, being used by the new generation of jiu-jitsu stars.