Watch Grappling Bulletin every Monday on FloGrappling, where we'll cover the biggest stories and the best news and results from the world of jiu-jitsu.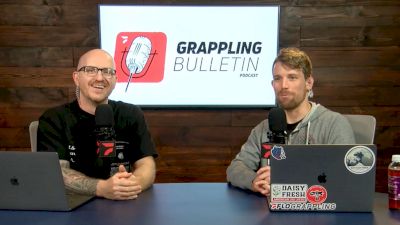 How Hulk SMASHED The BJJ Bet GP | Grappling Bulletin (Ep. 25)
Aug 2, 2021
With Leandro Lo, Lucas "Hulk" Barbosa, Micael Galvao, Rousimar Palhares and William Tackett, BJJBet's middleweight no-gi Grand Prix was one of the most anticipated events of the summer. The show also featured a number of IBJJF World champions in gi superfights, with Matheus Gabriel, Tayane Porfirio and Nicholas Meregali all stepping onto the mat.
The big winner was Lucas Barbosa, aka "Hulk", who submitted two of his three opponents at BJJBet II, including Leandro Lo in the final.
We'll examine the best performances and biggest moments from the entire event on the Grappling Bulletin Podcast. Scroll down and catch up on the best grappling news from around the world.
In this episode:
NEWS
WNO Championship 115lb division announced
Tye Ruotolo joins Craig Jones in 185lb division
Isaque Bahiense enters IBJJF middleweight Grand Prix
Lucas Rocha leaves ZR Team
BJJ BET
Lucas "Hulk" Barbosa wins BJJ Bet, submits Leandro Lo
Matheus Gabriel submits Luan Carvalho with 50-50 armbar
Disappointing performance for Nicholas Meregali
Tayane Porfirio gets win vs Gabi Pessanha
EMERALD CITY
16-man EBI-rules 145lb tournament, Aug 7 on FloGrappling
RESULTS RECAP
Cisneros gets win over Kennedy Maciel at F2W179
Samuel Barbosa wins Midwest Finishers tournament
UPCOMING EVENTS
Lovato Jr. vs Arges, Tama vs Najmi, Reusing vs Guedes