Watch Grappling Bulletin every Monday on FloGrappling, where we'll cover the biggest stories and the best news and results from the world of jiu-jitsu.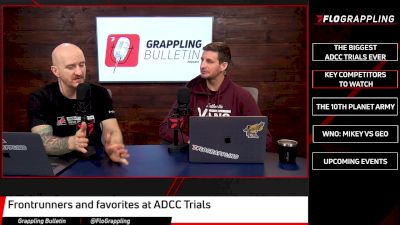 The Biggest ADCC Trials In History | Grappling Bulletin (Ep. 50)
Mar 7, 2022
The size of these divisions are monstrous, and winners in the 66, 77 and 88kg divisions may have eight matches to take gold.
In today's show:
THE BIGGEST ADCC TRIALS
April 2-3: The biggest ADCC Trials ever
How West Coast Trials will smash all records
KEY COMPETITORS TO WATCH
Frontrunners and favorites at ADCC Trials
THE 10TH PLANET ARMY
Eddie Bravo's no-gi network will descend upon ADCC Trials
WNO: MIKEY VS GEO
Danaher & Gordon on Meregali's no-gi progress
Inside B-Team: Nicky Ryan and Craig Jones
UPCOMING EVENTS
Emerald City Invitational line-up change
IBJJF Pans: one month away