Watch Grappling Bulletin every Monday on FloGrappling, where we'll cover the biggest stories and the best news and results from the world of jiu-jitsu.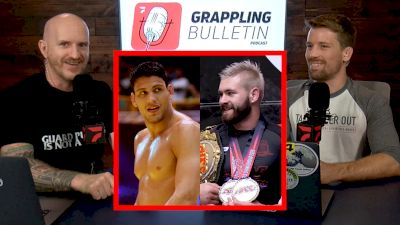 The Personal Beef Between Gordon Ryan & Felipe Pena | Grappling Bulletin (Ep. 58)
May 23, 2022
There's never a dull moment in the jiu-jitsu world, especially when Gordon Ryan is involved. Last week we dropped the bombshell news that Gordon would return for not one, but TWO big matches prior to ADCC.
First, WNO light heavyweight champion Pedro Marinho will take on Gordon Ryan on the WNO: Who's Next Finale on July 14. Then, just 24 days later, Gordon will face off with his old foe Felipe Pena in a special no-time limit, submission-only rules match.
We had lots to discuss in today's show, including the upcoming IBJJF Worlds (just over a week away!), the many great superfights we can look forward to over the summer, and more.
1. NEWS & RESULTS
Ruotolos Dominate Garry Tonon and Shinya Aoki
Grapplefest: O'Flanaghan taps Blank
Buchecha MMA fight rescheduled
2. GORDON RYAN VS THE WORLD
Gordon Ryan signs summer double-header
Gordon vs Pedro Marinho, July 14 on Who's Next Finale
Felipe Pena finally agrees to rematch with Gordon: August 7
3. THE ROAD TO WORLDS
Inside the top teams ahead of Worlds
Pressure and flow at Six Blades
Welcome to the Jungle: Mica Galvao and the Manaus crew
High intensity: shark tank rounds at TLI
4. IBJJF WORLDS: A LOOK AHEAD
Divisions take shape for 2022 IBJJF World Championship
The biggest names competing at Worlds
5. UPCOMING EVENTS
Survivor Series team event live on June, May 29
Basilio meets Ffion in return of RAW Grappling, July 3