Watch Grappling Bulletin every Monday on FloGrappling, where we'll cover the biggest stories and the best news and results from the world of jiu-jitsu.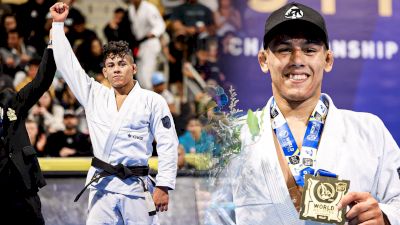 Mica Galvao Makes History! IBJJF Worlds Recap | Grappling Bulletin (Ep. 59)
Jun 7, 2022
The boys are back in the studio and break down the biggest stories from the 2022 IBJJF World Championships: Mica vs Tye, Leandro's comeback and much more!
HISTORY MADE AT IBJJF WORLDS
Mica Galvao becomes youngest World champ in history
Meregali battles through injury for absolute gold
We are entering the Gabi Pessanha era
Leandro Lo: still in the game!
Ffion and Isaac take gold for USA and GB
STANDOUT MOMENTS FROM WORLDS
Alliance and Dream Art go to war at Worlds
The first-time champs at 2022 Worlds
Returning World champs holding it down
No closeouts: Alliance embrace new approach
Xande and Lovato Jr. announce IBJJF retirements
ADCC 2022 UPDATES
ADCC competitors at IBJJF Worlds
ADCC line-up changes for September: Agazarm joins 66kg
ADCC Asia & Oceania Trials coming up in Australia
FINISHERS SUB ONLY
Standard Jiu-Jitsu steal the show at Survivor Series
UPCOMING EVENTS
EUG Promotions 180lb black belt Grand Prix