Watch the 2021 Pan IBJJF Jiu-Jitsu No-Gi Championship live on FloGrappling!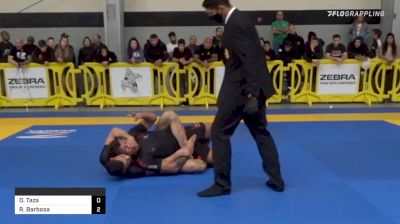 Oliver Taza Gets DQd at IBJJF Pans
May 17, 2021
If you're going to competition in IBJJF events, then you need to know the rules. Oliver Taza found this out the hard way when he got disqualified in his opening match at the 2021 IBJJF Pan No-Gi Championships. People were up in arms about his loss, especially as Taza was leading the match, but rules are rules and ignorance is no excuse for applying an illegal technique.
Here's what happened: Taza was up against Rodrigo Gortari of Fight Sports when he used the infamous python choke, which you will instantly recognize as the hand over the mouth as popularized by Vagner Rocha. It's a simple smother, and permitted in most events that Taza is accustomed to competing on. He didn't realize that the move is illegal under IBJJF rules, which prevent you from placing hands on your opponent's face. You're allowed to put hands on the chin, jawline and forehead but anything from the eyebrows down to the mouth is off limits.
If you're wondering where in the IBJJF rule book you can find clarification about the legality of Taza's move, go to section 6.2.2 "Serious Fouls"
O) When an athlete places a hand or foot on his/her opponent's face.
And also section 6.2.3 "Severe Fouls"
J) When an athlete blocks the passage of air to his/her opponent's nose or mouth using his/her hands.