Marcus Almeida, commonly known as "Buchecha," is one of the most successful jiu-jitsu competitors in history.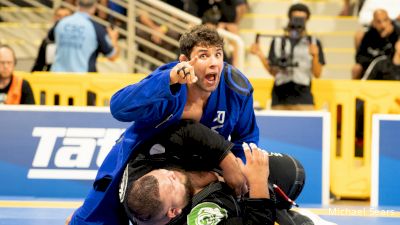 Buchecha Calls for Rules Reform
Dec 20, 2021
13-time IBJJF world champion Marcus 'Buchecha' Almeida may have left the world of competitive jiu-jitsu behind to pursue an MMA career, but the Checkmat star was matside at the recent World Championships in Anaheim, California, and he didn't like what he saw.
Buchecha flew back to the USA and was at the venue just one week after beating Kang Ji Won by first-round submission in Singapore. He told me that he realized upon walking into the venue that he didn't miss competing in jiu-jitsu at all. Being at the event as a spectator for the first time in his life, he came to some interesting conclusions on how jiu-jitsu could be improved for both athletes and fans.
"Let's change all the black belt matches to six-minute matches, and help the sport to get better and make it fun to watch again. The way it is, it's impossible," Buchecha said as part of Shoyoroll's series of voicemail posts titled "The Jiu-Jitsu Tapes".
High-profile black belts including Lucas Lepri, Gezary Matuda and Gregor Gracie offered their support to this statement, but Buchecha's Checkmat teammate Adam Wardzinski was one of the few dissenting voices.
"Real problem is competitors not engaging in a fight after scoring first points/ advantages. 10mins or 6mins is no difference when the action is not viewer friendly," wrote Wardzinski, who has competed over 85 times in events which utilize a maximum of six-minute matches.
Following Buchecha's suggestion, Shoyoroll started an online petition titled "Save Jiu-Jitsu" that currently has over 500 signatures.