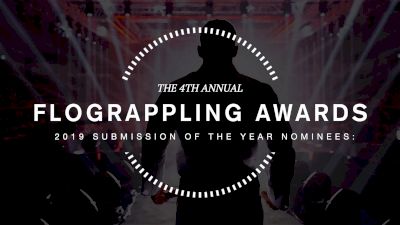 Unlock this video, live events, and more with a subscription!
Get Started
Already a subscriber? Log In
Nominations: 2019 Submission of the Year | FloGrappling Awards
Dec 31, 2019
What qualities are required to elevate a submission to a Submission Of The Year contender?
For starters, the stakes at hand must be considered- a submission in a World's final is instantly among the more pivotal subs of the year. It's also paramount to judge the quality of the technique and the creative manner in which the sub was secured.
The following six nominations all satisfy the criteria and deservingly are considered among the best of the year.
Garry Tonon heel hook vs Edwin Najmi, ADCC
Garry Tonon ran into fellow 77kg competitor Edwin Najmi in the opening round of the absolute division at ADCC and wasted no time in launching into a deadly kani basami (flying scissor takedown), instantly finishing with an inside heel hook. It was the grappling equivalent of a one-shot cold-clock KO– deadly, visually stunning, and jaw-dropping in its execution.
Adam Wardzinski choke vs Leandro Lo, IBJJF Pans
Adam Wardzinski was in serious trouble with Leandro Lo in their semifinal match at the 2019 IBJJF Pan Championships. The Polish competitor had his back taken with six minutes remaining, yet Wardzinski remained composed and managed to pull off one of the most impressive sequences of his career.
Making smart use of a modified butterfly guard, Wardzinski swept Leandro, passed his guard, mounted, and finally earned the back mount position, racking up 13 points before finishing with a bow and arrow choke. An amazing comeback, making this one of the most memorable submissions of the year.
Mikey Musumeci footlock vs Rodnei Barbosa, IBJJF Worlds
The stakes were high – a world title was on the line – and Mikey Musumeci wasn't going to leave it up to the judges. 12 seconds into the match, Musumeci had claimed his third world title after savagely foot locking Rodnei Barbosa, the fastest recorded submission in an IBJJF World Championship black belt final.
Matheus Gabriel armbar vs Marcio Andre, IBJJF Worlds
Matheus Gabriel was a first-year black belt who took the featherweight division by storm. The Checkmat representative took on veteran competitor and previous Worlds silver medalist Marcio Andre in the final and the match was simply one-way traffic. Gabriel snatched an reverse armbar to claim his first world title at the highest level.
Lachlan Giles heel hook vs Kaynan Duarte, ADCC
Truthfully, any one of Lachlan Giles' three heel hooks from the ADCC absolute division could have been contenders for submission of the year.
The 77kg competitor became 'The People's Champ' when he caught Mahamed Aly, Patrick Gaudio and Kaynan Duarte – all of whom were above 99kg – by surprise with his unique heel hook entry. We considered them all, but his submission win over Kaynan, who had just come off winning the +99kg division, was the one that made it onto this list.
Rudson Mateus armbar vs Gutemberg Pereira, Fight to Win
Is there anything as dangerous as Rudson Mateus' 50-50 armbar attacks? Everyone knows it's coming, but nobody seems able to prevent it. This was a particularly savage example, and it took Mateus less than 60 seconds to score the match-ending move.