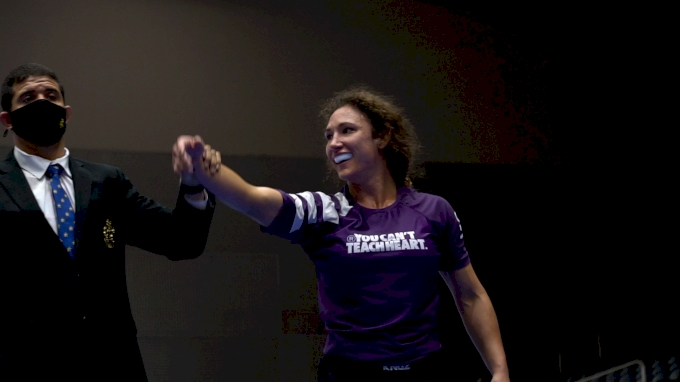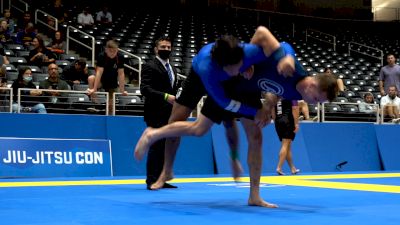 Wrestlers Dominate Blue Belt Divisons: 2021 IBJJF No-Gi Worlds Day 1 Recap
Oct 8, 2021
We are here in beautiful Garland, TX, wrapping up day one of no-gi worlds, and the blue belt mafia came ready to fight.
The biggest story of day one has to be the wrestlers coming in and dominating the blue belt divisions. Former NAIA and Division II wrestling champion, Michael Pixley is the first name that comes to mind. The Pedigo Submission Fighting blue belt crushed the absolute division, tossing around his opponents, and tapping everyone he faced with chokes, for a total mat time of less than a minute to win gold.
Pixley's PSF teammate, Tad Cravens hustled his way to the top of the podium, fighting through a massive 85-man bracket.
Tad finished two of his six opponents, eventually defeating Jesse Conaway in the lightweight final via points to become champion.
Former Penn State wrestler Geno Morelli also found success today. Morelli wrestled his way to the middleweight final where he beat Esteban Chaves 6-0 to take home the gold.
Light featherweight champion Andre Baroni, coming off an impressive performance at gi Pans, fought through a 37-man bracket where he was able to put his jiu-jitsu on full display.
Jumping over to the women's blue belt division, the absolute final saw Gracie Barra teammates Emma Reusing and Heloysa Oliveira duking it out for gold. The Brazilian unloaded 20 points in a dominant performance. This makes up for the fact that earlier in the day, Oliveira took silver in the middleweight division, losing to champ Iris Feliz.
As for the female purple belts, Paige Borras had the most impressive performance in the women's purple belt divisions with six submissions in seven matches to take home double gold. Only Erin Quillon in the absolute final was able to go the distance with Borras.
Jaidyn Mueller put on a show in the women's middleweight division. Mueller met Juliana Miller in the semifinals who came into no-gi worlds riding the momentum of a big win over ADCC champion Bia Mesquita in a Combat Jiu-Jitsu match one week ago
Mueller proved to be too much for Miller and carried that into the finals against Briana Medina, winning by advantage. Medina trains with half guard maestro Lucas Leite, while Jaidyn Mueller is a Tom DeBlass student making her well equipped to deal with the position and eventually win by an advantage.
10th Planet's Lauren Sears was hunting subs all day. Sears won all three of her matches via triangle armbar to win the light feather gold.