Gordon, Keenan, Vinny, Dillon & The Battle For The Hyper Competitive -99kg Division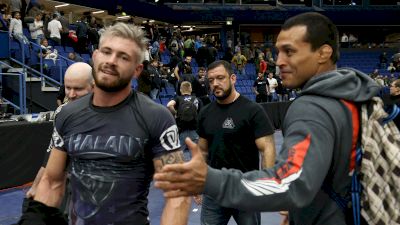 Unlock this video, live events, and more with a subscription!
Get Started
Already a subscriber? Log In
Gordon Ryan may be the favorite but there are many grapplers with a real shot at winning gold in the -99kg division.
The -99kg division has some very good guys: Keenan Cornelius, Vinny Magalhaes, Patrick Gaudio, Jackson Sousa, Dillon Danis, Fellipe Andrew and more… BUT do we see any of them taking out Gordon?
Are any of them going to beat Gordon, and I mean really beat him? There are some question marks over the status of his knee, and Vinny has a win over him.
Who's the biggest threat at -99kg for Gordon? Lucas "Hulk" Barbosa's wrestling looked strong, and they had a Fight 2 Win match a couple of years ago that proved inconclusive. Claudio Calasans is the only man in that bracket with an ADCC absolute championship.
Patrick Gaudio lost by one advantage at No-Gi Worlds in an extremely close match. He seemed unfazed by the leg game, when Gordon was using the saddle position to sweep everybody. He is physically very tough, but has a very good, underrated and deceptively technical guard game. Gaudio is one of the most underrated athletes out there, and he hit the podium at Worlds three times in a row (taking silver twice). He's training at the Fight Sports ADCC camp in Miami with Cyborg, too. And based off his recent performance at KASAI versus Kaynan Duarte, he's looking good without the gi BUT he has lost four of his last five matches.
The -99kg division has a number of dark horses such as 2011 ADCC champ Vinny Magalhaes, Jackson Sousa, and wildcards including Dillon Danis (fighting up a category), submission machine Fellipe Andrew and trials winner Tim Spriggs.
Men -99kg competitors
1st European Trials Winner: Perttu Tepponen (FIN)
1st North American Trials Winner: Tim Spriggs (USA)
South American Trials Winner: Paulo Jose Barauna (BRA)
2nd European Trials Winner: Mraz Avdoyan (GER)
2017 88kg champion: Gordon Ryan (moves up to -99kg)
Invited: Keenan Cornelius (USA)
Invited: Ben Hodgkinson (AUS)
Invited: Vinny Magalhaes (BRA)
Invited: Patrick Gaudio (BRA)
Invited: Lucas "Hulk" Barbosa (BRA)
Invited: Luiz Panza (BRA)
Invited: Jackson Sousa (BRA)
Invited: Paul Ardila (USA)
Invited: Dillon Danis (USA)
Invited: Fellipe Andrew (BRA)
Invited: Claudio Calasans