Grappling By The Numbers
By The Numbers: 50% Submission Rate At Tezos WNO In 2022
By The Numbers: 50% Submission Rate At Tezos WNO In 2022
On average, the submission rate was higher, and the submissions came quicker in the 2022 season of Tezos WNO than in the previous year.
Dec 30, 2022
by Beatrice Jin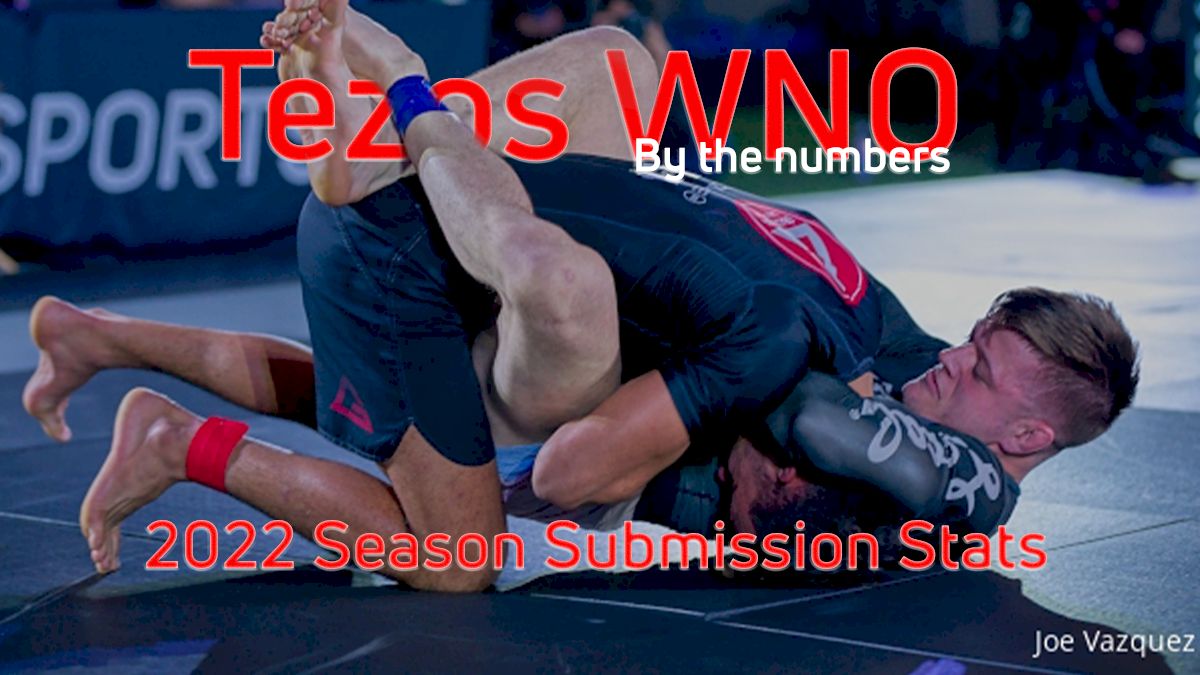 The 2022 season of Tezos WNO featured 40 matches of up and coming grapplers and established world champions. Out of 40 matches, 20 resulted in submissions, including a couple firsts in Tezos WNO history: a Z-lock by Jozef Chen and a camel crusher by "The Sultan of Strangles," Mike Rakshan.
The New Wave Jiu-Jitsu heavyweights took home the most submissions by far, 40 percent of the total. Gordon Ryan claimed three of those, while Nicholas Merigali, and Luke Griffith picked up two each; Dan Manasoiu secured one as well.
The winningest athletes of the season had three wins each on Tezos WNO, including aforementioned Gordan Ryan with three submissions and Nicholas with two submissions and a decision win. Brianna Ste-Marie also won two out of two matches, all via decision. Jacob Couch had four matches on Tezos WNO this year, the most out of all the athletes. He won two via submission and one by decision. His only loss was to Gordon Ryan.
Couch was also the most active athlete on Tezos WNO in 2021; he went 3-3 last season. He's now tied for third-most victories on the Tezos WNO stage. Tye Ruotolo and Gordon Ryan lead with seven wins. Couch, Kade Ruotolo and Mica Galvao each have six.
Types of submissions
The most popular submission in the Tezos WNO 2022 season was the rear naked choke, by which six of 20 total submissions were finished. Half of all submissions were chokes – 10 total, achieved on average at about 8 minutes and 38 seconds into the match.
Leglocks were by far the fastest mode of submission, averaging 5 minutes and 17 seconds. Inside heel hooks were the preferred weapon, making five out of seven successful leglocks.
Arm attacks were scarce this season. There were only two successful armlocks finished this year on Tezos WNO, by Nicholas Merigali and Izaak Michell.
Every submission from WNO 2022
Submission times
The fastest submission went to Luke Griffith, an inside heel hook in 24 seconds. The average time it took to submit an opponent was 7 minutes 39 seconds, (excluding the two no time limit matches.)
Griffith's heel hook is now the second fastest submission in Tezos WNO history.
Sophia Cassella's heel hook over Jessie Crane, the second fastest of the season at 35 seconds, is now the third fastest overall, and the fastest submission of any female match on Tezos WNO.
The two latest submissions both occurred in no time limit matches. Izaak Michell armbarred Kyle Chambers in the WNX Finale after a grueling 2 hours and 12 minute match. Concurrently, the second longest submission match came after Felipe Pena verbally tapped to Gordan Ryan at the 44 minute mark.
Top 5 fastest submissions
Changes from 2021
The 2021 season of Tezos WNO featured 120 matches total, most of which occurred during the to the WNO Championship brackets. The submission rate last year was just shy of the 2022 number, 45 percent. Inside heel hooks and rear naked chokes were still the most common submissions. The main difference in submission types was that in 2021, there were significantly more successful arm attacks, a total of 13 out of 54 submissions.
Every submission from WNO 2021
Overall, submission hunters found their mark more quickly in the 2022 season. Legocks took an average of 6 minutes and 6 seconds to finish in 2021, almost a minute slower than this year. Chokes took an average of 9 minutes and 41 seconds to finish, also a minute slower than the 2022 season.