Tezos WNO Pena vs Rodriguez
Pena Wins Controversial Decision vs Nicky Rod, Marinho Defends Belt
Pena Wins Controversial Decision vs Nicky Rod, Marinho Defends Belt
Pena earned a decision victory over late replacement Nick Rodriguez. Marinho retained his 205lb title. Sousa earned the Tezos Submission of the Night Bonus.
Feb 27, 2023
by Corey Stockton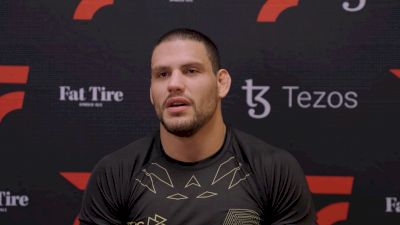 Felipe Pena earned a unanimous decision victory over Nick Rodriguez in a 30-minute main event at Tezos WNO, evening the score between the two athletes who first met at ADCC 2022.
Throughout last night's main event at Tezos WNO: Pena vs Rodriguez presented by Fat Tire in Costa Mesa, CA, Rodriguez spent the majority of the time utilizing his bodylock passing game to keep Pena flat. In several instances, Rodriguez nearly passed, and in the final five minutes of the bout, Rodriguez applied a nasty looking footlock against Pena.
But the judges appeared to favor Pena's counter attack game, with which the 31-year old athlete found his most significant attacks of the match. In a flurry, Pena countered a body lock pass with an omoplata to take top position. On several other occasions, Pena hijacekd Rodriguez leg attacks to attain top position, and to seek dominant back control.
Pena had originally prepared for a no-time limit bout against Gordon Ryan. But Ryan withdrew from the match on fight week, citing health issues. Rodriguez stepped in as a late replacement for a 30-minute main event.
After his win, Pena challenged Ryan to the match next week, adding that if Ryan is unable to compete next week, Pena will insist a 30-minute match the next time he signs to face him.
Pena was not the only successful Gracie Barra athlete at Tezos WNO. Light heavyweight champion Pedro Marinho defended his title against Giancarlo Bodoni, who was the betting favorite.
Marinho grounded the 2022 ADCC World Champion twice, and utilized a cagey game to shut Bodoni's offense down. This is now the second consecutive time that Marinho has secured the WNO title as the underdog.
After his win, Marinho called for a match against Bodoni's New Wave teammate, Nicholas Meregali.
Speaking of exceptional underdog performances, Tezos Submission of the Night Bonus winner Rene Sousa had the odds against him despite his impressive kneebar victory over reputable leglocker Kieran Kichuk.
Kichuk controlled the early phase of the match, unloading attacks and keeping Sousa at bay. But a late flurry from Sousa put him on the offensive for the first time, leading to a scramble in which he secured his bonus-winning submission.
Jasmine Rocha earned the only other submission of the night, a punch choke from the mount over Amanda Bruse which appeared to be a smother choke.
Rocha had previously defeated Bruse at West Coast ADCC Trials semifinal in 2022, a controversial decision. Bruse had another hot start against Rocha in their rematch on Tezos WNO, but Rocha turned the tables, utilizing a lightning-fast kneecut pass to establish top control before securing the tap.
She called for a match against Luiza Monteiro after the victory.
Also on the main card, Torres and Jonnatas Gracie both won their WNO debuts. Torres defeated Magid Hage, taking early top position and never conceding it. Gracie scrambled back and forth with Tezos WNO Oliver Taza for the first five minutes of the match. Eventaully, he established a control position, and — like Torres — maintained it for the remainder of the bout.