Tezos WNO Pena vs Rodriguez
Grappling Bulletin: The Day Of The Underdog At Tezos WNO: Pena vs Rodriguez
Grappling Bulletin: The Day Of The Underdog At Tezos WNO: Pena vs Rodriguez
Pena beat Nicky Rod at Tezos WNO & calls Gordon Ryan out. The underdogs made the oddsmakers pay with upset after upset, & more from this week in grappling.
Feb 27, 2023
by Corey Stockton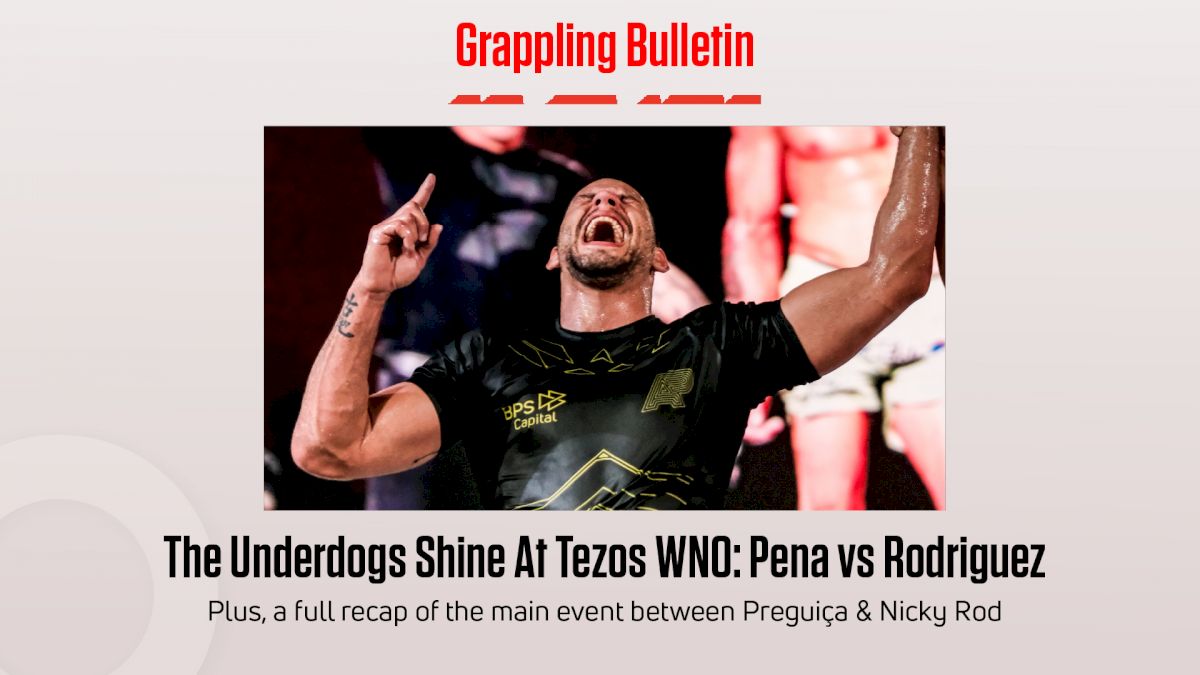 A last-minute change in the main event for last weekend's Tezos WNO changed the trajectory of the season, especially in the heavyweight division. But Felipe Pena's narrow victory over Nick Rodriguez in the headline match was just one of several results we wouldn't have anticipated just a week ago.
---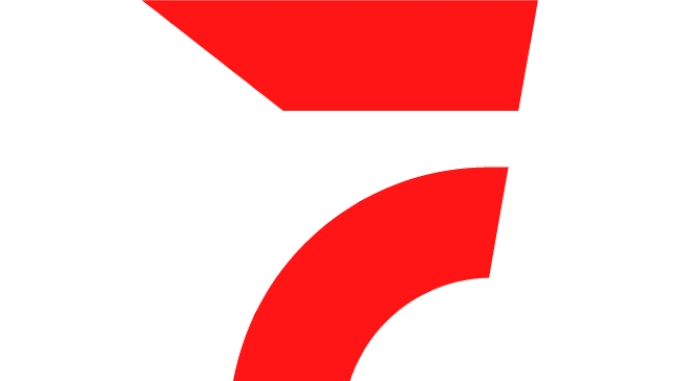 Tune into the Grappling Bulletin Podcast every Monday. Today's show, Season 2 Episode 6, airs at 4:30 p.m. ET. Watch it on FloGrappling.com or the app, or catch it LIVE on YouTube.
---
Felipe Pena had trained for months in preparation for a no time limit bout against Gordon Ryan. Ryan revealed last week that he would withdraw from the match citing health issues.
Nick Rodriguez stepped in on the 11th hour to challenge Pena in a 30-minute bout on Saturday night, which went the distance. After a competitive back and forth match, all three judges awarded the victory to Pena.
Rodriguez used his trademark body lock passing to grind on Pena, and capitalized on opportunities to fall back for leg attacks. But Pena countered many of Rodriguez' best attacks well, finding an omoplata sweep off of Rodriguez deep passing attempt, and coming up to seek back control on many of Rodriguez' leg attacks.
Pena, who lost to Rodriguez in the ADCC semifinal in 2022, won a redemption victory by a thin margin.
Despite the narrow decision, Pena appeared well conditioned, likely a result of his camp at Atos with Andre Galvao and crew. He expressed that he wanted to capitalize on his peak physical form, which he had developed for his previously-scheduled bout against Ryan.
In his post-match interview, Pena called for a rescheduled bout against Ryan next week and said that, if the match doesn't happen within that window, their next match should be held to a 30-minute time limit.
---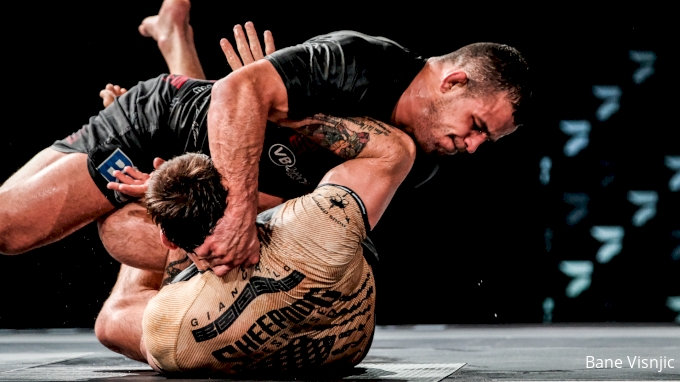 The day of the underdog: Marinho, Sousa & more win big
For the second consecutive time, the oddsmakers called Pedro Marinho the betting underdog in a match for the Tezos WNO light heavyweight title.
For the second consecutive time, he made them sorry.
Reigning light heavyweight champion, now 2-0 in the division (2-1 overall), was a +365 underdog going into his bout against Giancarlo Bodoni. Marinho successfully defended his title against the 2022 ADCC champ, earning points with the judges in the standing game, where he took Bodoni down twice.
When in top position, Marinho shut down Bodoni's offensive guard game to maintain control of the decision.
Marinho was also a heavy underdog when he faced Craig Jones for the then-vacant title. Marinho was a +400, but he outworked Jones in that main event, passing the Australian's guard after a standing battle.
The light heavyweight champ wasn't the only underdog to upset the betting lines at Tezos WNO on Saturday.
Rene Sousa, who secured the Tezos Submission of the Night Bonus, was a +225 underdog in his match against Kieran Kichuk. Sousa struggled to get started, but defied the odds in the last 5 minutes of the match, after a flurry of attacks put him on the offensive, leading the Who's Next Veteran to a kneebar, and his first victory in the Tezos WNO ruleset.
Jasmine Rocha, yet another underdog, won her Tezos WNO debut against Amanda Bruse. Rocha had defeated Bruse at the 2022 ADCC West Coast Trials, but Bruse had the arguably more impressive showing in that match. Rocha was determined to demonstrate that her win was not a fluke; and she did so convincingly with a mounted punch choke after a back and forth submission exchange.
Rocha came into the match as a slight underdog at +100 (against Bruse's -130).
One more underdog who came out victorious: Jonnatas Gracie won his Tezos WNO debut against the veteran Oliver Taza. Taza landed the first significant technique of the match, a takedown. But Gracie landed on the better side of the open scramble — establishing a dominant position — where he stayed and cooked Taza for the remainder of the bout.
Gracie was a +230 underdog going into the match against Taza. He is now 1-0 on Tezos WNO while Taza moves to 3-2.
The only true betting favorite who lived up to the oddsmakers expectations was two-time ADCC World Champion JT Torres, who bulldozed through Magid Hage in his WNO debut. Torres was a -400 favorite, and —after his victory — expressed hopes to compete more in 2023 than he had in previous year.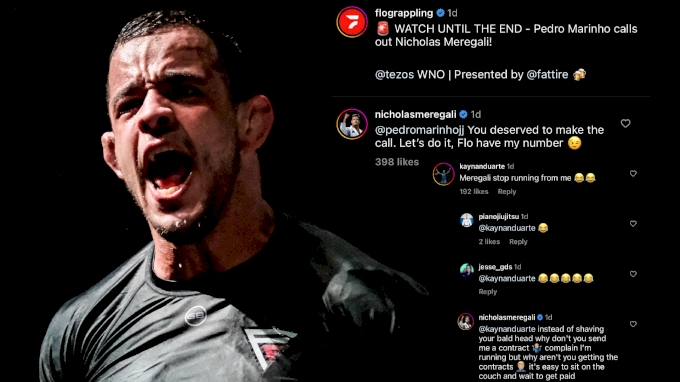 Is Meregali next in line for the light heavyweight title shot?
Following his decision victory at Tezos WNO, Pedro Marinho took to the microphone to call for a match against Nicholas Meregali, the 3-0 Tezos WNO veteran who earned silver and bronze medals at ADCC 2022.
Meregali, a New Wave teammate of Giancarlo Bodoni and Pedro Marinho, teased that he would accept the match in a comment on Instagram directed at Marinho.
In his backstage interview, Marinho added that he would also be interested in a match with 2022 ADCC champion Kaynan Duarte.
Duarte, meanwhile, took to social media to say (again) that he wants a match with Meregali.
---
Don't miss the premiere of Daisy Fresh Season 3 on March 29
During the main card of Tezos WNO: Pena vs Rodriguez, FloSports Studios released the world premiere of the trailer for Daisy Fresh Season 3. The final season of the show — set for ten episodes — follows Heath Pedigo, Jacob Couch, Andrew Wiltse and an ever-growing cast of supporting characters (including Mikey Musumeci and Dante Leon) as they take on some of the biggest grappling events in the 2021 and 2022 seasons.
Follow the Daisy Fresh team through ADCC and the ADCC Trials, the full IBJJF calendar, the WNO Championships and many more Tezos WNO events.
The team — and the individuals who make the team — have experienced dramatic ups, downs, and changes in the last two years. Daisy Fresh Season 3 will give you an up close look at the lives of the Pedigo Submission Fighting team once again.
Catch the first four episodes of Season 3 every Wednesday beginning on March 29.
Then, the series concludes with six episodes beginning Wednesday, June 21 and running through August 23.
---
Weekend Round Up:
Tezos WNO wasn't the only event of the weekend. Catch up on the grappling results from across the globe, with events in Bethlehem, PA, Bangkok and Japan.
Unrivaled2
Reporting by Carlos Arthur Junior
Three of the most prominent young black belts from the US flew to Japan to take on three of the best Japanese grapplers.
William Tackett won the main event, defeating Kenta Iwamoto in an energetic battle. Iwamoto demonstrated proficient leglock defenses, but Takcett's aggression earned him the win via points.
Igor Tanabe defeated Jacob Couch via rear naked choke, utilizing a leg pin pass to establish side control, before taking the back and getting the choke.
Andrew Tackett went full throttle to pass and mount, then submitted Murilo Souza with a kimura.
Finishers Kombat IV
Finishers Kombat IV in Bethlehem, PA featured two title bouts and several superfights between some of top prospects on the East Coast. Here are the results from the EBI-rules event:
Sean Yadimarco defeated Kemoy Anderson in overtime via ride time to unify the Finishers middleweight title.
Yadimarco, the champion, had held top position against the interim champ, Anderson, for most of the regulation period. Showrunner Zach Maslany said an overtime would be necessary as Yadimarco was not offensive enough from his dominant positions.
Vanessa Griffin defended her Finishers 155 lb title, fending off 145 lb champ Trinity Pun in a bout which ventured into triple overtime.
John Battle had one of the most impressive submissions of the event, using the Kimura trap to take Ivan Perez' back, and completing the submission in 68 seconds.
One Fight Night 7
One Fight Night On Prime Video 7 in Bangkok on Friday, February 24 included two submission grappling matches as part of its card of MMA and kickboxing bouts.
Tommy Langaker secured a heel hook victory less than three minutes into his bout against Russian Uali Kurzhev. Langaker earned a $50,000 bonus, and could be next in line for a match against One 170 lb grappling champion Kade Ruotolo.
Danielle Kelly earned a submission victory after a 10-minute bout against Ayaka Miuri, and went on to call for a match against Jessa Khan.
---
Upcoming Events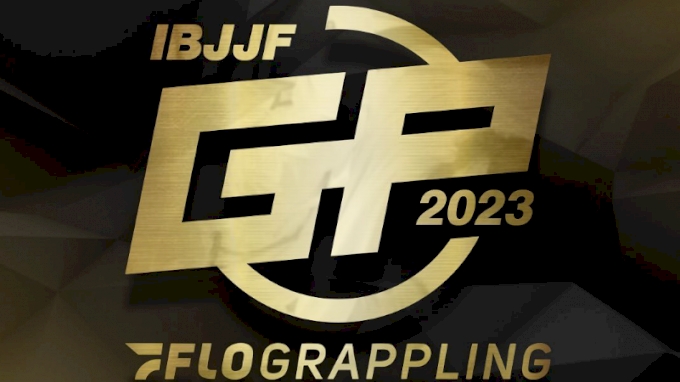 Tezos IBJJF FloGrappling GP
March 3 | Austin, TX
Two Grand Prixs in the modified IBJJF ruleset for $10,000 each. The men's lightweight bracket includes Andy Murasaki, Johnatha Alves, Carlos Henrique and late-replacement Elijah Dorsey. The women's heavyweight bracket includes Ana Carolina Vieira, Andressa Cintra, Nathieley de Jesus and Melissa Cueto. Plus, a 30-minute superfight between world champions Tainan Dalpra and Isaque Bahiense, and two regulation-length superfights:
Francisco Lo vs Ronaldo Junior
Nathalie Ribeiro vs Janaina Lebre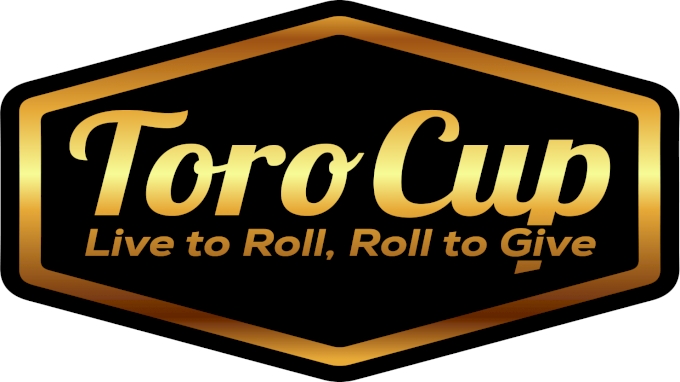 Toro Cup 24
March 4 | Durham, NC
A loaded card of superfights, headlined by two of the top ranked lightweights in the world: Gianni Grippo and Gabriel Sousa.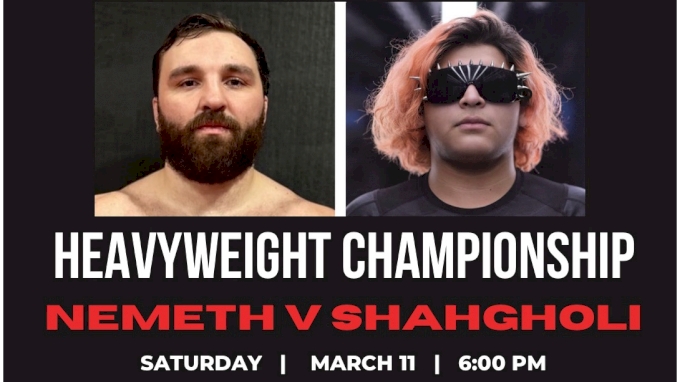 SOGI: Winter Warz
March 11 | Hauppauge, NY
Pat Shagholi and Alex Nemeth square off in a heavyweight title bout in the main event. SOGI lightweight champ Keith Krikorian vs takes on SOGI welterweight and absolute champ Andrew Solano. Plus, an eight-man middleweight bracket featuring Enrique Galarza, Chris Wojcik, Qentin Rozenweig, Luis Cabrera and more.


Subversion Equinox
March 18 | Sydney, Australia
ADCC veterans Ash Williams and Jeremy Skinner show down in the main event, plus matches including Josh Saunders, Ariel Tabek, Murilo Amaral and many more.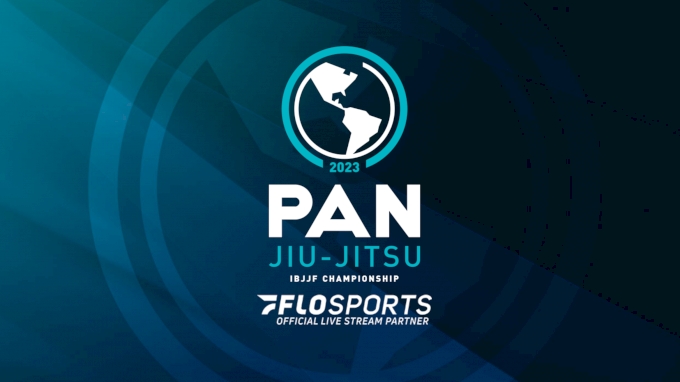 2023 IBJJF Pan Championships
March 21-26 | Kissimmee, FL
Registration is at more than 70% capacity, and the black belt divisions are beginning to fill for one of the four major IBJJF events of the year.
One division worth highlighting: light featherweight, which currently includesDiogo Reis, Malachi Edmond, Diego Pato, Meyram Alves, and Cleber de Sousa. The deadline to register is March 12.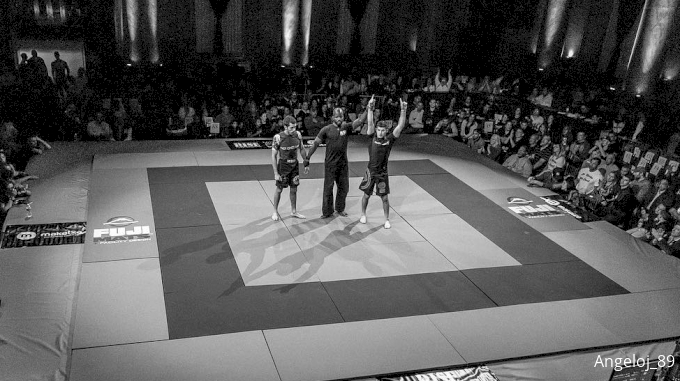 Rise Invitation 11
April 1 | Rockville Center, NY
A women's 135 lb bracket for $2,500, featuring Trinity Pun, Sijara Eubanks, Nicole Mathew, Beatrice Jin and more. Plus, a rematch from the Rise 10 semifinal between Andrew DeGraff and Matteo Maldonado, and more superfights featuring East Coast talents.
Midwest Finishers 13
April 1 | Lombard, IL
The men's 155 lb belt and the women's 125 lb Belt are back up for grabs. Competitors still to be announced.
Finishers Sub Only Survivor Series III
April 16 | Bethlehem, PA
A team tournament with a max athlete weight limit of 170. Quintet style (the winning athlete stays in until defeated). Athletes and teams still to be announced.
Emerald City Invitational
April 29 | Cicero, NY
EBI-rules brackets in the men's and women's 135 lb divisions. Up to 32 men will compete for $2,000 (28 of them have already been announced). And up to 16 women will compete for $2,000 (11 announced).