2023 Pan Jiu Jitsu IBJJF Championship
Grappling Bulletin: Has Tainan Cleared Out The Middleweight Division?
Grappling Bulletin: Has Tainan Cleared Out The Middleweight Division?
The middleweight division is the thinnest it has been in five years. Plus, a look ahead to Pans, and news from around the grappling world.
Mar 20, 2023
by Corey Stockton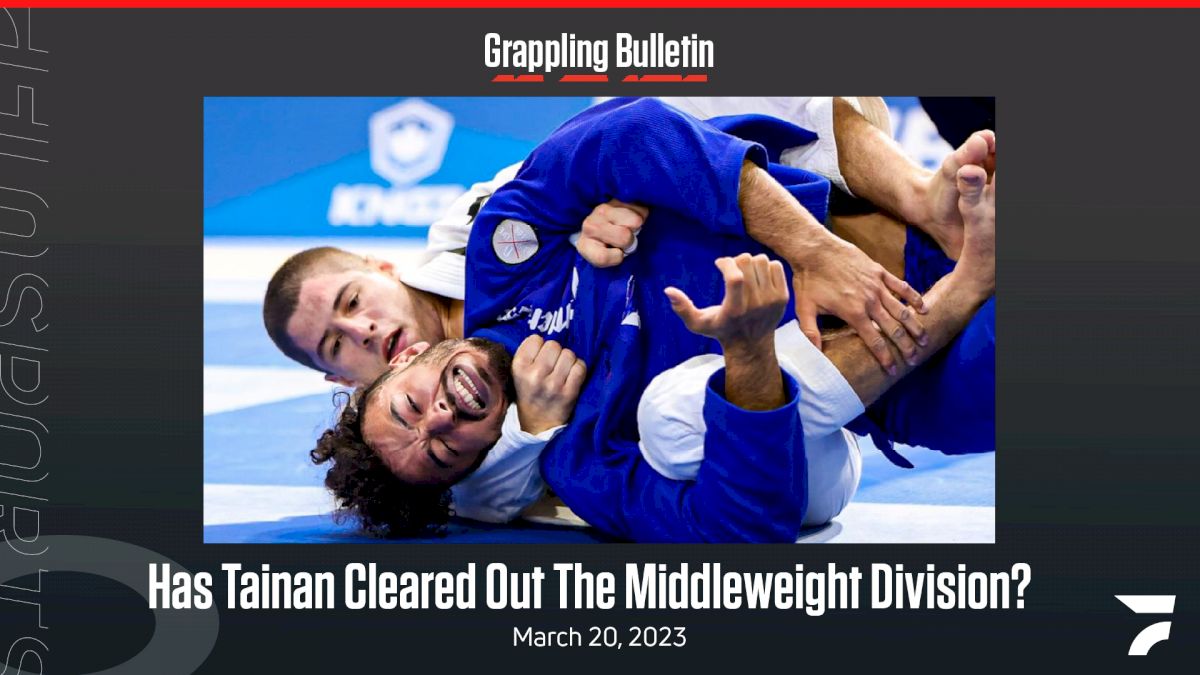 The 2023 IBJJF Pan Championships begin in just two days, marking the second of four major IBJJF tournaments in the 2023 season. Several athletes are chasing their first-ever Pans or their first major title. Others are looking to follow up victories at Euros to build on their campaigns for Grand Slam titles. More still are flying new team flags, and will be putting their career changes to the test in Kissimmee, FL this week.
The brackets have been revealed, and we now have a look at the paths each of the key black belts will need to walk on their road to gold. Check out our favorite first round matches, and our dream semis and finals in this edition of the Grappling Bulletin.
---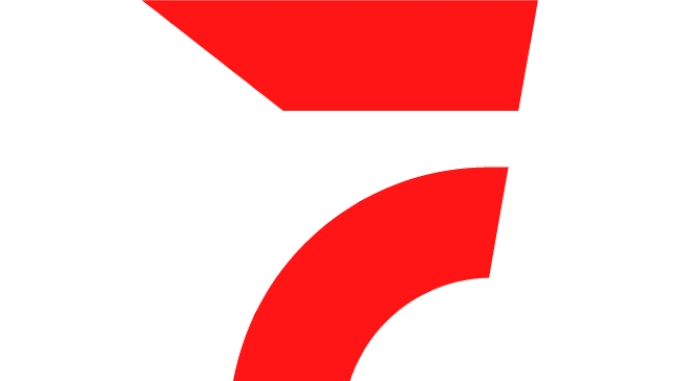 Tune into the Grappling Bulletin Podcast every Monday. Today's show, Season 2 Episode 9, airs at 4:30 p.m. ET. Watch it on FloGrappling.com or the app, or catch it LIVE on YouTube.
---
The Best black belt elimination matches coming To Pans
Saturday, March 25, the black belts will take the mats at Pans to establish the eight men and two women of each weight category who will compete in the final rounds on Sunday, March 26.
The top seeds of each division will have a light workload, and the bottom seeds will have a mountain to climb. But the middle of the pack are paired up in particularly intriguing matchups. Here are the matches to watch closely on Saturday.
Adam Wardzinski vs Roberto Jimenez | 5:38 pm ET | Mat 14 | Heavyweight
Devhonte Johnson vs Caio Vinicius | 5:57 p.m. ET | Mat 11 | Heavyweight
Matheus Spirandelli vs Uanderson Ferreira | 4:33 p.m. ET | Mat 11 | Medium heavyweight
Sebastian Williams vs Elder Cruz | 4:28 p.m. ET | Mat 13 | Medium heavyweight
Francisco Lo vs Mauricio Oliveira | 4:52 p.m. ET | Mat 13 | Medium heavyweight
Murilo Santana vs Bruno Matias | 4:50 p.m. ET | Mat 12 | Medium heavyweight
Daniel Sathler vs Ismael Santos | 3:16 p.m. ET | Mat 13 | Featherweight
Estevan Martinez vs Cory Walker | 1:41 p.m. ET | Mat 14 | Roosterweight
Lavinia Barbosa vs Jhenifer Aquino | 2:40 p.m. ET | Mat 10 | Roosterweight
Jessa Khan vs Duda Tozoni | 2:19 p.m. ET | Mat 9 | Roosterweight
Sayuri Toledo vs Adele Fornarino | 2:55 p.m. ET | Mat 9 | Light featherweight
Emily Fernandez vs Maria Claudia | 4:16 pm ET | Mat 10 | Lightweight
Elisabeth Clay vs Raquel Canuto | 4:28 p.m. ET | Mat 10 | Middleweight
Amy Campo vs Melissa Cueto | 6:04 p.m. ET | Mat 10 | Medium Heavyweight
Potential Sunday matchups
Those matches are locked in for the first round of the tournament. As long as each of the above listed athletes show up on weight, we're guaranteed to see them face off against their scheduled opponents.
Now, let's take a look at some of the exciting — if hypothetical — matchups we could see in Sunday's quarters, semis and finals.
Diego Pato vs Mario Alvarado | 9:45 a.m. ET | Mat 12 | Light featherweight quarterfinal
Rookie black belt Alvarado has one match on Saturday. If he gets through Huthafayah Penney, he'll take on 2021 world champ Pato in the quarters o Sunday. The winner will likely have Cleber Sousa in the semi, although Sousa has a litany of dark horses looking to stand in his way.
Marcio Andre vs Samuel Nagai | 10:30 a.m. ET | Mat 12 | featherweight quarterfinal
If this quarterfinal hits, it's a true clash of generations. Nagai is scrappy in every match, and could draw out Andre's chippy game. We expect action from this one.
Malachi Edmond vs Diogo Reis | 11:18 a.m. ET | Mat 13 | Light featherweight semifinal
Both Edmond and the Baby Shark will have to get through a roster of up and coming talent, but if they get through their matches, this should shape up as one of the best match of the event, a battle of two of the game's best strategists.
Pablo Lavaselli vs Shane Jamil-Hill Taylor | 11:42 a.m. ET | Mat 13 | lightweight semifinal
If Jamil and Lavaselli get through their share of early round tests, their styles make for a fan friendly matchup. Both athletes have spent time between the featherweight and lightweight divisions. Jamil is one of the best guard technicians in the game, but Lavaselli has honed his style in the past few months training at AOJ.
Tainan Dalpra vs Rolando Samson | 1:54 p.m. ET | Mat 12 | middleweight semifinal
Tainan's reign over the middleweight division could see a new challenger from Atos in the form of Samson. Samson took some time off from the competitive circuit. But he's looked polished since his return late last year.
Erich Munis vs Steffen Banta | 2:30 p.m. ET | Mat 12 | super heavyweight quarterfinal
Munis is one of the toughest and most decorated of any super heavyweight competing today. But Banta is the face of the next generation, one of the most decorated brown belts in history moving up to black belt for his debut major tournament.
Nicholas Meregali vs Roosevelt Sousa | 2:42 p.m. ET | Mat 12 | ultra heavyweight quarterfinal
Two of the most submission-oriented athletes in the upper weight categories could square off in the ultra heavyweight semifinals, and may meet on Saturday in the absolute division as well.
Ffion Davies vs Luiza Monteiro | 3:30 p.m. ET | Mat 12 | lightweight final
Two of the most dominant female talents could meet in the lightweight final, but any of the eight other athletes in this division will be looking to get in the way of this mega matchup.
---
Has Tainan Dalpra cleared out the middleweight division?
Less than three full years into his black belt career, Tainan Dalpra has been an unstoppable force at middleweight. He's 55-0 in IBJJF competition with two world titles, two European titles and two Pans titles on his mantle. Adding to those stats: an impressive submission rate of 72-percent.
Fans have taken notice, and it seems that his colleagues in the middleweight division have as well.
This year at Pans, there are just 14 athletes (including Dalpra) registered to compete at middleweight.
That's a dramatic shift from previous seasons. In 2019, when Dalpra was just a purple belt, 28 athletes registered to compete at Pans in the middleweight division. At Pans 2020 (Dalpra's last tournament at brown belt), the middleweight division consisted of 25 athletes.
When Tainan won his first Pans title in 2021, he was among the 25 athletes registered to compete at middleweight. When he won his second title in 2022, he was one of 24.
While we can't say for certain that Tainan is the reason that the division has been cut in half, his dominance over the division seems to speak for itself.
In the same time, the medium heavyweight division has expanded from an average of 18 athletes per year to — this year — 31 registrants. That makes medium heavyweight the deepest of any category in this year's adult black belt divisions.
Due to his lack of opponents, Dalpra will need to win just three matches to secure gold at middleweight this year.
It's lonely at the top.
---
The 2023 IBJJF Pan Championship begins on Wednesday, March 22, only on FloGrappling.
The male and female adult blue belts will take the mats along with all white belt divisions.
On Thursday, March 23, the adult female purple belt and all adult brown belts take the mats, along with all masters purple belts.
On Friday, March 24, it's time for the male adult purple belts and some of the black belt masters divisions.
On Saturday, the adult black belt tournament begins. The black belt absolute divisions will be narrowed down to the final two male and female athletes, the female divisions will also be whittled down to the final two, and the male black belt divisions will compete until eight athletes remain. Masters blue belts and juveniles will also take the mats.
On Sunday, it's the black belt finals, and all remaining masters divisions.
Follow along live on FloGrappling.com for all the action from the 2023 IBJJF Pan Championships.
---
ICYMI: The biggest stories ahead of Pans 2023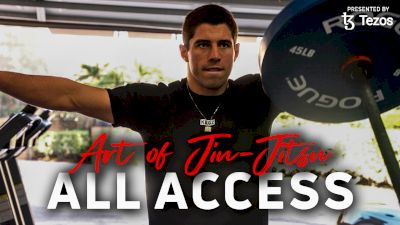 ---
Weekend Results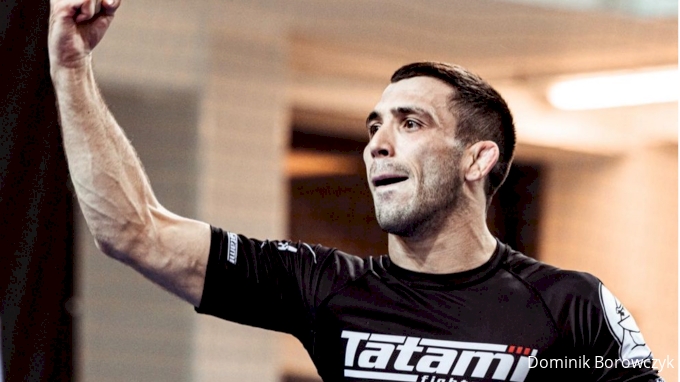 Subversion Equinox
Some of Australia's top talents took the mats in Sydney for Subversion Equinox, headlined by ADCC veterans and trials winners Ash Williams and Jeremy Skinner.
Ash Williams submitted Jeremy Skinner via triangle, showing off his wrestling to establish and maintain the top position then jumping onto the choke. Williams will face UFC vet Ryan Hall later in the year at Polaris 24.
In the co-main event, Declan Moody submitted Marcelo Gomide via rear naked choke in 2 minutes 19 seconds.
Ariel Tabek defeated Murilo Amaral in a gi matchup via split decision, demonstrating his dangerous guard from which he fired off submission attempts throughout.
ADCC veteran Josh Saunders utilized a "Pez dispenser" submission, pulling up on his opponent's chin from back control to defeat Luke Rousseau.
MMA round up
ADCC veteran Gunnar Nelson scored a Round 1 armbar submission at UFC 286, winning the performance of the night bonus. It was his first submission victory since 2018.
Two-time IBJJF no-gi world champ Hugo Marques won his MMA debut at Combat Zone via TKO after a dominant display of takedowns and back control.
ADCC Mexico Open results
ADCC veteran John Hansen tallied up 65 points in two matches to win the heavyweight division.
Calon Sabino submitted all four of his opponents for 91kg gold, tallying less than 90 seconds of mat time in his first three matches.
WNO veteran Dominic Meija submitted each of his three opponents to win the 70kg category.
Demian Balderrama submitted three of his four opponents to win the 65kg division.
Upcoming Events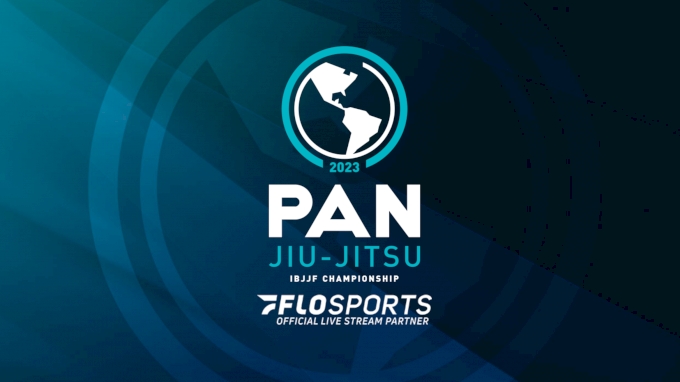 2023 IBJJF Pan Championships
March 22-26 | Kissimmee, FL
Wednesday: adult blue belts
Thursday: adult brown belts, adult female purple belts
Friday: adult male purple belts
Saturday: start of black belt tournament, all juveniles
Sunday: black belt finals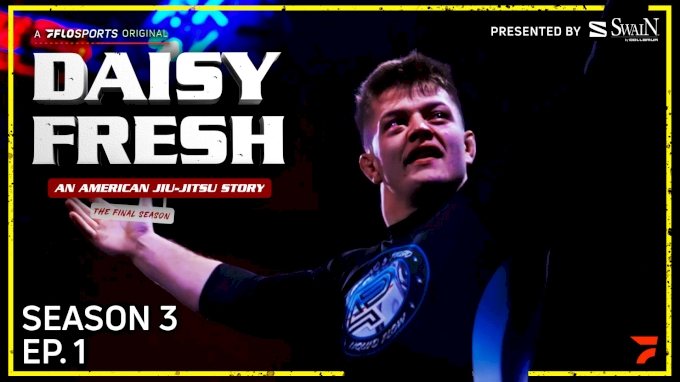 Daisy Fresh Season 3 Episode 1 premiere
March 29
The final season of Daisy Fresh: An American Jiu-Jitsu Story is coming to FloGrappling in Spring 2023. The first episode of the third season drops on March 29. Catch up with Heath Pedigo, Andrew Wiltse, Jacob Couch and the full Pedigo Submission Fighting team in the final 10 episodes. Catch up on the first two seasons here.
Rise Invitation 11
April 1 | Rockville Center, NY
A women's 135 lb bracket for $2,500, featuring Trinity Pun, Sijara Eubanks, Nicole Mathew, Beatrice Jin and more. Plus, a rematch from the Rise 10 semifinal between Andrew DeGraff and Matteo Maldonado, and more superfights featuring East Coast talents.
Midwest Finishers 13
April 1 | Lombard, IL
The men's 155 lb belt and the women's 125 lb Belt are back up for grabs. Midwest Finishers has announced the first round of superfights on its Instagram page.
Finishers Sub Only Survivor Series III
April 16 | Bethlehem, PA
A team tournament with a max athlete weight limit of 170. Quintet style (the winning athlete stays in until defeated). Three teams and a handful of superfights have already been announced.
Emerald City Invitational
April 29 | Cicero, NY
EBI-rules brackets in the men's and women's 135 lb divisions. More than 32 men will compete for $2,000. And 16 women will compete for $2,000.
The brackets will include Claire North, Estevan Martinez, Nicole Mathew, Chrissy Briggs, Cameron Mellott, Trinity Pun and many more.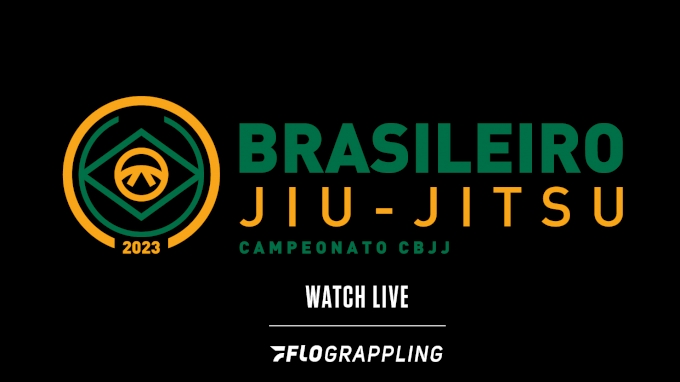 2023 IBJJF Brasileiros
April 29 - May 7 | Barueri, São Paulo, Brazil
One of the four most important gi competitions of the year, the Brazilian Nationals is coming to FloGrappling for the first time in 2023. Watch the top talents from Brazil try for one of the four IBJJF major titles. It's the last stop in the grand slam circuit before the 2023 IBJJF World Championships.