Tezos WNO 18: Meregali vs. Marinho Presented by Fat Tire
Meregali & Marinho Bringing The Gi Back To Tezos WNO On May 18
Meregali & Marinho Bringing The Gi Back To Tezos WNO On May 18
Nicholas Meregali (4-0) will welcome the gi back to WNO in a heavyweight bout against reigning Tezos WNO no-gi light heavyweight champ Pedro Marinho (2-1).
Apr 26, 2023
by Corey Stockton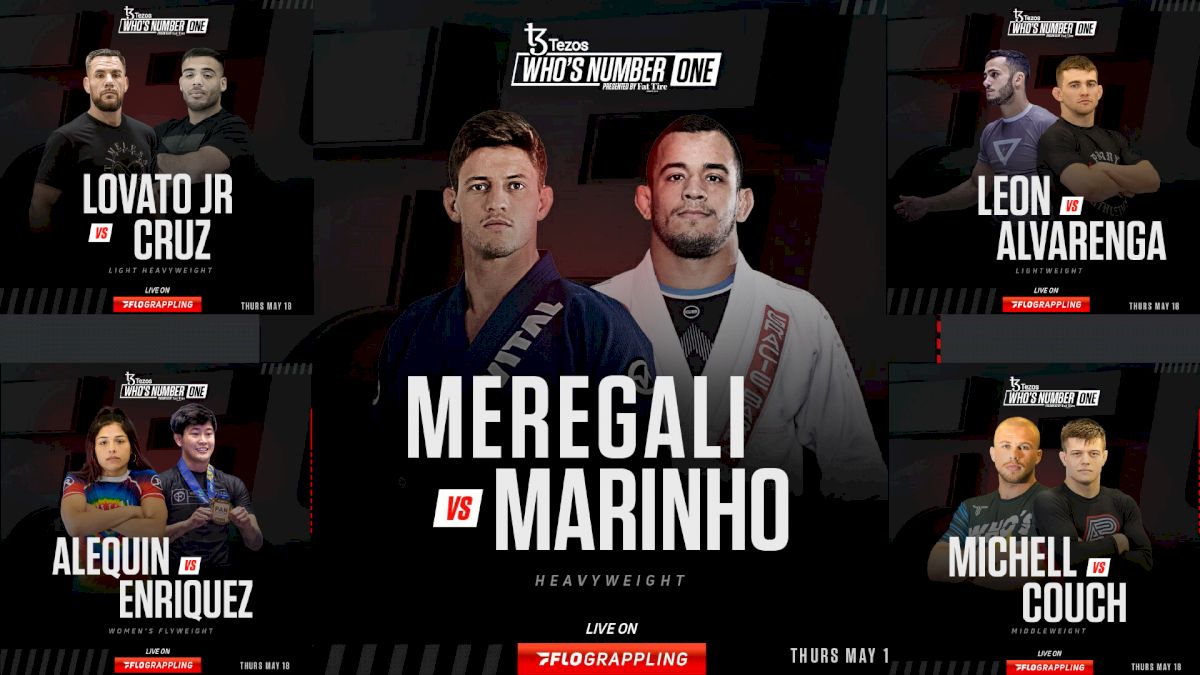 For the first time since January 2020, gi competition is returning to Tezos WNO on May 18 in Oklahoma City, OK.
WATCH LIVE or BUY TICKETS
Multiple-time IBJJF world champion Nicholas Meregali will be back on the Tezos WNO stage, this time facing the WNO light heavyweight no-gi champion, Pedro Marinho, in a 15-minute WNO rules gi matchup.
Tickets are on sale now to watch Tezos WNO 18: Meregali vs Marinho presented by Fat Tire live at the Criterion in Oklahoma City. Get them here.
Meregali headlined the first-ever WNO in a gi matchup against Victor Hugo. Since then, Meregali has spent his WNO tenure competing in no-gi competition. In combined gi and no-gi matchups, he's 4-0.
Pedro Marinho also holds a winning record on Tezos WNO, he's 2-1 in no-gi competition, where he holds the light heavyweight title with wins over Craig Jones and Giancarlo Bodoini. Marinho has been the betting underdog in each of his three appearances on the WNO platform, but he's continued to deliver upsets.
Marinho is largely recognized for his no-gi accolades; he's the WNO light heavyweight champ, and a two-time black belt no-gi world champ. But he's been successful at the highest level in gi competition as well. Marinho took silver at the 2021 IBJJF Pan Championships in his rookie year at black belt.
This special gi main event will feature the WNO ruleset. The match is scheduled for 15 minutes. Heel hooks will not be allowed. The winner will be determined by submission or judges' decision.
In the co-main event, Oklahoma City's Rafael Lovato Jr. will return to the Tezos WNO stage to take on Checkmat's "El Monstro," Elder Cruz.
Lovato, the multiple-time ADCC veteran and 2022 ADCC bronze medalist, will be competing in front of a home crowd in OKC, and looking to stave off one of the fastest-rising stars of the next generation.
Cruz is 2-1 on Tezos WNO, with victories over Jacob Couch and Nick Rodriguez. But he'll be looking to rebound off of his last performance, a submission loss to Haisam Rida.
Earlier in night, ADCC bronze medalist Dante Leon will face Ruan Alvarenga at lightweight, Alex Enriquez will make her Tezos WNO debut against Amanda "Tubby" Alequin, and Who's Next winner Izaak Michell will take on WNO's most prolific athlete, Jacob Couch.
Main Event: Nicholas Meregali vs Pedro Marinho - Heavyweight Gi
Co-Main Event: Rafael Lovato Jr.vs Elder Cruz - Light Heavyweight
Tubby Alequin vs Alex Enriquez - Women's Flyweight
Jacob Couch vs Izaak Michell - Middleweight
Dante Leon vs Ruan Alvarenga - Lightweight
Prelims will be streamed for free on FloGrappling's YouTube channel. Those matchups will be announced soon.
FloGrappling Upcoming Events:
April 22 - BJJ Stars 10 Battlefield
April 29 - May 7 - Brasileiro Jiu-Jitsu IBJJF
May 31 - June 4 - World Jiu-Jitsu IBJJF Championship
June 25 - WNO 19: Dallas
July 15 - BJJ Stars 11
August - WNO 20: TBD Location
August 23 - IBJJF Absolute Grand Prix
August 31 - September 2 - 2023 World Master IBJJF Jiu-Jitsu Championship