Tezos WNO 18: Meregali vs. Marinho Presented by Fat Tire
What To Watch For: Dante Leon vs. Ruan Alvarenga On Tezos WNO 18
What To Watch For: Dante Leon vs. Ruan Alvarenga On Tezos WNO 18
These guillotine heavy guard passers are scheduled to collide at Tezos WNO 18: Marinho vs Meregali presented by Fat Tire on May 18 in Oklahoma City.
May 9, 2023
by Joe Gilpin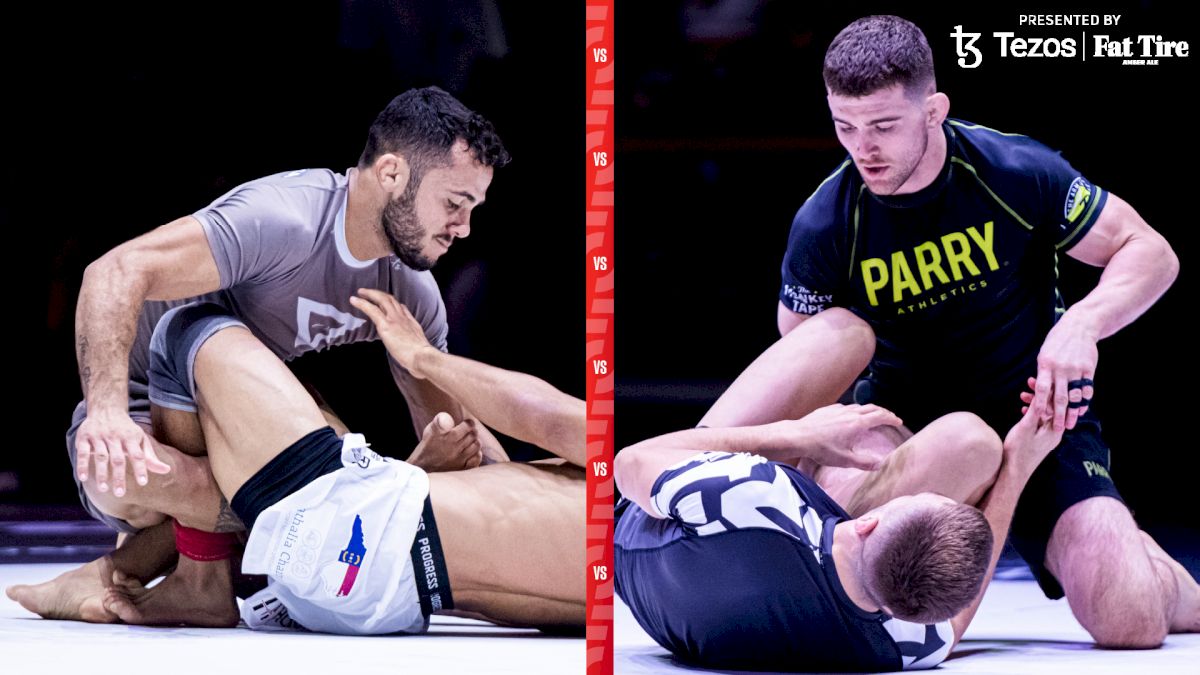 As we get ready for the great grappling action set for Tezos WNO 18: Meregali vs. Marinho, let's take a look at one of the matches on the card that has the most potential for fireworks - Dante Leon and Ruan Alvarenga at lightweight, 155lbs. In this article, I'm going to highlight a few areas of the fight that could prove critical or interesting in their bout, explain a few ways they match up based on prior performances, and give you a sense of what to watch out for when they lock up on May 18th.
Tickets are on sale now to watch Tezos WNO 18: Meregali vs Marinho presented by Fat Tire live at the Criterion in Oklahoma City. Get them here.
Taken by themselves, both guys have super impressive skill sets that do have significant differences. Both these ADCC veterans usually prefer the top position, but Dante has appeared more willing to pull and work from a seated guard where he will wrestle up or pull on the head for guillotines, its own form of the upper/lower body dilemma. Once he's on top, Dante is more of a tight pressure passer (especially with his knee cut) than Ruan, who has more of the classic MGA style of mixing tight and loose passing together to get through the guard.
The first key factor of the match: who is going to get on top if both guys decide to wrestle, and who wins that first scramble? Dante sits guard a little more often than Ruan, often looking for some kind of hook sweep, but his wrestling has improved in the last few years (especially the hand fighting) and it would be no surprise to see both athletes try to impose their takedowns on the other. They also both like to get to the legs (often with kouchi gari and other trips), then both will come back to the upper body for a more powerful throw or mat return if they get the chance - something that usually creates a scramble or opportunity on the neck. Whoever is able to navigate the early exchanges best and set their plan will have a serious advantage.
Check out Ruan's Passing Game vs Fabricio Andrey
Another key to victory: if Ruan establishes top position, how will he approach Dante's guard? Dante is notoriously powerful, especially at lightweight, and Ruan tends to employ a looser passing style that may struggle to hold Dante down if he decides to wrestle up or simply stand. In the past, Ruan has launched into body locks but ended up in closed guard for extended periods - an issue if he wants the judges to reward him for effective activity. If Dante does wrestle up in that open space, Ruan is skilled at using the opportunity to find the back - where he finishes the majority of his wins.
Will Dante's guard look this solid against Ruan Alvarenga?
Both men pass well into submissions, so I think the underhook battle from both as they pass will be critical in this match. Dante and Ruan both like to pummel in an underhook and use that transition directly to the submission hold once they escape the guard - meaning the protection of that flank will be super important and failure to protect it could result in a quick finish. Both men finish most of their fights either from the back or combining the pass directly with a submission lock - so if you are looking for a finish that's the best bet.
Unlock this video, live events, and more with a subscription!
Get Started
Already a subscriber? Log In
There's no way to predict exactly what's going to happen whenever two highly trained black belt grapplers fight; they're just too skilled. But looking at their recent performances we can start to form an expectation of where the contest could take place. Keep an eye out for these situations to pop up and see how these world-class athletes deal with them in the fight. You'll be able to catch all the action live from Oklahoma City, Oklahoma on Tezos WNO 18: Meregali vs. Marinho presented by Fat Tire on May 18th!
Watch Tezo WNO 18: Meregali vs Marinho presented by Fat Tire on May 18, LIVE on FloGrappling
Main Event: Nicholas Meregali vs Pedro Marinho - Heavyweight Gi
Co-Main Event: Rafael Lovato Jr.vs Elder Cruz - Light Heavyweight
Tubby Alequin vs Alex Enriquez - Women's Flyweight
Jacob Couch vs Izaak Michell - Middleweight
Dante Leon vs Ruan Alvarenga - Lightweight
William Tackett vs Francisco Lo - Middleweight
Prelims will be streamed for free on FloGrappling's YouTube channel. Those matchups will be announced soon.
FloGrappling Upcoming Events:
April 29 - May 7 - Brasileiro Jiu-Jitsu IBJJF
May 31 - June 4 - World Jiu-Jitsu IBJJF Championship
July 15 - BJJ Stars 11
August - WNO 20: TBD Location
August 23 - IBJJF Absolute Grand Prix
August 31 - September 2 - 2023 World Master IBJJF Jiu-Jitsu Championship