2023 Pan Jiu Jitsu IBJJF Championship
How Nicholas Meregali Found New Tricks And Reinvented Himself At New Wave
How Nicholas Meregali Found New Tricks And Reinvented Himself At New Wave
Nicholas Meregali's game has always been precise & dangerous. But since arriving at New Wave, he has developed new skills and a newfound, menacing strategy.
May 17, 2023
by Joe Gilpin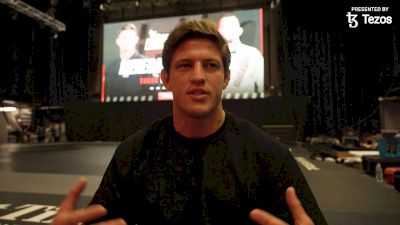 Nicholas Meregali returned to the gi competition scene in style, winning double gold at the 2023 Pan Jiu-Jitsu Championships in dominating fashion. Meregali had stepped away from the gi to focus on no-gi, joining Professor John Danaher, Gordon Ryan, and the rest of the burgeoning New Wave team in Austin, TX and in short order won a bronze and silver medal at the 2022 ADCC World Championships. The urge to express his dominance in the gi returned though, and now Meregali has the benefit of being coached by Danaher, whom many consider among the great grappling minds on Earth.
What does that mean? How can the man who was already on top of the mountain change and improve his game now that he is working with a new coach, new team, with new methods of training? Danaher is an instructor with very specific strategic insights and technical systems that he instills in his students, and we clearly see his influence already in Meregali's performance. We're going to take a look at a few areas where Meregali has gotten appreciably better since joining with Professor Danaher, Gordon, Satoshi Ishii (more on that later), and the rest.
Let's start by pointing out the obvious: Meregali joined New Wave as a supremely talented and accomplished athlete, with a world title — among others — to his name. Still, he's shown over the last year working with Danaher that he had room to grow. And he grew in three specific areas more than any other: his top pressure & control to attain the back, his judo, and his use of the ashi garami and x-guard.
Throughout his career, Meregali has had an incredible ability to get to the back and finish, earning him a supremely high finish rate when compared to his contemporaries. Still, he seems to have found a more calculated approach to establish those submissions. In his early years, Meregali often achieved the back out of scrambles and predictable reactions. Now, Meregali's top game has become characterized by using a solid pinning position to start forcing opponents to turn away at a slower speed, giving him more time to securely take the back.
In matches against Roosevelt Sousa, Joshua Guerra, Roberto Jimenez, and Jose Inacio dos Santos at Worlds we saw great examples of this.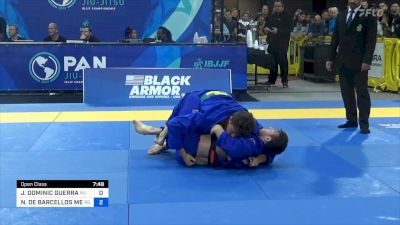 Since arriving at New Wave, Meregali has had access not only to Professor Danaher and his proven methods of success, but also to Olympic gold medalist judoka Satoshi Ishii, a regular training partner and teammate. Ishii is also a tough jiu-jitsu black belt, and his judo game is built on strong uchi mata hip tosses and ashi waza foot sweeps. With Ishii as a partner, and Danaher guiding his improvement, Nicholas has begun to demonstrate more confident judo skills.
Once a snap guard puller, Meregali now is far more comfortable spending long stretches on the feet looking for throws. Notably, he has developed an uchi mata that he uses to destabilize and score - notably in no-gi at ADCC against Tye Ruotolo but with many attempts during Pans as well (including twice in the open class finals).
Check out Nicholas's evolving judo against Roberto Jimenez, Erich Munis, and Tye Ruotolo.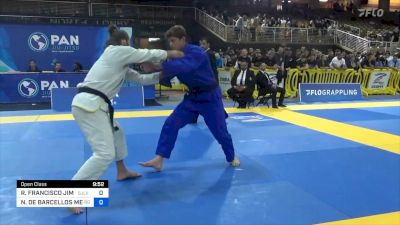 Meregali's bottom game has always been a model of efficiency and the strongest position for him early in bouts. After a quick pull, Meregali has typically worked for long extensions in his opponent using a collar-sleeve open guard, shooting triangles and omoplatas, and moving to deep De La Riva and lasso guards if his upper body controls fail. Throw in a deadly loop choke and he's developed one of the most tactically efficient and effective open guards in all of competitive jiu-jitsu.
What's interesting is that his open guard is still evolving despite its years of success. Earlier in his career, Meregali would sometimes transition to the single leg x/ashi garami/x guard positions. But at the most recent edition of Pans, that position seemed a much bigger part of his strategy. He utilized it in seven of his matches over the tournament. Professor Danaher is one of the biggest advocates for the ashi garami position in grappling, and Meregali's shift to a heavier reliance on that position had a great effect on his dominant guard play.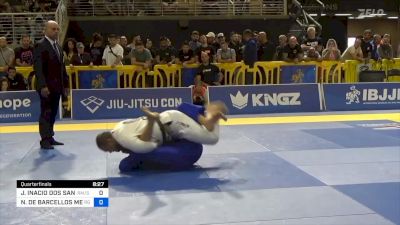 One more detail keen Danaher students will notice: In the open class finals against Erich Munis, Meregali shot an omoplata which Erich defended by pulling back and away. This led Meregali back to the lower body where he began entering into an ashi garami. When Erich gripped to defend, Nicholas returned into an omoplata that let him sweep his way into top position. This upper body-lower body work is one of the hallmarks of the Danaher system, Meregali's obvious use of it now is no coincidence.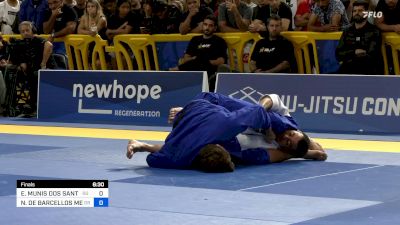 Tickets are on sale now to watch Tezos WNO 18: Meregali vs Marinho presented by Fat Tire live at the Criterion in Oklahoma City. Get them here.
Main Event: Nicholas Meregali vs Pedro Marinho - Heavyweight Gi
Co-Main Event: Rafael Lovato Jr.vs Elder Cruz - Light Heavyweight
Tubby Alequin vs Alex Enriquez - Women's Flyweight
Jacob Couch vs Izaak Michell - Middleweight
Dante Leon vs Ruan Alvarenga - Lightweight
William Tackett vs Francisco Lo - Middleweight